The spectacular Liverpool International Jazz Festival is returning to The Capstone Theatre for its 8th year and, as ever, it promises to be an extravaganza featuring the best local and international talent! From 27th February to 1st March 2020, enjoy a diverse range of outstanding jazz over 4 days — with something for everyone.
For more information and the full line up CLICK HERE!
Previous festivals have featured the likes of Courtney Pine, Denys Baptiste and GoGo Penguin and this year's line up showcases another stellar line up. Prices of the events range from free to £15, with Liverpool Saxophone Day on the Sunday costing just £25 and a full festival ticket costing just £40! Here we check out what's on and when….
For more information and the full line up CLICK HERE!
Cykada (plus Yaatri): Thurs 27th Feb, 7.30pm
Liverpool International Jazz Festival 2020 opens with a concert headlined by Cykada, an innovative and energetic collective of musicians from the new London jazz scene. Cykada is an energetic bomb of unique style. It engages distant poles, analogue worlds crashing with electronics, eastern influences crossing with western, harmonising nostalgic moments with dance floor bangers. With support from Yaatri.
For tickets and more info CLICK HERE!
Tin Men & The Telephone (plus Hippo): Fri 28th Feb, 7.30pm
In a 5-star review, The Times (UK) explains, "a 21st-century gig in which multimedia gadgetry and a sense of mischief combine to create something fresh and unexpected." Amsterdam's Tin Men and The Telephone combine live electronics, projected visuals, and audience participation. In a first, this band encourages the use of cellphones at concerts, letting their app control the next move. With support from Hippo.
For tickets and more info CLICK HERE!
Sarathy Korwar: Sat 29th Feb, 1pm
Born in the U.S and raised in Indian, Korwar has since established himself as one of the most original and compelling voices in the UK jazz scene, leading the UPAJ Collective – a loose band of South Asian jazz and Indian classical musicians brought together through a love of collaboration and improvisation who set up a residency at the Jazz Café in London.
For tickets and more info CLICK HERE!
Hope Swings Eternal: Sat 29th Feb, 3.30pm
Under the direction of Phil Shotton, jazz saxophonist and professional tutor in music performance at Liverpool Hope University, University music students from the LHU Big Band form smaller, more intimate ensembles to entertain the festival audience with an eclectic mix of swing, bebop, fusion and straight ahead mainstream jazz.
FREE ADMISSION!
Blow 3.0 (plus Beyond Albedo): Sat 29th Feb, 7.30pm
Young, anonymous, Belgian band Blow 3.0 are one of the latest hot exports from the continent, fusing jazz, punk and dance music in their superb live stage shows. Sometimes referred to by fans as 'Drum n Sax', the band cut their teeth in underground clubs across Belgium and the Netherlands and have performed in some very unusual settings including rooftops and forests. With support from Beyond Albedo.
For tickets and more info CLICK HERE!
Liverpool Saxophone Day: Sun 1st Mar, 10am
In collaboration with the prestigious annual Liverpool International Jazz Festival, LSD bring you 7 x SAX Workshops & Ensembles, 3 x LIVE performances and plenty of sax trade stalls. Whether you're a novice or pro, into jazz, classical, big band, electronic, funk – they have got you covered! Ticket includes entry to the Tony Kofi Quartet event in the evening.
For tickets and more info CLICK HERE!
Martin Archer's Anthropology Band (plus Monmot): Sun 1st Mar, 2.30pm
Taking the electric music of Mile Davis as its starting point, Anthropology Band is about finding the atmosphere through a deep rhythm, a searing blues run, a delicate melody, or a cascading solo statement. Band leader Martin Archer has kept the music as simple as possible — often driven by the bassline — and the structures loose, to enable this who's who of UK creative musicians to let the music breathe in a different way each time it's played. With support from Monmot.
For tickets and more info CLICK HERE!
Tony Kofi Quartet (plus Blind Monk Theory): Sun 1st Mar, 7.30pm
The Tony Kofi Quartet was formed 4 years ago as a result of Tony Kofi being asked in 2010 by Ornette Coleman's former Prime Time bass player Jamaaladeen Tacuma to go to New York to record on his new album For the Love of Ornette which featured the great man himself. The influence has inspired Kofi to put together this collective of world-class musicians who have all been touched and inspired by the music of Ornette Coleman. With support from Blind Monk Theory.
For tickets and more info CLICK HERE!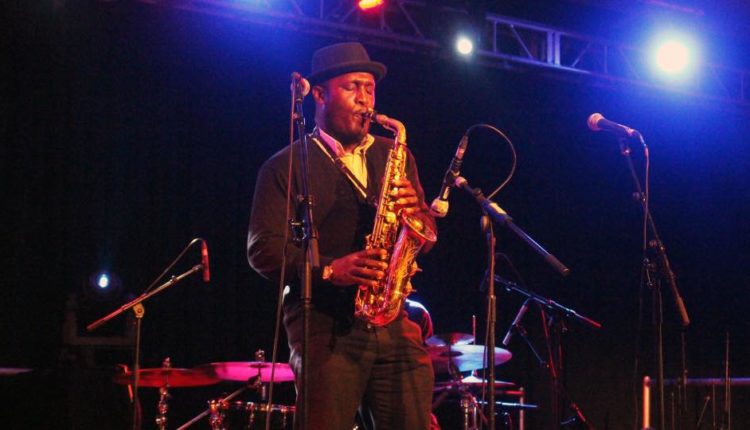 If you've experienced Liverpool International Jazz Festival before then you'll know what to expect — a jazz extravaganza of some of the finest jazz musicians the region, country and world has to offer! For any jazz, or music fan for that matter, this is a must — offering quality, diversity and fantastic value! Amazing stuff!
Liverpool International Jazz Festival / 27th Feb — 1st March / The Capstone Theatre L6 1HP
For more information and the full line up CLICK HERE!