We all know that massive cock on Hanover Street! Some of us may have even ridden it once or twice following a night drinking in Liverpool. As well as being an amusing attraction for city centre revellers, it's also the mascot for one of Liverpool's coolest underground restaurants, Yard & Coop.
This Liverpool gem has just launched its new menu, with one of the features being the mighty 'Massive Cock MK IV' burger. Here at La Vida Liverpool we love a challenge and this one was too good to resist, so we headed on down to see if we could manage it all — or would it would be too big?
Check out the Yard & Coop WEBSITE!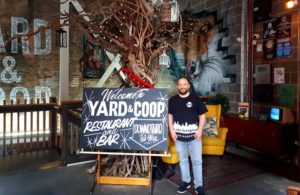 A bit more about Yard & Coop….
In addition to being the home of the famous Hanover Street attraction, Yard & Coop is a fun chicken themed basement restaurant and a must visit for those who love chicken and a good time! The new menu is oozing with delights from chicken wings to burgers to wraps and it's an ideal venue for a party or celebration!
Inside you'll find a disco and games area with beer pong and a ball pit that will also soon have a karaoke booth and selfie mirrors. There are plenty of cosy booths (some of which are designed like actual chicken coops) and quirky features and some cool chicken art work on the walls. There's also a kids corner with plenty of activities for them.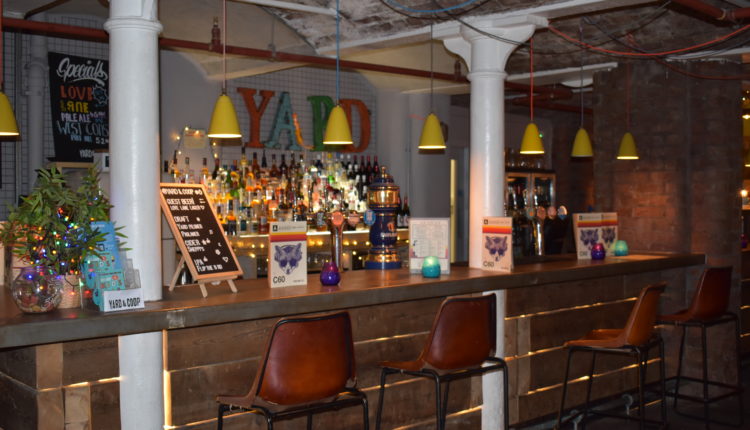 There are some great offers such as Free Wings Wednesday and Mates Rates 50% Off (also on Wednesday). On Thursdays there's a lively themed quiz night and on Friday there's Free Drink Friday. Kids eat free (with paying adults) every day between 12pm and 6pm. From 12pm — 5pm Monday to Friday there's a £5 lunch menu.
Popular for informal dates, gatherings with friends, families and big parties such hen and stag doos (booth packages available), a visit to Yard & Coop must be experienced to be believed! The fun loving feel good restaurant is all about 'booze, birds and beats' and is a proper underground gem of Hanover Street!
Check out the Yard & Coop WEBSITE!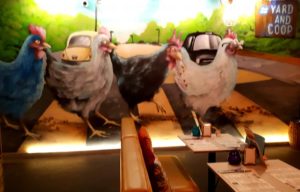 The Massive Cock burger….
We all know the massive cock outside, but if you're brave enough to take on the Massive Cock burger on the menu then good luck! Not many have devoured the whole thing so I was a tad apprehensive prior to our visit! Check out the ingredients….
A double stacked burger with buttermilk fried chicken breast and thigh, lashings of cheese sauce and adobo chilli mayo. Stuffed with iceberg lettuce, tomato, mac n cheese, hash browns, an Amaizeball pattie, Dr Pepper BBQ pulled chicken and crunchy chicken crack. Garnished with two chicken drumsticks. Served with fries and sweet potato fries! Wow that's one Massive Cock burger!
Check out the Yard & Coop MENU!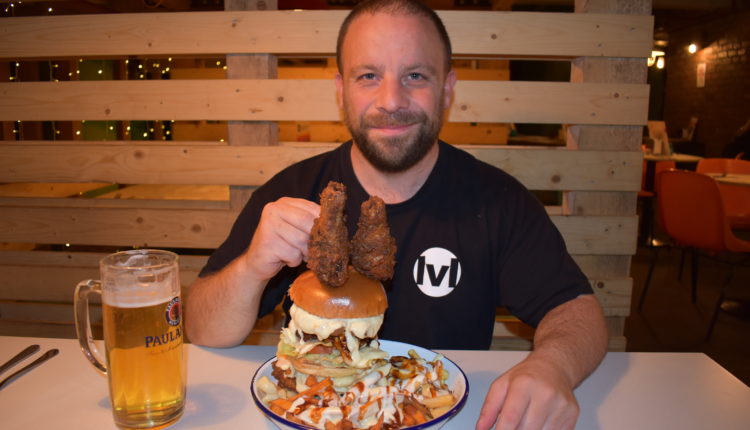 The Challenge….
On the day of our visit, I had prepared well by not eating for 24 hours. I was hungry for the Massive Cock burger, so by the time we got there and sat at one of the coop booths I felt confident I could take it on. To get us in the mood I had a pint of Paulaner and my partner had a Like A Virgin cocktail.
The Massive Cock burger was too big for my partner, so she opted for a vegetarian version of the Yakety Wrap, Bang Bang Cucumber and Loaded Tatties. For me though, there was only one option and the reason for the visit — to have as much of the Massive Cock burger as possible!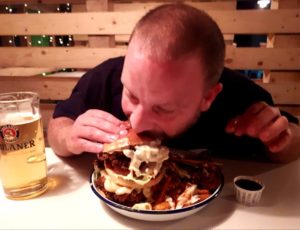 With funky feel good music such as James Brown blasting out, I was well up for it! When Lauren and the team brought the Massive Cock burger to our table, though, I was a tad taken aback. The sheer size of it was overwhelming and the very thought of fitting it in my mouth was very daunting indeed.
Where to start? The drumsticks were the obvious starting point, before hitting the southern fried chicken breasts. It soon got rather messy and after 5 minutes I was struggling — particularly when I got down to the macaroni cheese. It was delicious, don't get me wrong, but there was only so much I could take and despite my best efforts the Massive Cock burger had me beat.
Check out the Yard & Coop WEBSITE!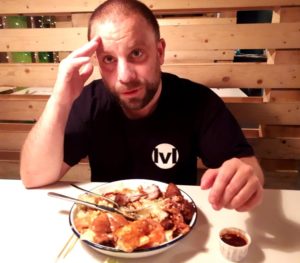 How much Massive Cock burger can you consume?
The Massive Cock burger at Yard & Coop is quite something. If you think you're brave enough to take it on, or even if you just fancy a regular dish or a few drinks, then we thoroughly recommend a visit. Yard & Coop is a really cool restaurant with a vibrant interior and plenty of fun and games — perfect for parties and events.
We should mention there are some heavenly desserts and shakes too, but if you take on the Massive Cock burger you won't be needing dessert! The next time you fancy an eating challenge or you're looking for somewhere fun to eat in the city centre, don't just walk past the giant cock on Hanover Street. Mosey on down to the basement where you'll find a very special place indeed — and there's nowhere quite like it in Liverpool!
Check out the Yard & Coop WEBSITE!
Check out the Yard & Coop MENU!
Check out Yard & Coop on FACEBOOK!
Check out Yard & Coop on INSTAGRAM!