We all have a personal soundtrack to our lives; and for the characters whose lives are explored in Masquerade, the music of the 1980s meant something extra-special.
The play tells the story of Mike (the excellent Jamie Peacock), a young, closeted gay man, afraid to come out because of the prejudices of his family. He envies the freedom of his best friend Tony (Adam McCoy), a regular at the Masquerade gay club. One night, Mike gives into temptation and visits the club with Tony, a decision which changes his life forever.
The 1980s were filled with turmoil for the LGBT community, and the play conveys this to great effect. From a sparse set consisting of only a bar and a DJ booth, the cast take us on a highly emotional journey of excitement, prejudice, acceptance and the overwhelming fear of the AIDS crisis. It moves at a pace from comedy to poignancy and back again, knowing exactly when to elicit sympathy and when to lighten the mood, making us genuinely care about the characters in the process.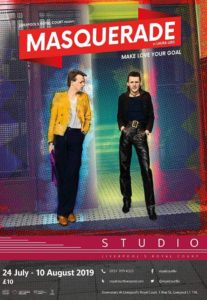 The story is told partly through monologues from Tony, interspersed with sharp, snappy Scouse dialogue between the cast. The young actors are full of life and energy, while the older characters, club owner Frank (Roy Brandon) and his best friend Norma (wonderfully portrayed by Royal Court veteran Eithne Browne), provide both comic relief and a deeper backstory of growing up in a prejudiced world. The 80s detailing is precise, from double denim to Kwik Save carrier bags, and the fabulous soundtrack from the era will have you dancing in your seat!
Masquerade is the debut play from writer Laura Lees, whose own story is worthy of dramatization. A box office worker at the Royal Court, she based the play on the real-life experiences of her uncle, the resident DJ at the Masquerade club during the 1980s. Those who knew the Masquerade at the time have commented on its authenticity, down to the endless plates of sandwiches handed out by the owner.
Very much a story of triumph and tragedy, Masquerade gives us a sense of how lucky we are to live in today's more tolerant and accepting society. It is a story of hope, and above all, a story of love – romantic partnerships, the complicated bonds between parents and children; and most of all, the unique love that exists between best friends.
Masquerade is showing at the Royal Court Studio until August 10th, tickets available HERE!