There are many fun things to do in Merseyside, but there's one super cool underground airsoft range in New Brighton that's a must visit! In this feature, our Editor Justin Hopper has a go at the 5 different shooting ranges on offer — using a variety of weapons — and goes head to head with his namesake and nemesis, Justin Beiber!
Check out Ultimate Airsoft on FACEBOOK!
What's Ultimate Airsoft about?
Located in the historic smugglers' tunnels underneath New Brighton arcades, Ultimate Airsoft is an interactive air gun range that offers great fun in a safe environment. There are 5 different ranges and a variety of weapons and targets and it offers fantastic entertainment and great value for money.
Enjoyed by all ages, a visit includes safety gear hire, weapon hire, ammo, targets and time. It's particularly popular amongst groups of friends and parties and the underground range can be hired privately — great for birthdays, stag and hen doos and work team building days.
Check out Ultimate Airsoft on FACEBOOK!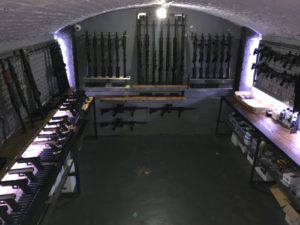 Our visit….
Our Editor visited one afternoon to check out the various ranges and take on his namesake and nemesis, Justin Beiber! He was shown around and given a full safety walk through by the charismatic Manager 'Iggy', before trying the various weapons such as the HPA M4 Assault Rifle, 1911 Hi-Capa, Magnum 357 revolver and Bolt Action Sniper Rifle.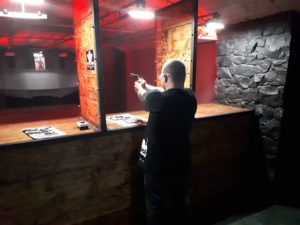 It was a great afternoon and Justin (Hopper) got better and more accurate throughout his visit, but the highlight was without doubt taking a grenade launcher to the Justin Beiber target at the end. For a number of years he's had to endure comparisons to the irritating pop 'idol' so to simulate putting an end to Beiber for good was to be most satisfying!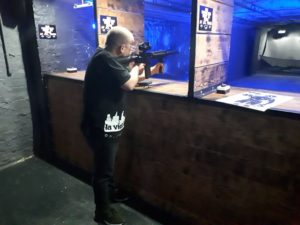 With the high power weapon and its large cylinder lying in front of him, he calmly sent the target of the pretty pop singer down the range and into a reasonable distance. With steady aim, the sounds of 'baby' baby, baby oooh' running through his head and a squeeze of the trigger, BOOM! — the Beiber target was completely obliterated!
Check out Ultimate Airsoft on FACEBOOK!
A chat with the owners….
Following our visit, we chatted with owners Mike and Emma who told us: "We opened the ranges for the people who don't want to be shot at, for the people who don't want or can't run round fields and derelict buildings, muddy fields. For anyone who just wants to pick up a realistic imitation firearm and have a try. No memberships, no nonsense, fun for all the family (ages 6 and over with an adult)."
They continued: "We opened two years ago and it's become very popular. We custom made everything and we have a great sound system down there so it's a really fun, high adrenaline experience. It's certainly very unique and there's nothing like this around! We're really proud of the many great reviews and it's a really fun, alternative thing to do."
Check out Ultimate Airsoft on FACEBOOK!
Why we love Ultimate Airsoft….
There are many things to do in New Brighton such as crazy golf, bowling, the arcades and fair, the cinema, the theatre, the new Victoria Quarter and great places to eat and drink, but Ultimate Airsoft offers something very unique indeed! A fun, safe and interactive experience in New Brighton's legendary underground tunnels — amazing stuff!
Ultimate Airsoft / New Palace Building (underground), Marine Promenade, New Brighton, CH45 2JX / 0151 630 6622
Check out Ultimate Airsoft on FACEBOOK!
Disclaimer: Please note that Ultimate Airsoft is a fun activity to be enjoyed responsibly in a safe environment. Here at La Vida Liverpool we do not promote the misuse of guns nor do we promote hatred towards Justin Bieber or anyone else for that matter.