2018 is nearly over and for many this turbulent year full of Brexit fatigue almost seems like not celebrating but if 2018 didn't go your way remember it's not too late for next year, so dressing your best when the clocks count down should still be on the agenda. With the ever rising temptations of online shopping and the constant stream of sales, we as consumers don't tend to buy fashion items for a particular night or event anymore, but if any evening deserves its own planned outfit it's New Years Eve.
Current fashion trends are really leaning towards the glam factor (as often the winter months do), with rich velvets, striking animal prints, gloss textures and texturized materials it's no secret that enjoying fabrics themselves is 'in'. So here is my selection on how to wear these trends on one of the most fashionable nights of the year which is completely coincidentally the same night when people remember Jools Holland exists. Whether you embrace the trends or not there is something for everyone, but beware….temptation ahead!
Animal Print
Ghost
Meryl Cheetah Print Dress
Was £165 now £82.50
If you're going to channel your inner animal this year you may as well go hard or go home. This bubble gum pink dress from Ghost is the perfect mash up of fun and quirkiness whilst still staying in top of one of the hottest catwalk trends this year. Featuring long sleeves and a v neck, the material will drape on your body but keep it figure hugging yet flattering for all different body shapes. This shade of pink is super vibrant which is perfect for celebrating and is definitely made for someone who isn't afraid of the attention.
Check it out HERE
Gloss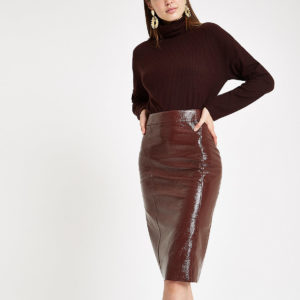 River Island
Dark red vinyl back split pencil skirt
£25
The most versatile selection on this list this 'Dark Red' gloss skirt which in my opinion is more of a truffle brown is perfect to wear with blouses for a sexy twist on professional work wear that can easily take you from day to night, for a more casual look re style the skirt with a variety of jumpers. The pencil skirt shape will create curves in all the right places without being too restricting.
Check it out HERE
Velvet
Monsoon
Missy Velvet jump suit
Was £99 now £79.20
We don't automatically think of a jumpsuit when shopping for velvet or vice versa but that is what makes this choice so special, with its two-tone texture velvet can pull off block colours without looking plain due to its opulence and movement. Jumpsuits are ideal for dancing all night without the hassle of getting your legs out, with this garment shoes are super important, if you want to elongate your legs wear shoes the in the same shade of blue.
Check it out HERE
Sequins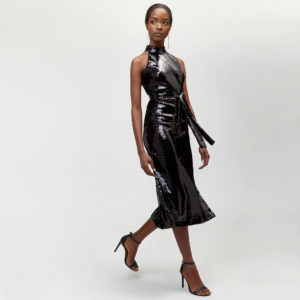 Warehouse
Sequin halter midi dress
Was £99 now £69.30
In the same way velvet can be fun sequins can be chic. This black halter neck cocktail dress from Warehouse screams sophistication and is great for people with toned arms. This dress will have you channelling your inner super model and can be styled to suit lots of personalities from the committed glam, the indie girl and the proud artist. Accessorise with statement bracelets and a simple clutch bag to keep this look chic and sleek.
Check it out HERE
So, that rounds up my tips for some great fashion options this New Year's Eve! Whatever you do, make sure you look and feel fabulous and have a great party. Keep your eyes peeled for some more fashion features from me in 2019 as I scour the retailers for the best buys for LVL readers!