A shamanic healer from Liverpool has released his first techno E.P, having been signed by major Bulgarian record label, Set About. Lewis Powell aka 'Med Man' is the Founder of wellbeing centre Inner Guru and a local men's mental health hub and is now utilising electronic music as a form of medicine to promote mental health and wellbeing.
Listen to and download End Of Time of BEATPORT!
Lewis is a well respected shamanic healer and mental health advocate, having helped countless people through his wellbeing projects. After turning his life around and becoming a Master Shaman, Lewis has been featured by local and national press due to his work — and he now aims to channel his messages through the power of music.
After refining the art of higher vibrational music, 'Med Man' has produced a two track E.P entitled 'End Of Time' — featuring 'End Of Time' and 'Infinite Space'. With early support from big hitters in the techno scene such as UMEK, Stiv Hey and Demon Noise, his music soon gained attention from big labels and Set About swooped in to sign his debut E.P.
Listen to and download End Of Time of BEATPORT!
End Of Time is a driving techno track that has heavy kicks and catchy vocals such as 'never give up until the end of time' that inspire determination to follow your goals. Meanwhile, Infinite Space is a slightly trance-like track that again has positive, uplifting vocals and subliminal messages that aim to inspire people and raise their vibrations.
To be signed to a well respected record label for his first ever E.P is a great achievement for Med Man. Part of the IAMT Music Group, Set About has an exciting roster of DJs and Med Man is the latest addition to the forward thinking label. The new tracks have already been played internationally on shows such as Punto Radio in Italy and as far and wide as Argentina and Goa.
Listen to and download End Of Time of BEATPORT!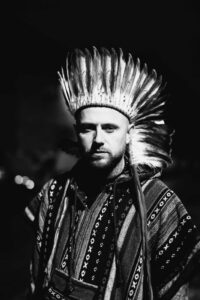 Lewis said: "My journey of self discovery and becoming a shamanic healer has been a very colourful one. I discovered how to heal myself and then ultimately went on to heal others in the same way. For the past couple of years I've been working hard to create the Inner Guru wellbeing centre and the men's mental health hub in Liverpool but behind the scenes I've been creating 'Med Man'."
He continued: "Everything in this world, thoughts, words, actions, music, is energy and has an effect on mental wellbeing. Music can have a really positive impact on mental health and that's what I'm looking to do through MedMan — produce music that raises people's vibrations. It's not just the listener either — I want to help DJs. They struggle too and we only need to look at Avicii to see how the lifestyle can be so detrimental."
Listen to and download End Of Time of BEATPORT!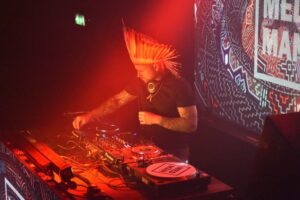 End Of Time was released on Friday 4th February 2022 and is available to download on Beatport for just £2.98 — with lots of support gathering already, big things are expected from this E.P and from Med Man. A shamanic healer turned highly talented techno DJ — it's safe to say there's aren't many artists out there like Med Man.
End Of Time / Debut E.P from Med Man / Set About
Listen to and download End Of Time of BEATPORT!
Follow Med Man on INSTAGRAM!
Follow Med Man on FACEBOOK!
Follow Set About on INSTAGRAM!