We recently went to see Windrush: The Betrayal at The Capstone Theatre in Liverpool after sell-out shows elsewhere in the UK and WOW — what an eye-opener! The powerful production from award-winning playwright Mark Grey exposes the UK Government's treatment of the Windrush generation, with gripping performances from the cast.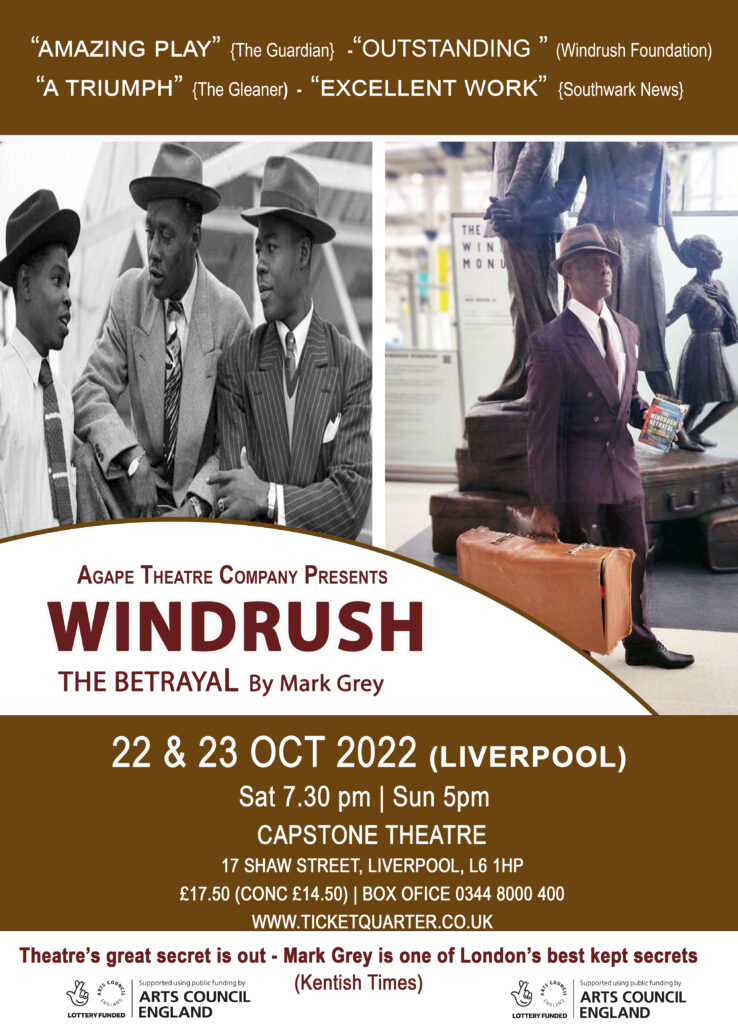 The evocative and compelling production had been captivating audiences across the country and came to Liverpool as part of Black History Month. Having received high acclaim from countless media outlets, it tells the true story of how Teresa May's 'hostile environment' policy harassed, arrested, detained and deported migrants of the Windrush generation.
With the aim of bullying people out of the UK who had been residents here for decades, the Home Office scandalously refused these people access to work, benefits, housing and healthcare in the country they had called home for over fifty years. Fortunately, the injustice was exposed by Guardian journalist Amelia Gentleman — who has also shown much praise for the play.
The production is not only a stunning piece of theatre — it is a movement that aims to educate people on the matter and highlight the scandals that arise within our establishment. In a stroke of genius, playwright Mark Grey portrays the story through various real-life characters — each with their own profound story.
Each individual character has their own case and we were shown how they had all contributed to British society in their own ways, only to be treated like criminals and threatened with deportation — despite being British citizens since childhood. In one harrowing case, a man was unable to receive cancer treatment after basically being stripped of his rights.

The production was both thought-provoking and captivating — stirring up strong emotions and distain towards the way our government treats people. There are few better ways to highlight the corruption within our establishment than through this incredible piece — a striking theatre performance that had the audience engrossed from the start.
The Capstone Theatre is well-known for hosting a wide range of compelling shows and Windrush: The Betrayal is one of the true triumphs of the Autumn/Winter season. The playwright, Director and cast should all be thoroughly proud of what they have achieved — creating an evocative masterpiece that even the most hardcore Tory would be embarrassed by. Bravo — and much needed!
Windrush: The Betrayal / Sat 22nd Oct & Sun 23rd Oct, 5pm / The Capstone Theatre, 17 Shaw Street, Liverpool, L6 1HP