La Vida Liverpool were honoured to be invited to another one of Vivienne Westwood's exclusive showcases. We attended the glamorous 'Art Lovers Unite' event at the Liverpool store on a Friday night and enjoyed flutes of fizz whilst mingling with guests and learning about the two main themes — art and the Autumn Collection.
As with all Vivienne Westwood events, it was nothing short of spectacular — with colourful characters in attendance and an abundance of style on display. We once again met all sorts of interesting people including Linda Watson (author of 'Vogue on Vivienne Westwood') as we browsed the latest fashion offerings and, in this instance, a range of unique art pieces.
Whilst speaking with store manager Chris Griffiths and his wonderful staff, we came to learn about Viv's latest concept for the Autumn Collection. The camouflage military theme stands for 'Viv's Army' — symbolising the fashion brand's war on damaging the planet and making another statement about the wish for a greener and better future.
The clothing on display oozed elegance and quirk that only Viv could create, whilst the handbags, jewellery and accessories were as eye catching and striking as ever. To wear Viv is not only to look good, but to live and breath creativity and freedom of expression whilst being an advocate for a better world. As we talked to fellow guests, this became even more apparent and we had many discussions about the items on display and what they represented.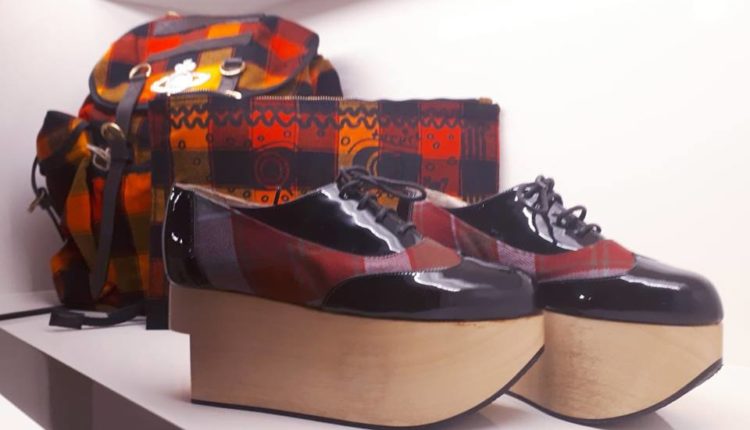 The Liverpool store that night also had a breathtaking collection of artwork for our visual pleasure — courtesy of artist and friend of the store, Yvonne Bellamy. The talented Toxteth born artist, now living in Sheffield, was previously a podiatrist before excelling in art — largely based around female portraits. The one off masterpieces before us each had their own powerful message and we had the benefit of talking to the artist herself about the meaning behind each one.
The portrait of Vivienne Westwood was clearly a focal point, but we were also taken aback by Yvonne's other work such as The Painted Lady, her version of Casati and the Brexit piece. We were truly privileged to have had a personal talk through each painting by the artist herself and the fusion of fashion and art (and of course bubbly and vibrant people) made this a very special Vivienne Westwood showcase indeed!
To check out the new Autumn Collection and everything else in store, visit Vivienne Westwood Liverpool at Cavern Walks, 8 Mathew Street, Liverpool, L2 6RE or call them on 0151 227 2700. To check out Yvonne Bellamy's artwork CLICK HERE or visit Rennies Art Gallery on Bold Street.