George Orwell called The Ragged Trousered Philanthropists 'a book that everyone should read', a modern classic that was nearly lost forever. When its author, who went by the pen name of Robert Tressell, finished the work in 1910 and had it rejected several times, his daughter Kathleen had to rescue it from being committed to the flames! She hid it under her bed for safekeeping, managing to finally get it published in 1914, three years after her father's death. It took a further 41 years for it to be printed in its complete unabridged form, as a succession of publishers tried to tone down the political ideas presented in the work.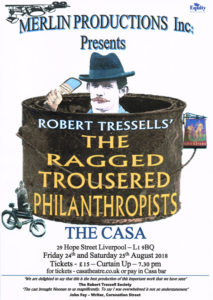 Put simply, it is a story of 'people fighting for what they are worth' in the unremittingly grim reality of early 20th century working life, Paul Strange tells me, director of a new production of The Ragged Trousered Philanthropists being staged at the Casa Theatre on 24th and 25th August. Adapted from the novel into a stage play by Gerard Fitzpatrick Howkins, a cast of six draw on their vast combined theatrical experience to bring together a faithful adaptation of what George Orwell described as 'the working class bible'.
The story follows the exploits of Owen, a painter and decorator, and his workmates (the 'ragged trousered philanthropists' of the title) as they renovate the 'Cave', a sprawling estate on the edge of Mugsborough, a fictional town based on real-life Hastings, where the writer had lived and worked himself as a painter and decorator. Constantly fighting off the threat of the workhouse and plagued by turberculosis, while trying to raise his daughter as a single parent, Robert Tressell, whose real name was Robert Noonan, succumbed to consumption in 1911 and ended up buried in a pauper's grave in the grounds of Walton Infirmary right here in Liverpool.
I catch up with the writer and director at the Casa, on Hope Street, a community organisation and bar set up by the sacked dockers of the 1990s docker's dispute, whose Casa Theatre is a fitting venue for a story of resistance to the exploitation of a workforce often seen more as commodities than as human beings.
'It's a work with enduring appeal' Gerard explains, 'and in some ways its more relevant now than it's been in years, with food banks, subsistence and the bedroom tax … in many ways, nothing has changed' for people struggling to eke out a living. 'There's been improvements in health and safety, we have the NHS now, more of a safety net' elaborates Paul, 'but I think people are frightened in this country today of losing something really priceless'. Although it is known as a political work, 'fundamentally, though, it is a human story' Paul explains, and one that resonates as much today as it did over a hundred years ago.
Check out this adaptation of a vital piece of social history produced by Merlin Productions Inc, at the Casa, Hope Street on August 24th and 25th at 7.30pm. Tickets, £15, are available via the CASA THEATRE WEBSITE or at the Casa Bar.