Discordia, an immersive art exhibition by Laura Brownhill, came to Liverpool's newest theatre venue The Hope Street Theatre on 3-6th October with a collaborative show bringing together art, music, dance and meditation to explore the theme of 'making sense of the chaos'.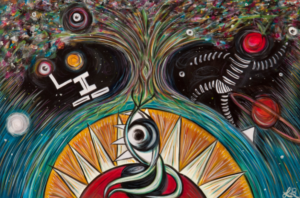 Laura Brownhill, co-founder of the well loved venue The Kazimier, having recently co-directed a choreography music video for Elton John, is the art director of Discordia exhibition, curating a collection of her paintings alongside performances by movement artists Pei Yee Tong, Katerina Hill and Cameron Forbes, choreographers Hollie-Ann Coleman, Maria Malone and Onur Orkut, musicians Jacques Malchance, Nick Smith and Nina Windsor-Roe, music producer Mario Aguilar Leal and yoga teacher Georgina Mullholland.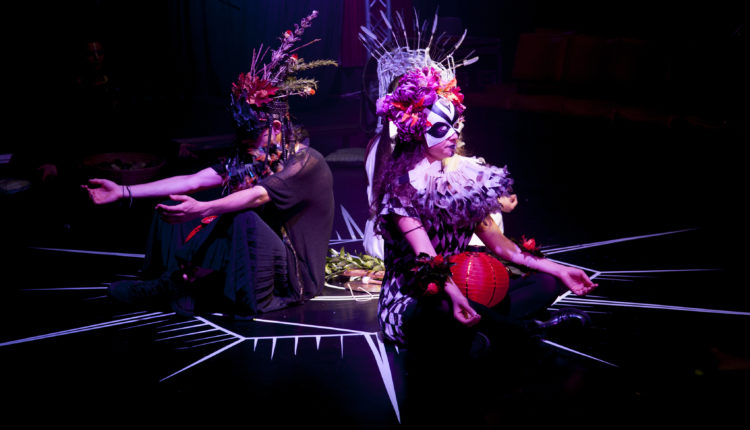 LVL attended the opening night on October 3rd and, as opening nights of art exhibitions go, there was much about Discordia that felt unusual. 'When my creativity turned to painting for the first time, and my friends urged me to do an exhibition, it felt so uninspiring to me to just hang them on a wall in a white quiet room and do it all alone!' Instead, Laura invited creative collaborators to devise, through dance, music and meditation, their responses to her paintings, The exhibition is 'based on the supposition that creation and destruction are all part of the same process resulting in pure chaos. 'Discordia' is an attempt to excite and unravel the knowledge that brings the chaos to balance'.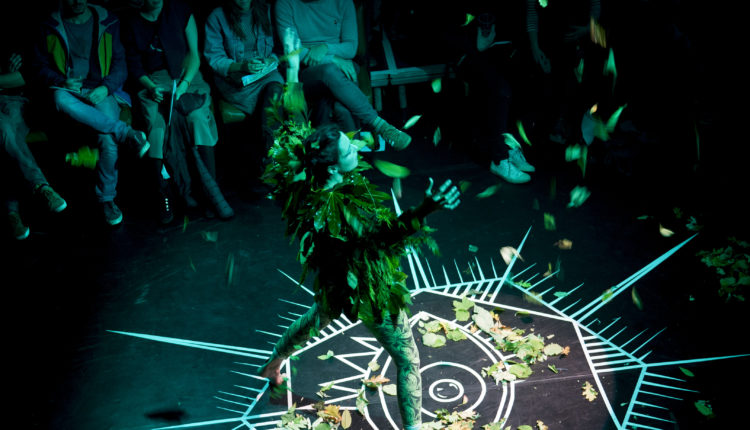 Upon arrival, we were given a programme that appeared almost as a script for the audience, detailing the various performances and the points at which we were to get up and move around the venue in between acts to take a closer look at the paintings. This set the tone for an experience that felt very interactive as the performers made full use of the space to get up close and personal with the audience, at times resulting in hilarious reactions that became very much part of the show.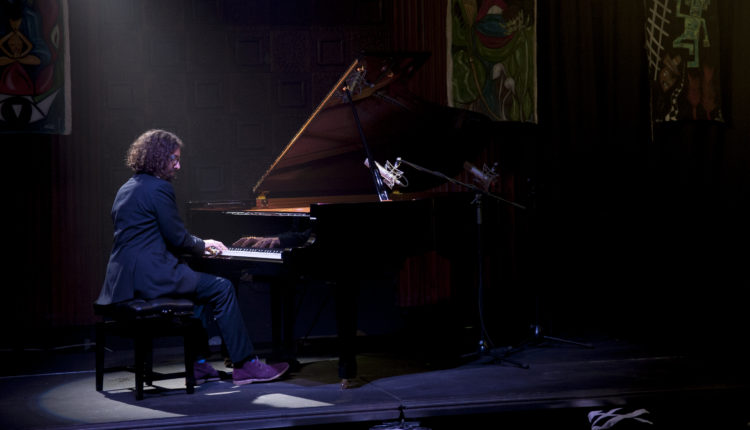 Billed as Liverpool's most versatile theatre space, The Hope Street Theatre was arranged for this event with seating in a horseshoe shape, the audience surrounding the performers in fabulous costumes who were waiting in tableau as we entered: three dancers, our 'guides' for the evening, stood centre-stage forming a circle beneath a large leaf wreath that hung from the studio ceiling, and behind them, sitting down in a state of meditation, a fourth figure, bedecked with leaves. Beyond, a piano lay in wait. Around the walls of the studio, against the black curtains, Laura's vivid almost carnivalesque dreamscape paintings were hung, each curiously dangling some kind of rock.
Then the show began. The audience were taken on a cascading journey of ensemble and solo dance performances, a short meditation session that momentarily transformed the space into a kind of spiritual retreat, and culminated in a pair of fantastic piano compositions by Nina Windsor-Roe, all punctuated by the occasional stop to explore the paintings themselves, as well as a quick shot of wine handed out near the end for good measure!
'I have always worked in the live environment creating immersive experiences that brings together multiple art forms making art a point of social cohesion.' Laura explains after the show. 'Having co-founded and run the Kazimier for 10 years, performance and all the elements of spectacle have been at the forefront of my expression…I basically just found a way of doing what I normally do, but centered it around the paintings as the catalyst for other collaborators to create from'.

I asked Laura about her aspirations for how the exhibition would be received, 'I hope the audience found the experience thought-provoking or inspiring' she explained, and on reflection that was indeed the case. Ultimately, Discordia is an innovative exhibition, an interesting use of a spectacular new space, and an intriguing first foray into painting for a multi-media artist 'taking a risk on untrodden ground'.
Check out Laura Brownhill ONLINE
Check out more at The Hope Street Theatre ONLINE
Images courtesy of Laura Brownhill and Amina Bihi