The Liverpool Philharmonic Music Room is packed and the sense of anticipation palpable as we take our seats. Conor French, of Blue Drag Music, introduces the seventh and sell-out concert in the series 'Django's Legacy', a selection of live performances from the great and the good in the Gypsy Jazz world celebrating the legacy of undisputed Gypsy Jazz King Django Reinhardt. The audience is full of excitement as out walks Gary Potter, an unassuming local musician from Huyton and one of the international heroes of modern Gypsy Jazz. Gary takes his seat, thanks his grateful audience and launches into a solo performance of such skill and rhythm that I'm ready to get up and dance there and then, but the show has only just begun!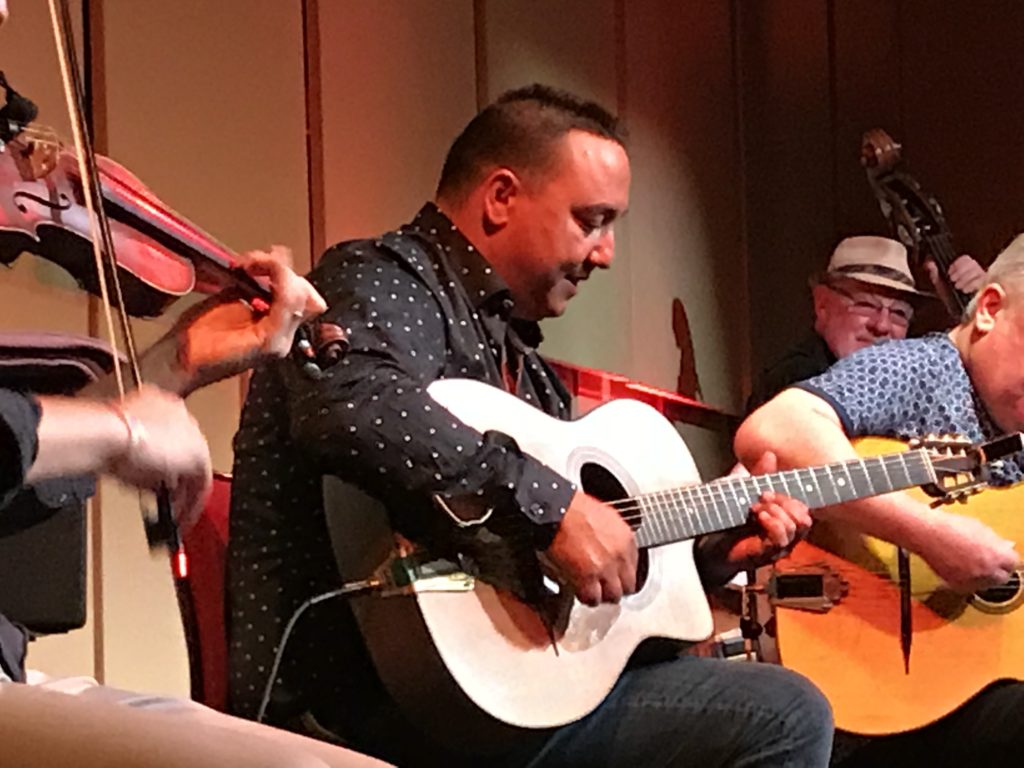 Before long, he introduces Paulus Schäfer, a world-famous guitarist hailing from the Dutch Sinti community, and they get jamming as only two such legends could. With an accompanying band comprising of Micky Dunne on rhythm guitar, Matt Holborn on violin and John McCormick on double bass, the Philharmonic's Music Room swayed, swooned, and tapped its feet furiously as Potter chided the show along with his unmistakeably Scouse wit and humour, "This next tune Django Reinhardt wrote especially for Arthur Scargill" he joked as the group launched into a mesmerising performance of Minor Swing.
For the next couple of hours, the audience is treated to what can only be described as a feast for the afficionado, from Claire de Lune to Douce Ambience ("Two Ambulances") and beyond, Paulus and Gary take us on an experts' tour of Django's legacy. With breathtaking solos by the guitarists and accompanying band, and a final encore of The Flintstones theme tune as you've never heard it before lapped up by the fans in attendance, the audience were left in no doubt that they had been in the presence of two modern musical masters.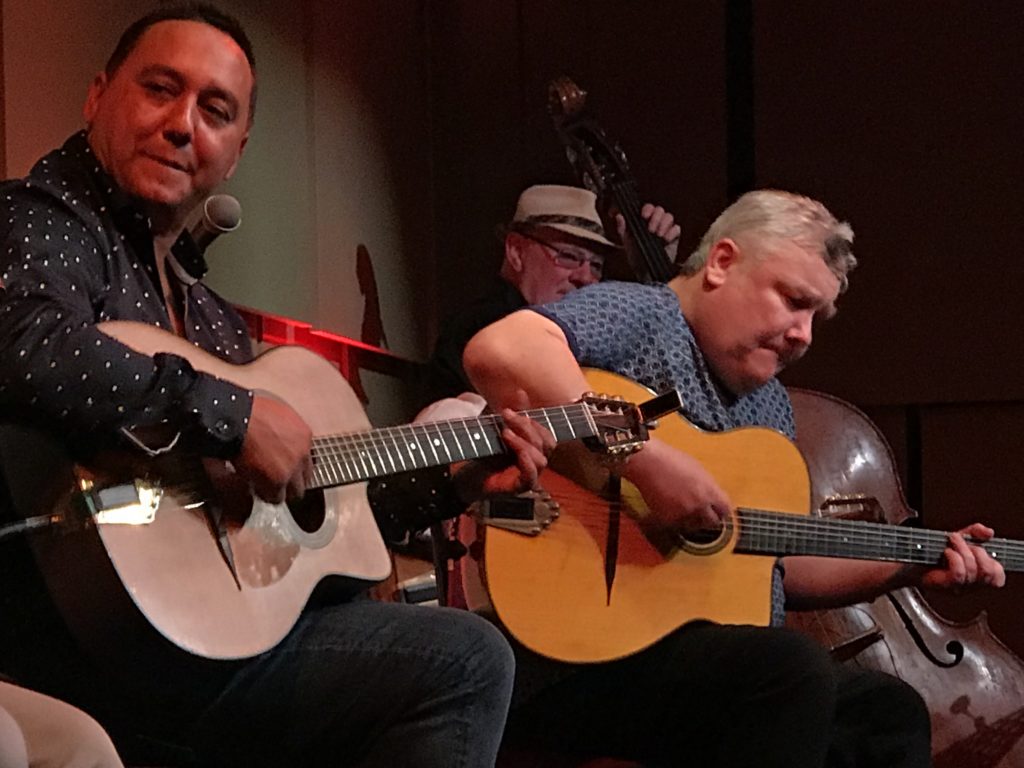 LVL caught up with Gary Potter and Paulus Schäfer after the show. We wanted to know how long the two had being playing together, "This is only our second time" explains Gary, much to our amazement, although it turns out they had actually also appeared together in a scene from Django's Legacy, the 1999 film that inspired the Music Room series, with the older Gary Potter playing guitar around a campfire, Paulus Schäfer was one of a trio of kids looking on, although by then Schäfer's deep interest in all things Django was already taking form.
Paulus started to play young, "I was given my first guitar when I was five years old" he explains, "I come from a large musical family….five brothers and a sister, all musicians, and my father played the violin" although there was no expectation on Schäfer to play professionally — if anything, he was discouraged at first: "My father would say to me, 'if you want to do something, you must do it with all your heart'." Schäfer's passion was such that, with a wider musical culture around him — the Rosenburg family being cousins (Paulus has played with 'The Rosenburg Trio' a hugely acclaimed Gypsy Jazz group from the Netherlands, amongst many others) — and mentored by Sinti musical legend Wasso Grünholtz, Paulus soon attracted international interest, playing at and headlining jazz festivals all across the world, collecting awards and accolades in the process.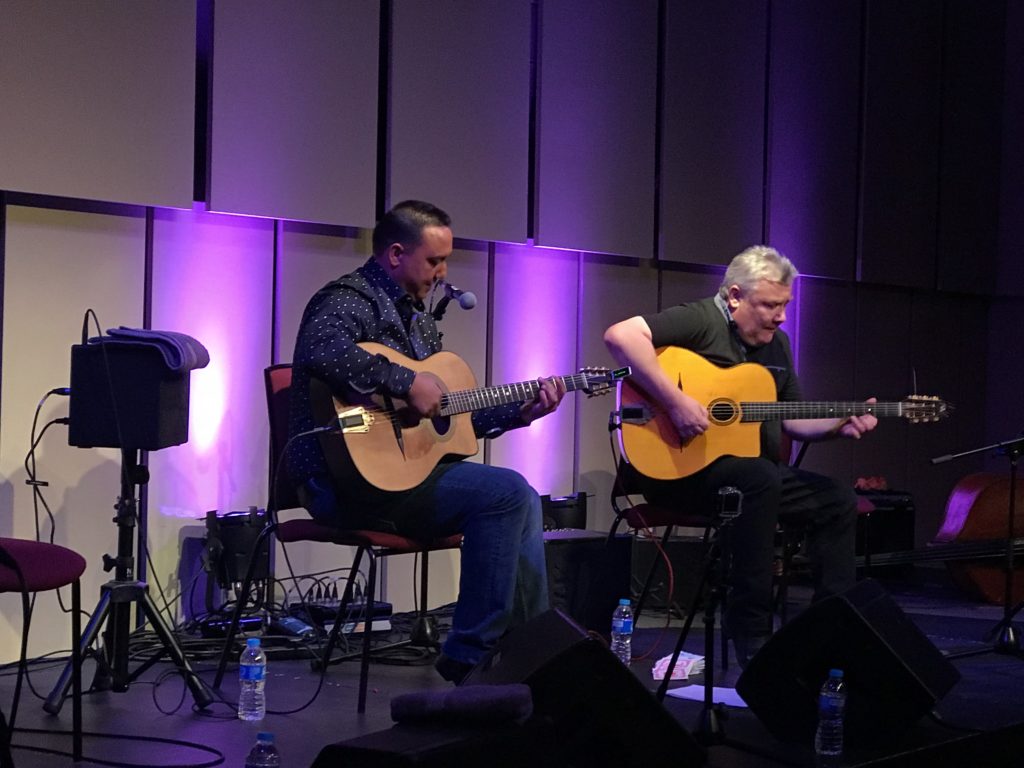 Gary Potter hails from Huyton and, although based in Wales now, he nips across the border when he can to see family, yet this is his first show in Liverpool for many years. So, how does it feel to be back? "I play all over the UK, sometimes overseas. It's great to come back to Liverpool, I've seen so many familiar faces in the audience tonight, people in Liverpool are just so loyal". Gary played a tune he wrote specifically for his mum, Grace, "a gentle lady but very strong in character" who was in the audience to watch her son play, a lovely homecoming touch by a musician who has done so much to put his Liverpool birthplace on the Gypsy Jazz map.
Gary's musical origins lie in the deep south, "My style is eclectic, but I was brought up on country music and used to listen to that along with swing, country jazz, and I used to be a country guitar player. I like a range of styles, a bit of country and even rock and roll" – he came to Gypsy Jazz as an exploring musician, and found a home here. Internationally renowned with a stream of awards (and George Harrison was a big fan) Gary Potter comes from a position of immense experience, personal passion and breathtaking skill.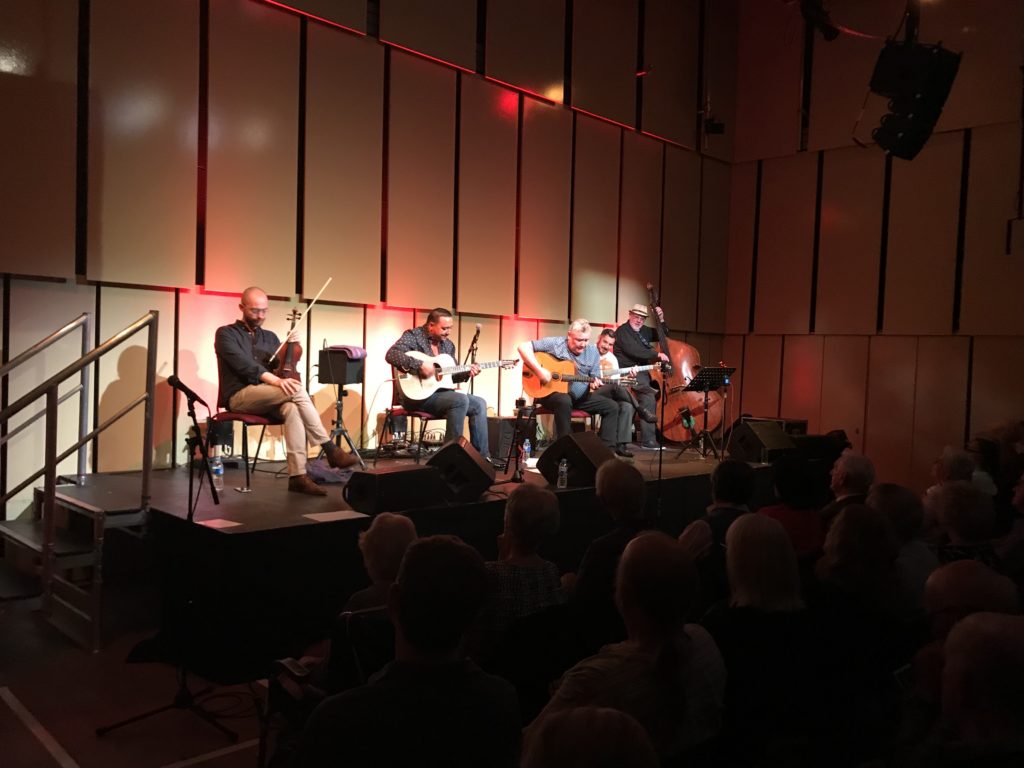 The seemingly extempore set list brought a free and relaxed feel to proceedings, and it really was a surprise to hear these musicians had barely played together before- what's the secret to creating such an amazing energy and coordination on stage together? "Maybe it's that we both just love this kind of music, and we have different styles…it's not a matter of trying, we just do what we do. There is no-one saying we shouldn't be doing that, we just do what we want…no jazz police" Gary explains.
Paulus comes from a background that may be described as Django-purist: "From twenty years back it was always Django, now I mix it with bossa nova too". On the energy the two legends share on stage, "I'm very happy to play with Gary" Paulus tells us, "he knows so many improvisations, I learn from him, he learns from me, together we help each other". "We bounce off each other" Gary agrees and teases the possibility of a joint collaboration CD next year.
So, where next for Gary Potter? "I miss Huyton, I do get back occasionally but not as often as I'd like. I miss old friends, and there's a lot of talent in Huyton, footballers and musicians. I'm back in Liverpool in September at the Everyman and I play a lot at Le Quecumbar in Battersea, a Django Reinhardt-themed bar that is dedicated to that style of music, and we're looking at a joint CD with Paulus next year."
'Django's Legacy' the series, meanwhile rolls on, and the next instalment is on Saturday 24th November, 8pm, at the Liverpool Philharmonic Music Room. Up next is Dario Napoli, a Sinti jazz inspired guitarist from Italy, bringing 'his version of gypsy swing, introducing elements of more modern musical styles such as bebop, funk and modern jazz'. With the huge popularity of these events, you'd better get a swing on if you want to catch the action as tickets are likely to be snapped up fast!
Check out Blue Drag Music on FACEBOOK and for a full list of what's on at The Philharmonic CLICK HERE
Images courtesy of Blue Drag Music