In this article, the LVL duo of Laura Roche and Kate McCann attended a lavish party at the Vivienne Westwood store at Cavern Walks in Liverpool city centre. Check out their photos and write up about what they learnt at the event….
When Vivienne Westwood announce they're throwing a 'Last Party on Earth' at their Liverpool store, the first thing you do is clear the diary and RSVP. Then you think about what it's all about and all the wonderous things you might see. We were truly stoked to be invited to such an elaborate-sounding bash and were there with bells on. From the moment we arrived we were treated as VIPs; we were wide-eyed glancing the amazing décor, and once we clocked the impressive centrepiece laden with canapes, desserts and sweets and beautifully-arranged flowers, we couldn't have imagined a better place to party if the world was indeed coming to an end. It was quirky, eccentric and daring, and we wouldn't have expected anything less.
It was a treat that the staff were so vibrant, attentive, welcoming and immaculately dressed in full Viv attire. Plus, once you've had gin served to you in an elegant teapot, what else is there left to see? Throw in a playing card or two (bigging up the latest House of Cards collection, and we so loved what they did there), and they were the most fantastical cocktails and tasted lovely, really hitting the spot. It was joyous to take a look at the clothing and accessories from Vivienne's new collection, which was as diverse and eye-catching as ever. The store was generously giving discounts and the customer service being delivered throughout the entire evening was spot on. The staff absolutely did Viv proud, pulling together a captivating shindig. The atmosphere was buzzing all night long and everyone just seemed really happy and chuffed to be there as they mingled, schmoozed and boozed.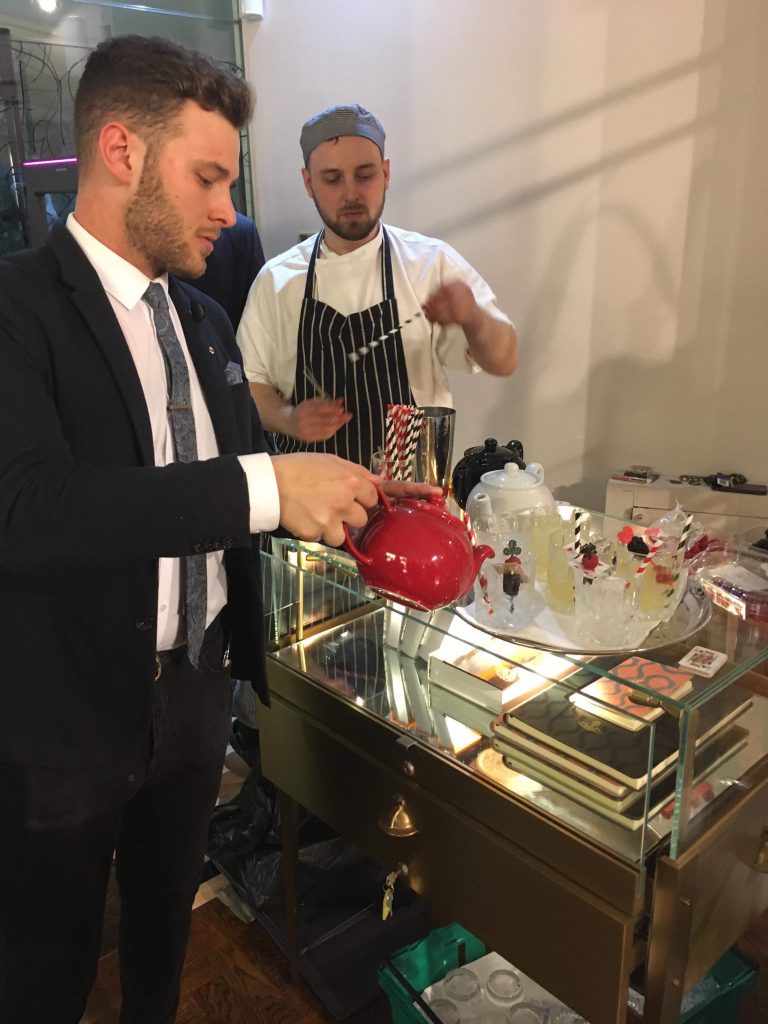 As for the entertainment, it was top notch and unexpected. We've never seen a contortionist before and she treated the gathered audience to two mind-blowing and mesmerising performances, all the while keeping a smile on her face. As she twisted and turned her body into positions you never thought would be possible, there were lots of gasps and sheer disbelief. It was absolutely perfect for the party – of course you'd want fabulous acts such as this at a last bash and of course your jaw would drop to the floor.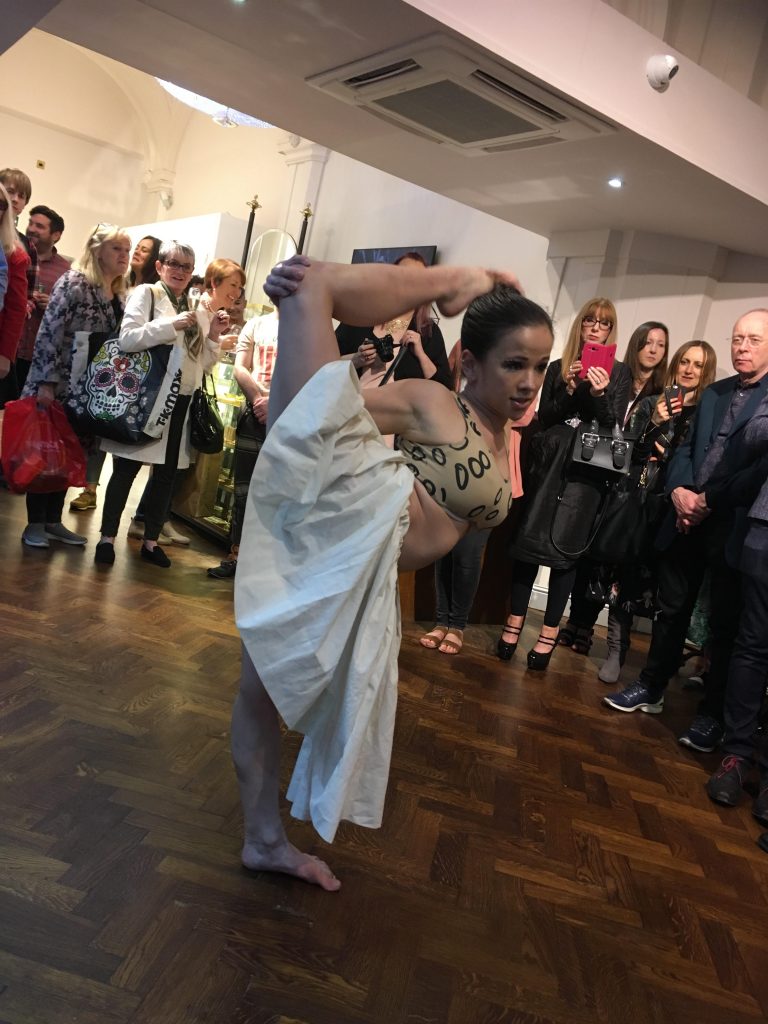 After attending the spectacular Vivienne Westwood event, we spoke to Chris Griffiths, Manager at Vivienne Westwood Liverpool to pick his brains and get the inside scoop on the party. He describes the inspiration behind the event as 'a celebration to welcome Vivienne's new collection and the key House of Cards print'. Along with showcasing her new pieces, the party was also a chance for Vivienne to raise awareness of significant world issues, such as climate change, poverty, fracking and other environmental issues. As well as a fashion designer, Chris told us Vivienne is 'a pioneer, trying to change the world and make it a better place'. The 'Last Party on Earth' was her conceptual vision of a final celebration before the world ultimately implodes due to corruption and destruction.
Along with the symbolism of the House of Cards print, the new collection also features key metaphorical ideas such as a billion dollar print, to represent the cost of repairing damage to the rainforest. Vivienne's Autumn/Winter 18/19 collection also boasts a beautiful camouflage print which Chris states is 'showcasing Vivienne's new army of strong men and women, who are ready to battle the world and fight all the evils around us'.
We were interested to know what the future held for the Liverpool store and Vivienne's collections. The party gave us a brief glimpse into the ethos of the store as we were surrounded by staff who exuded friendliness and charm. We were made to feel like princesses on the night and welcomed into the fold of what is clearly a community of like-minded fashionistas all working towards the common goal of supporting Vivienne and helping promote her message of world change.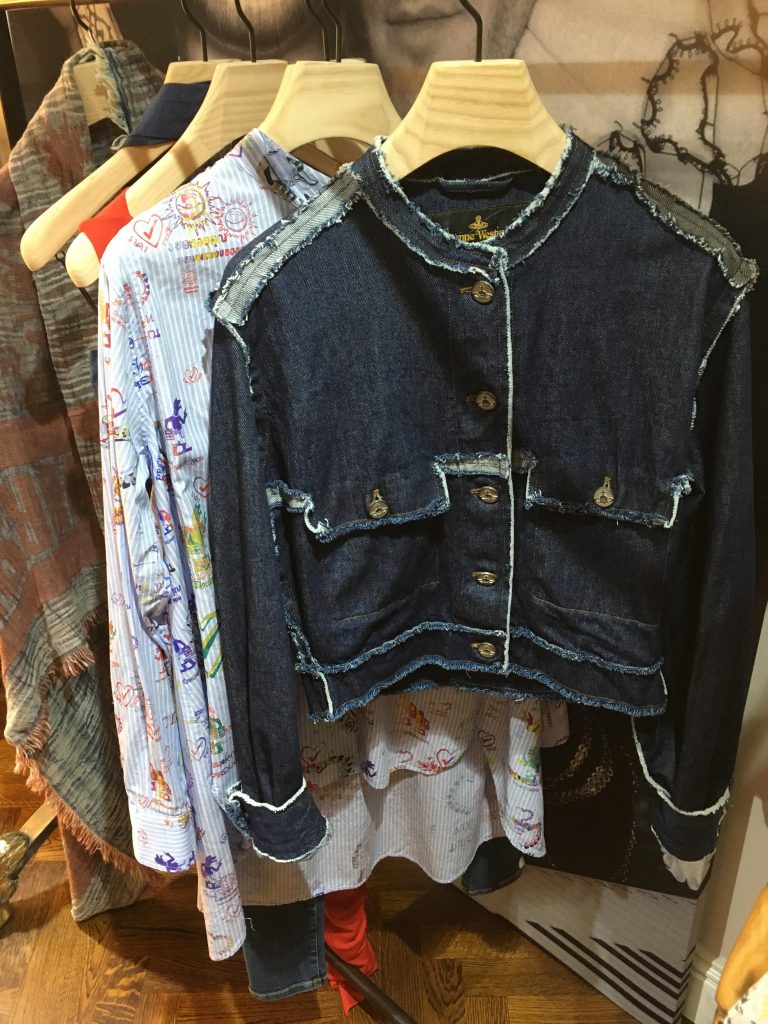 It was wonderfully inspirational to be part of this new era of fashion consciousness. In a world of 'fast fashion' it was refreshing to see a renowned British designer championing issues such as green energy, ridding the world of plastic (the store no longer sells plastic shoes) and using natural materials in clothing such as wool, yarn and hemp.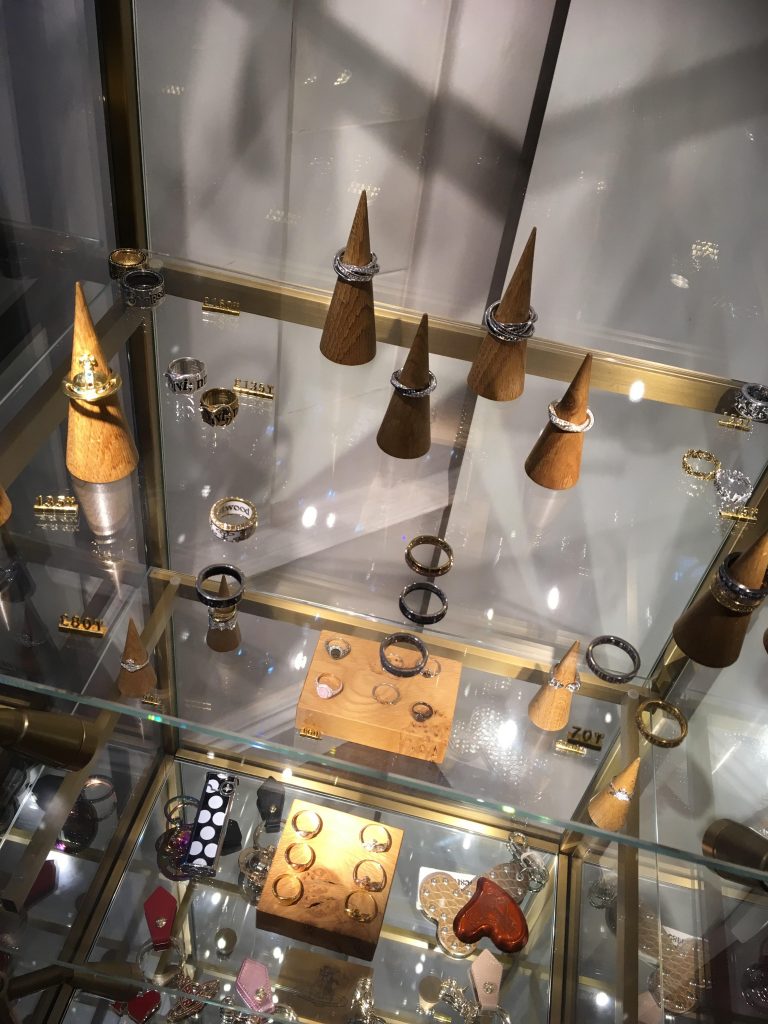 As someone who had never visited a Westwood store before, the fusion of sublime quirky elegance and a chilled vibe came as something of a surprise. It was clear that the priority was not just to make customers feel amazing, but also to offer a friendly and supportive space for the people of Liverpool. Chris summed it up by saying: "Our doors are always open for a chat or cuppa and you don't always have to come in just to look at or purchase clothes. We try to make people feel at ease — the company at Westwood is like a big family and that's really a lovely thing to have in such a harsh world".
We couldn't agree more and we'll be popping back for a cuppa very soon! Thanks to Chris and all the staff at Vivienne Westwood for an amazing party, if it had been the last one ever, the world certainly would have gone out with a bang!
Vivienne Westwood Liverpool, Cavern Walks, 8 Mathew Street, Liverpool, L2 6RE. Tel: 0151 227 2700.
Article and images courtesy of Laura Roche and Kate McCann