Hello and welcome to the Travel section of La Vida Liverpool magazine, where we capture your imagination and invigorate your senses by taking you away to some of the most beautiful places this world has to offer! In this feature we explore two of Canada's gems — the city of Vancouver and the mountain town of Whistler.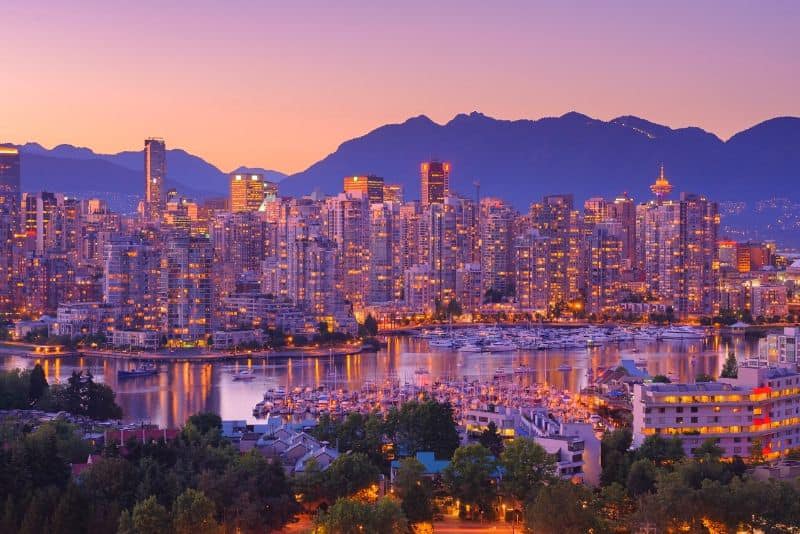 For as long as I can remember, I've had a deep connection and calling to visit the west coast of Canada — as if I've lived there in a past life or something. For one reason or another, this dream of mine had remained on my 'bucket list' — that is until 5th April 2023, when I finally embarked upon an adventure of a lifetime.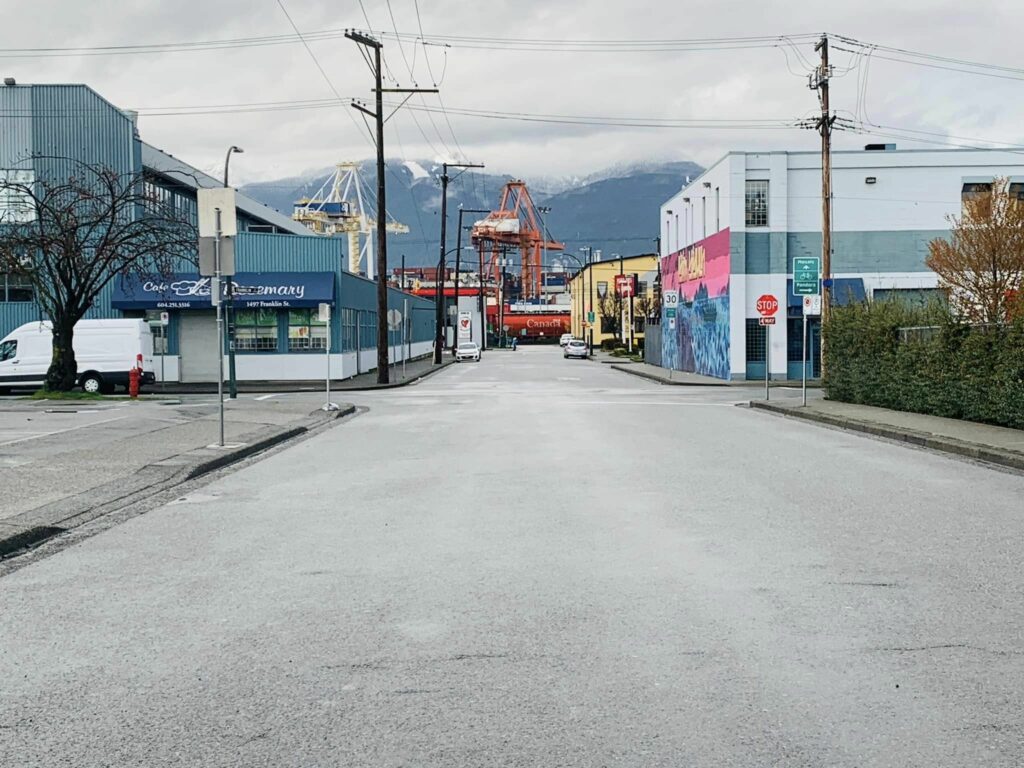 A thriving, multi-cultural metropolis, Vancouver is a beautiful coastal city surrounded by nature. Few cities can boast a rainforest within a park, gorgeous beaches, snow-topped mountains and such diversity. Meanwhile, just two hours' drive away, the picturesque mountain town of Whistler is a playground of winter sports — nestled in the great Canadian wilderness.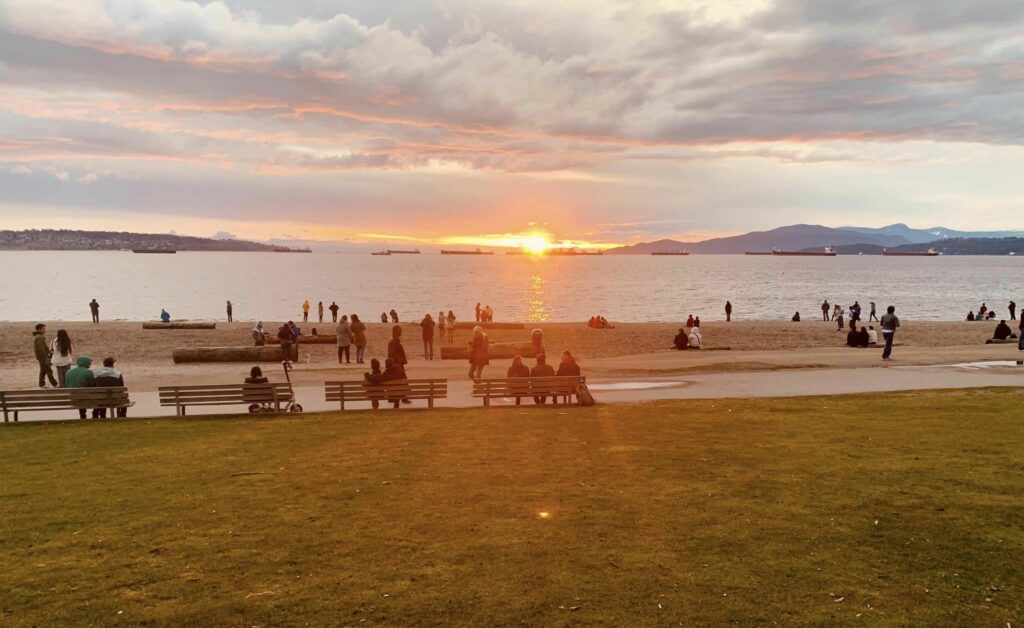 When I arrived on the Wednesday evening, my first impressions were firstly what an amazing airport they have in Richmond — it's super modern and multi-award winning. There's no better feeling than stepping into new surroundings and immersing yourself in the new sights, sounds and smells, and when I got to downtown Vancouver the second thing that struck me was how clean the city is.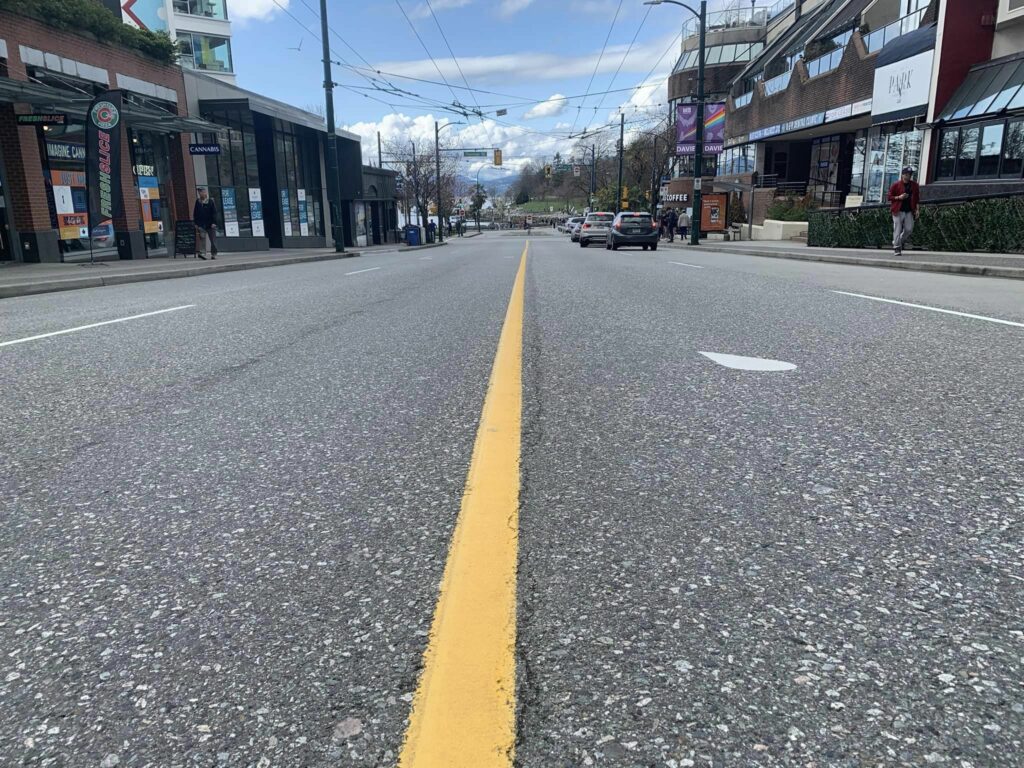 I had decided to stay at the Best Western Plus Sands, situated on English Bay at the bottom of Davie Street, by the beach and on the edge of Stanley Park. Given how expensive Vancouver is, the hotel offered fantastic value for money, an ideal location and a balcony room with great views out to sea. As I soon discovered, the hotel is also perfectly situated for lots of great places to eat and drink.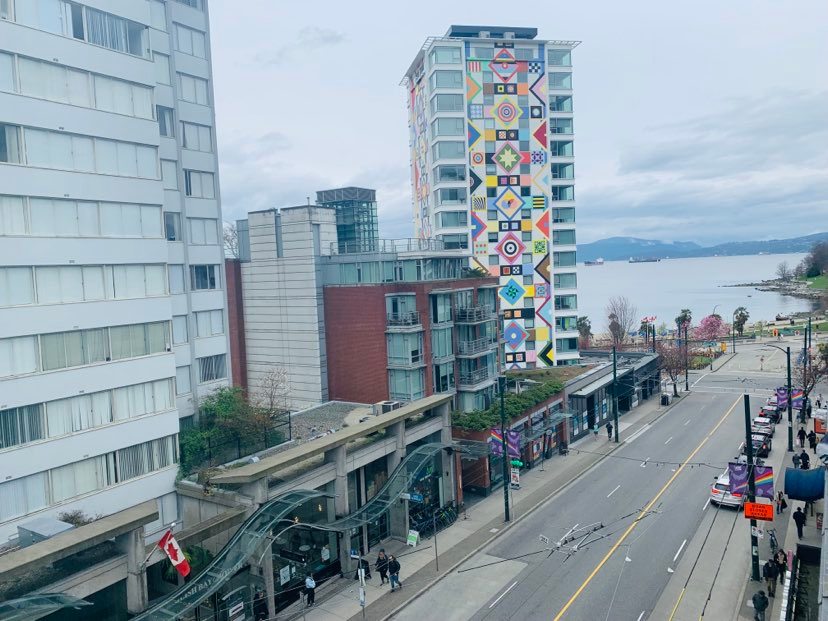 Naturally, the first thing I did after dropping my suitcase off was head straight out for a drink! The Bayside Lounge, a couple of doors down from the hotel, is a really cool hotspot and it wasn't long before I got talking to people and met new friends there — an early taste of Vancouver's wonderful hospitality. After just a few hours, I already felt as though I'd come 'home'.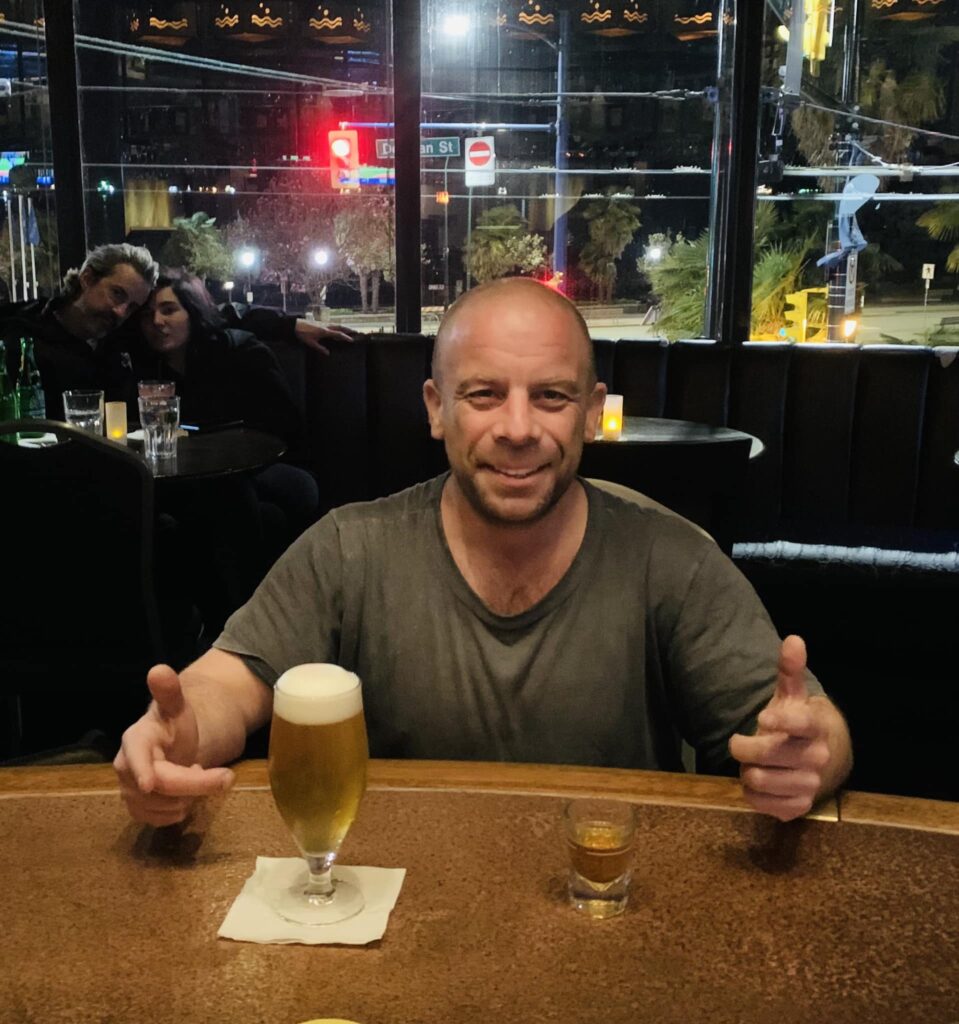 On my first day in Vancouver it rained, as it turned out to do so 95% of the time I was there. One person I met there told me it gets pretty rainy and gloomy throughout winter until around May — when it's as if someone turns a switch on and a beautiful long warm summer unfolds. Despite the rain, and what turned out to be almost constant rain during my stay, I set about exploring the city.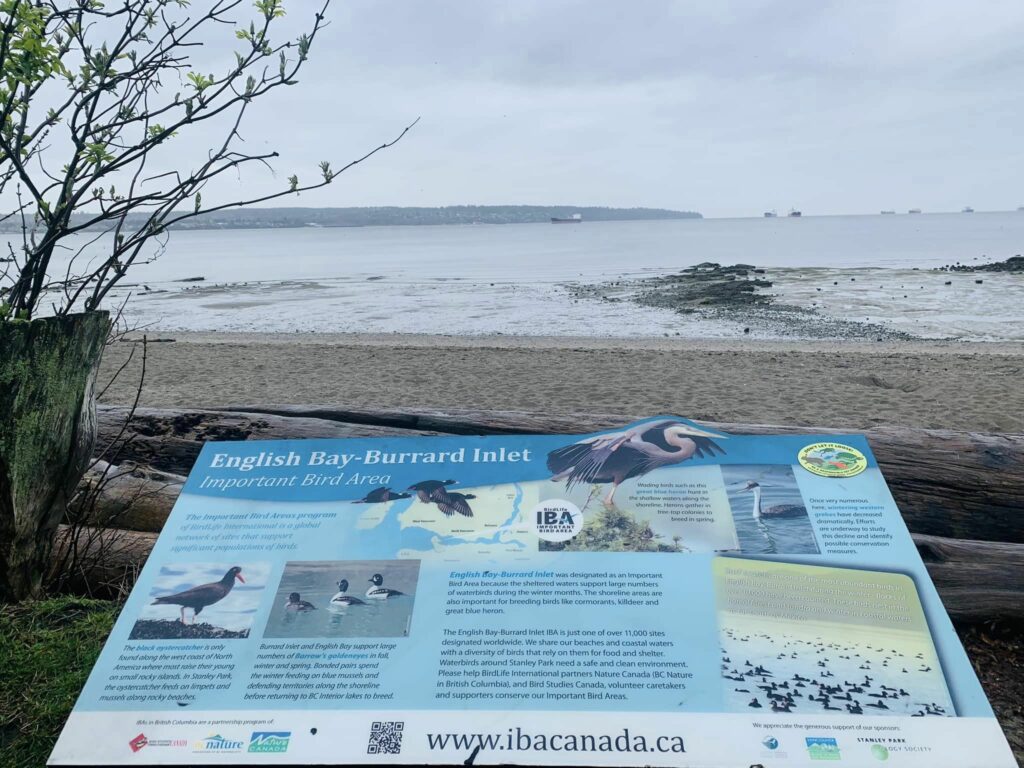 My first day consisted of a rain-soaked amble through Stanley Park, a 405-hectare public park that's almost its own island — surrounded by the waters of Burrard Inlet and English Bay and containing lakes, trees and wildlife. One thing I came to realise is that, although cannabis is a way of life in Vancouver, smoking cigarettes is much frowned upon — and not allowed in public parks — as a passing jogger sternly highlighted.
I soon discovered that Vancouverites are fiercely passionate about their city — testament to this is how clean the place is kept. Following my walk through the immaculately clean Stanley Park, I enjoyed a salmon burger and a pint at Lift — one of the stylish venues situated at the marina. As I watched the seaplanes fly in with a stunning mountain backdrop behind them, the barman spoke to me avidly about skiing and snowboarding.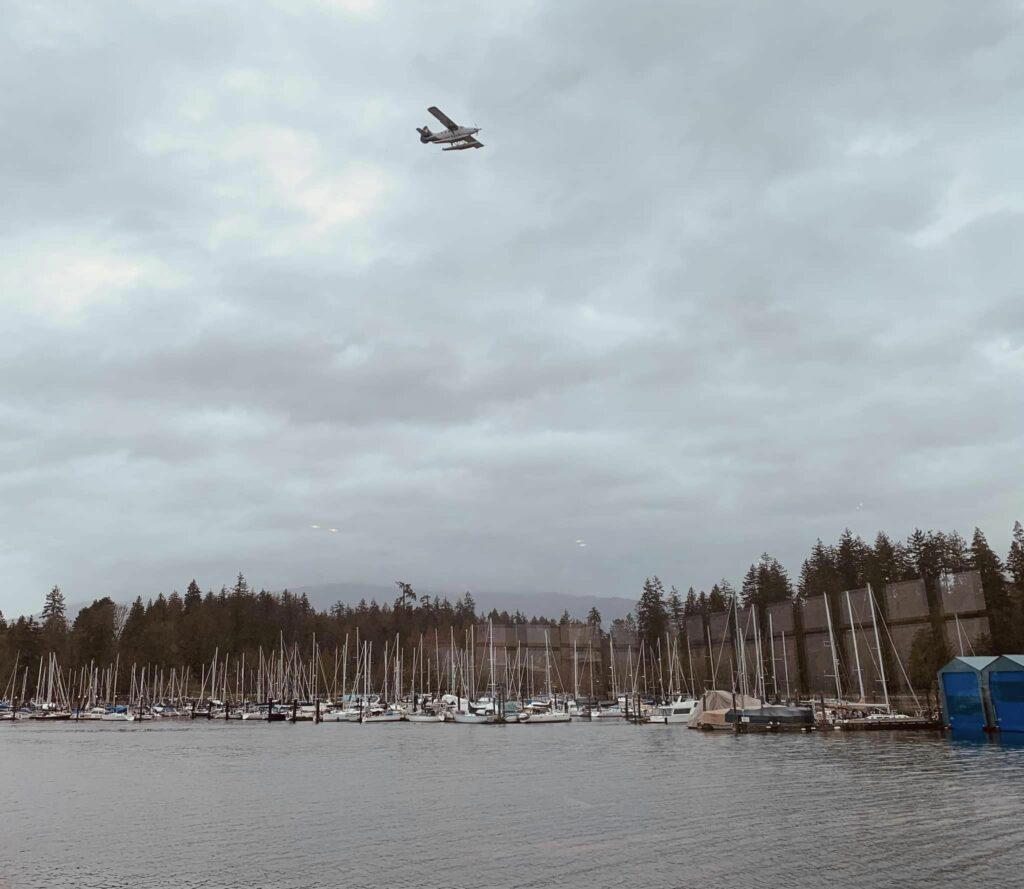 Indeed, the Canadians are obsessed with skiing, snowboarding and ice hockey (sorry, hockey) and this became more and more apparent during my visit. After walking for hours, I finally arrived at my intended destination of Vancouver Lookout Tower right on the edge of Gastown — where I enjoyed incredible views of the city and all its various districts.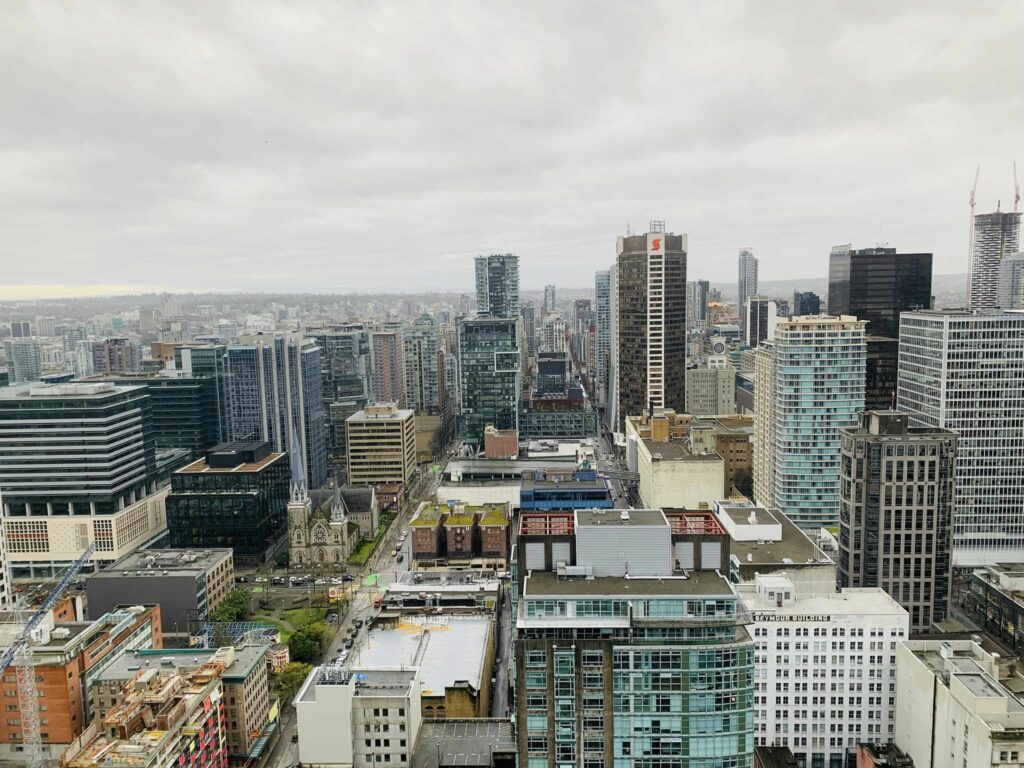 Now, let me tell you a secret. It costs around $18 (around £11) to visit the lookout platform, however you can view it all for free if you buy drinks or food from the revolving restaurant on the floor above. After a really interesting viewing and education on the various areas of Vancouver, I enjoyed a few drinks at the restaurant — where I bumped into Sergio who was working there, a cool guy who I had met drinking on my first night.
After a few cocktails, I randomly decided to head to Robson Arena to go and see an ice hockey match (sorry, hockey game). This is the beauty of travelling solo — being able to do impromptu things on a whim. My knowledge of hockey was limited to The Mighty Ducks and Wayne Gretsky but I soon got up to speed, as I met new friends at the game who explained everything to me.
Vancouver Canucks were playing rivals Calgary Flames and what an experience it was! Hockey games are real carnival affairs, with live music, DJs, competitions and prizes for fans in between play and of course, lots of aggression on the ice! I couldn't help wondering what 'soccer' would be like back home with opposing fans sat beside each other with beers and big competitions for fans to win prizes during breaks in play.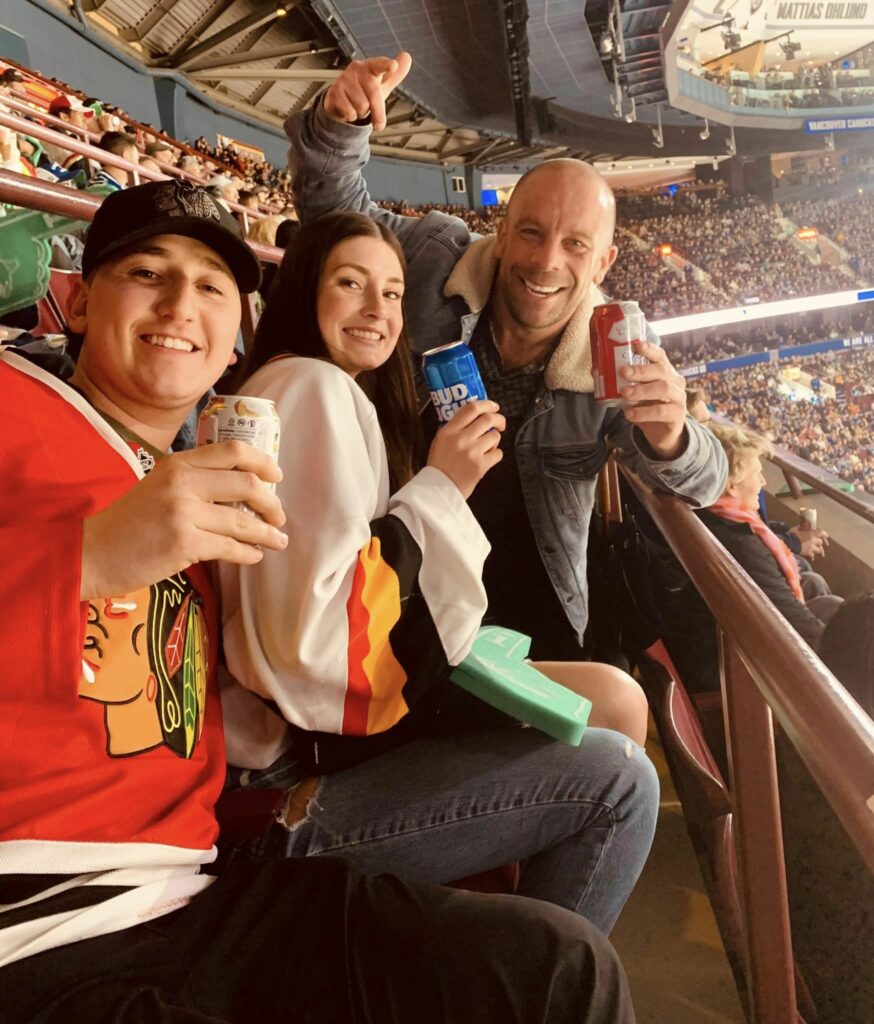 It turned out I was a lucky charm for Canucks fans, as they defeated Calgary 3-0 and I managed to capture two of the goals on my phone. During the game I befriended Calgary fans Ryan and Katelynn and also another couple so following the game we hitched one of their limousine taxis and went on an epic journey around the city — although I couldn't get into the famous Roxy's as I wasn't carrying my ID (you need this to go to clubs etc. there).
I ended up back at Bayside Lounge that night and after a most epic first day in Vancouver, my second day was equally as fun. During a break in the rain I enjoyed a big bike ride around the sea walls of Stanley Park (the rental bikes are really decent) and checked out the Totem Poles during the cycle. One thing I noticed is how organised their parks are — with walking and cycling lanes, they are far less chaotic than ours, and again far cleaner!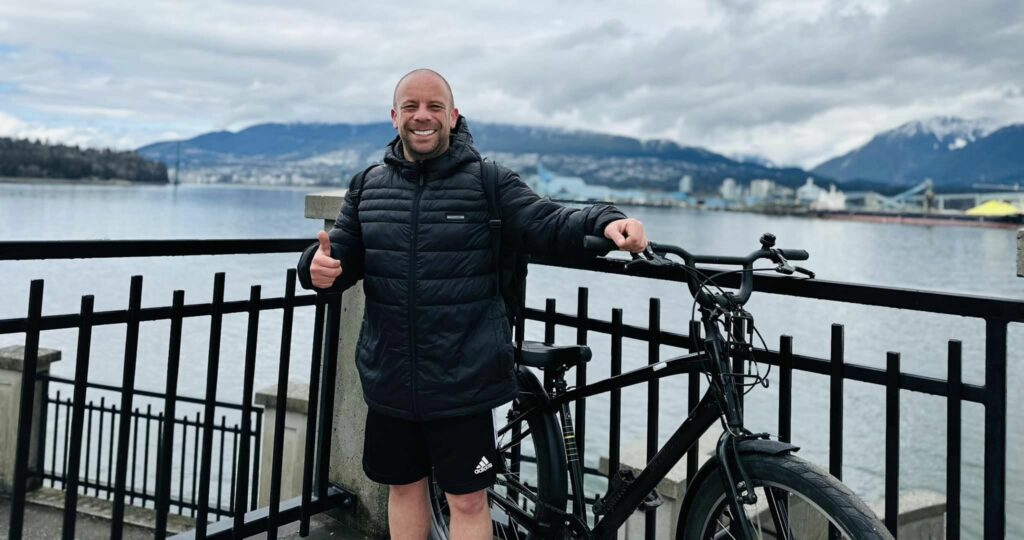 Following my bicycle adventure I met up with my friend Marie-Claire who, like so many Brits I met out there, decided to live out there due to the amazing lifestyle (albeit a super expensive place to live). We enjoyed a walk along English Bay and a boat trip to Granville Island — home to the famous public market, where we enjoyed the finest Thai food imaginable. When it comes to food and drink, in Vancouver you are truly spoilt for choice.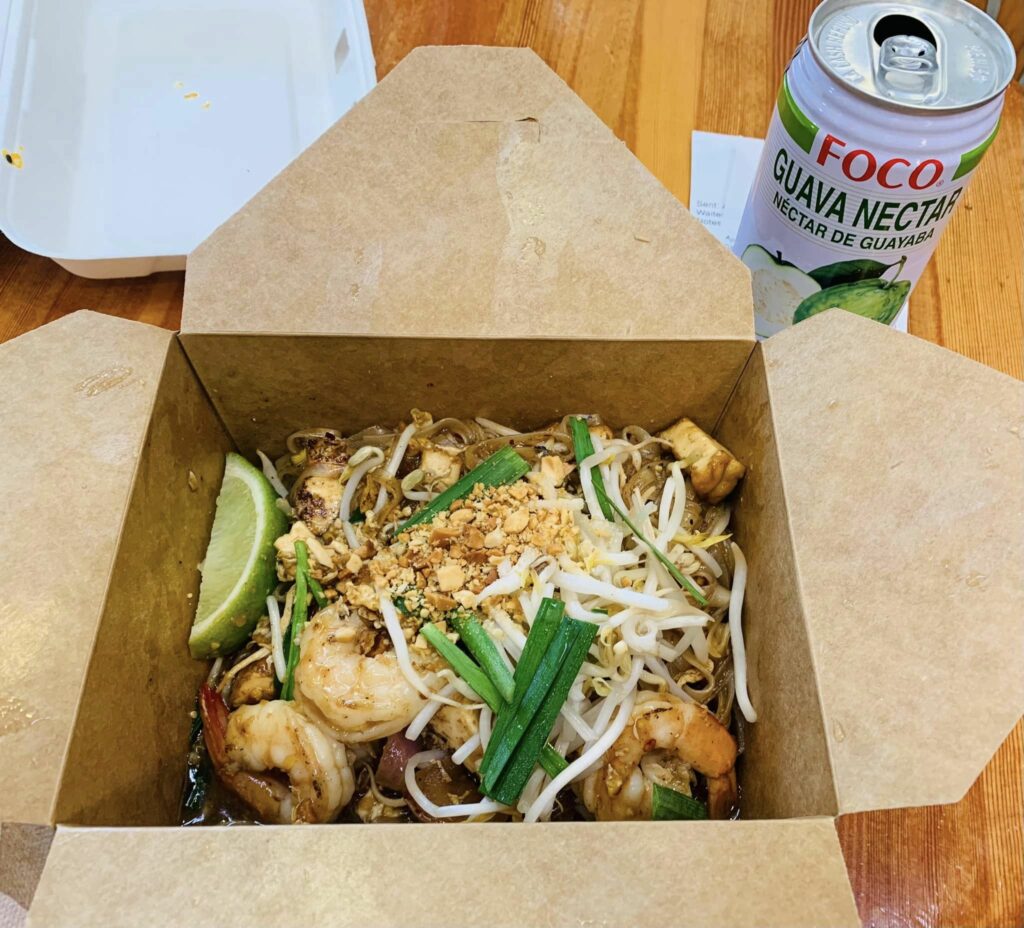 I mentioned how cannabis is not only legal but a way of life in Vancouver so in true 'when in Vancouver' style, I suggested we pay one of the 'coffee shops' a visit. New Amsterdam Cafe is one of their legendary establishments and let me warn you now — Vancouver cannabis is the strongest imaginable! After going completely white and laughing hysterically and things that were surely only funny to us, we took a long stoned walk back to English Bay and devoured desserts at Cactus Club Cafe.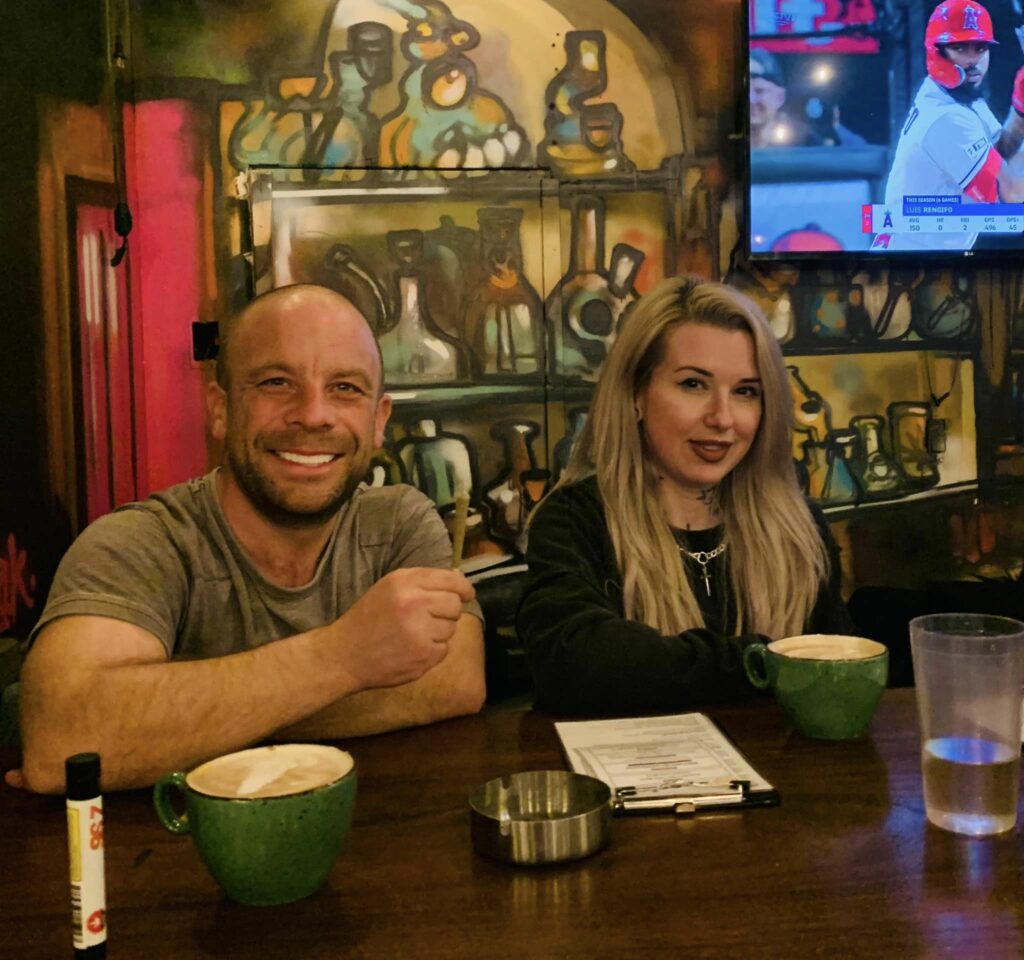 I woke up late the following morning feeling rather hazy still (further drinks at Bayside Lounge after the coffee shop misadventure saw to that) and decided what to do given the heavy rain. I decided to visit Vancouver Art Gallery and was amazed at the fascinating exhibitions on display — one of them being cool modern art from Robert Davidson (bizarrely I ended up meeting his nephew Walter at a pool hall, read on for this).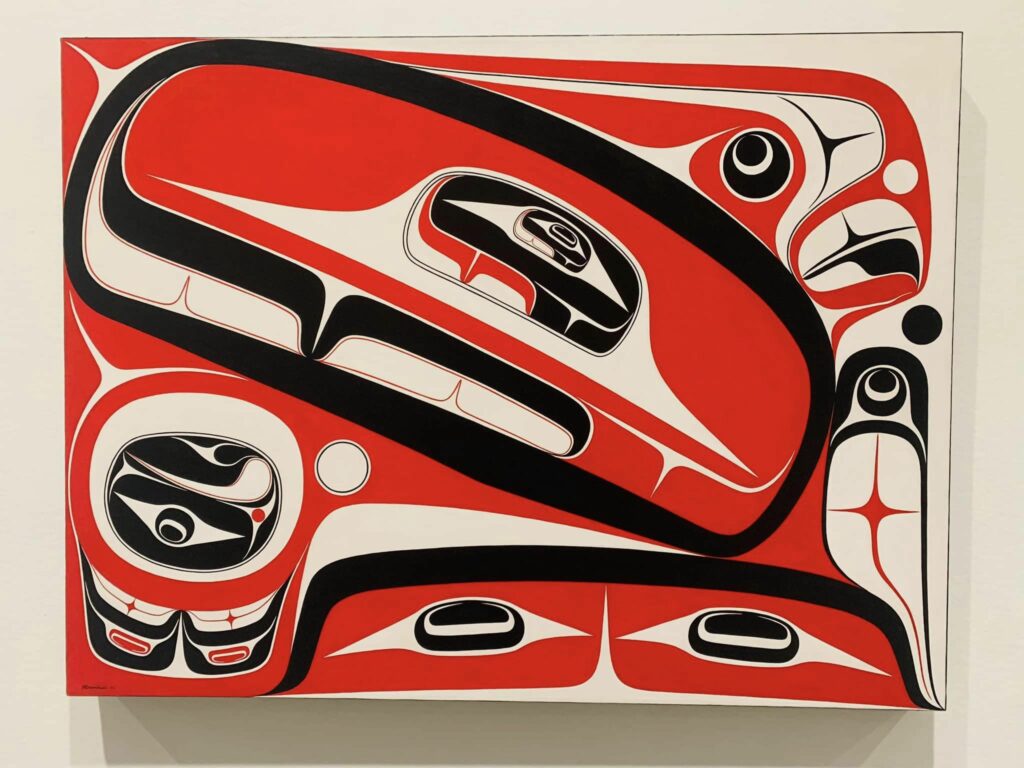 The exhibition that touched me the most was that of Alanis Obomsawin — a Native campaigner, singer and filmmaker of almost 90 years of age who has been tirelessly fighting for the rights of her people for decades. Her Native music was beautiful and powerful, whilst the stories of how she and her people have been mistreated and sent to 'residential schools' as children was both harrowing and tragic. A very humbling education indeed.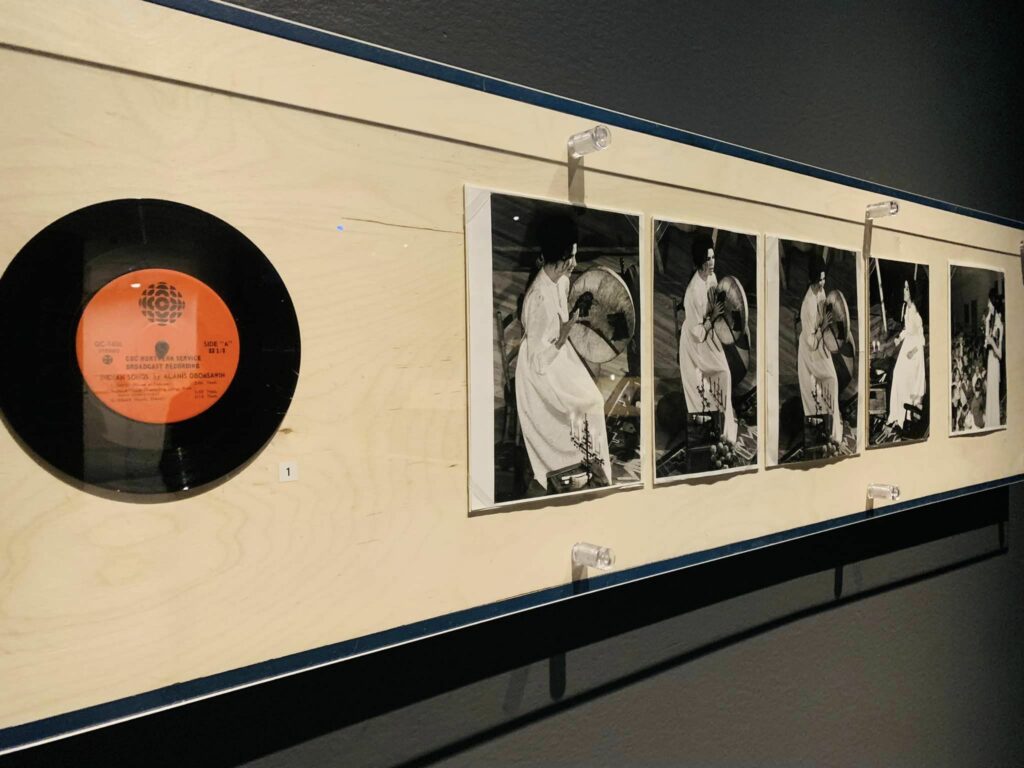 Following the art gallery I was looking for somewhere nice to eat, preferably to try some of Vancouver's famous seafood, and divinely stumbled across an attractive building that turned out to be one of the city's most legendary institutions. Joe Fortes is a cool 80s style seafood restaurant with an incredible reputation so I went all out — sampling oysters, seasonal halibut and fine wine (when in Vancouver, hey).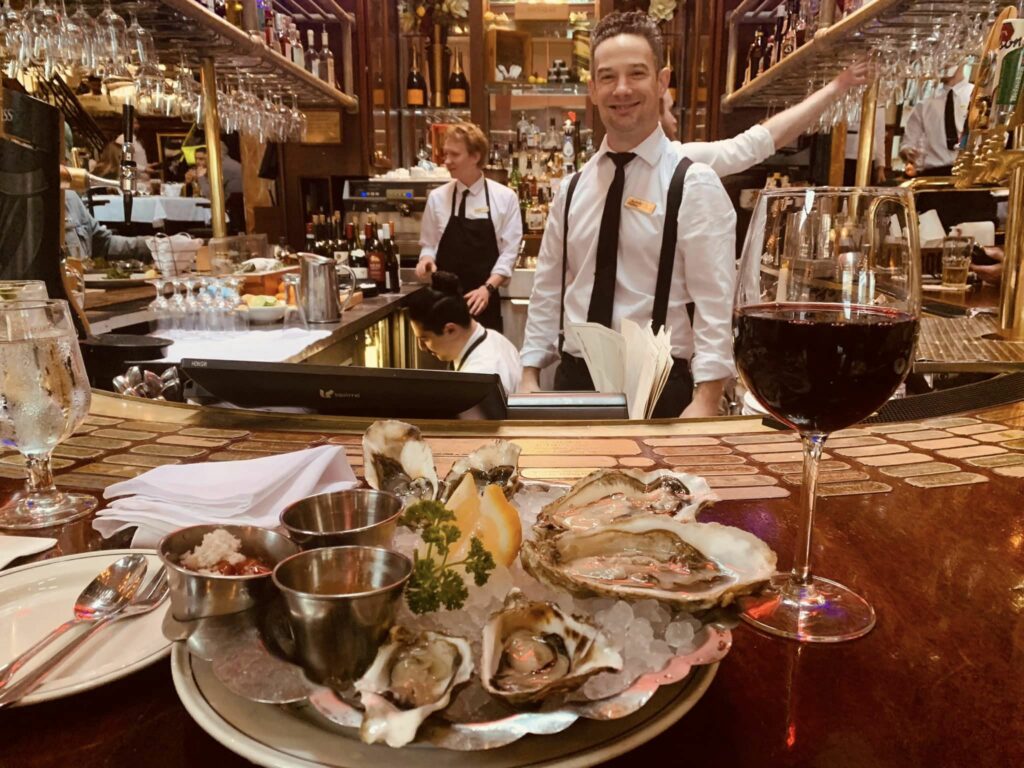 Another epic night at Bayside Lounge ensued — during which many people came up to me who seemed to know my name from the previous night (wow, that cannabis must've been strong, as I didn't have a clue who they all were). The Sunday got off to a great start as I firstly visited Cactus Club Cafe for steak frites and cocktails whilst enjoying beautiful views out to sea over English Bay.
Being an avid pool player, I decided to seek out a local pool hall and had the absolute pleasure of discovering Sneaky Pete's — an East Hastings pool bar owned by UK pro Steve Folan. It was there that I met local tournament organiser Justin Li, Sneaky Pete's GM Gareth Jones and the wonderful local pool community. One thing I love about pool is how it's universal and brings people from different backgrounds together and it certainly did just that on this trip.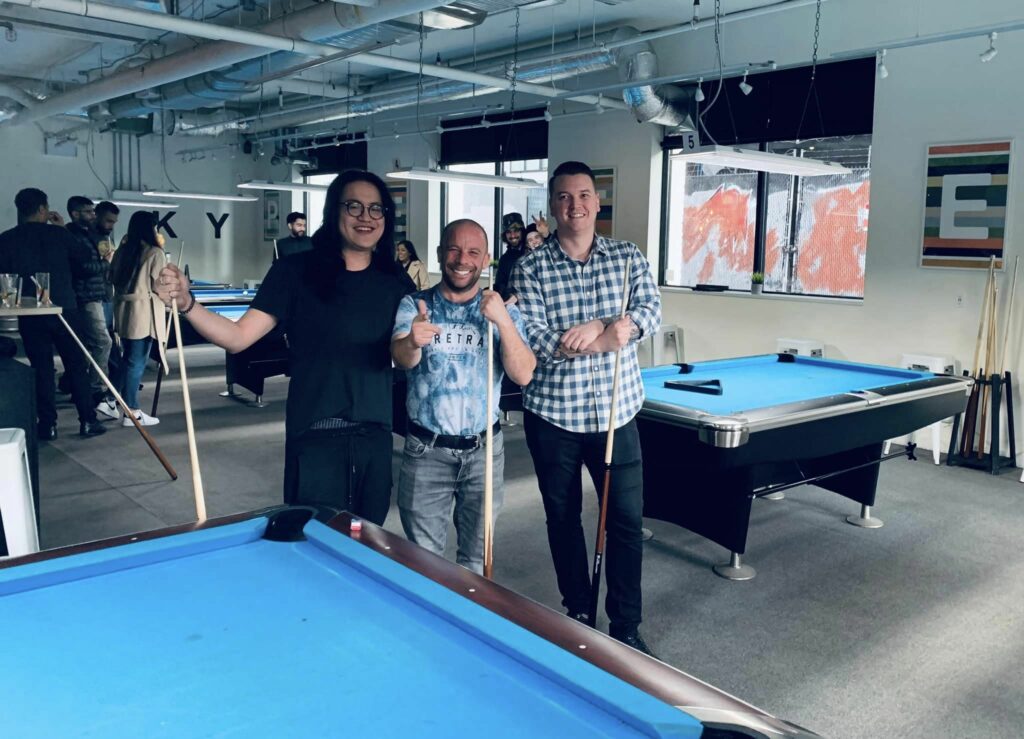 I spent many hours at this super cool hangout, making fantastic new friends in the process, and of course playing a couple of money games (once again, 'when in Vancouver'). I decided to return to Sneaky Pete's the following Sunday for the tournament and after a thoroughly good time there I checked out Vancouver's thriving comedy scene — something else the city is famous for.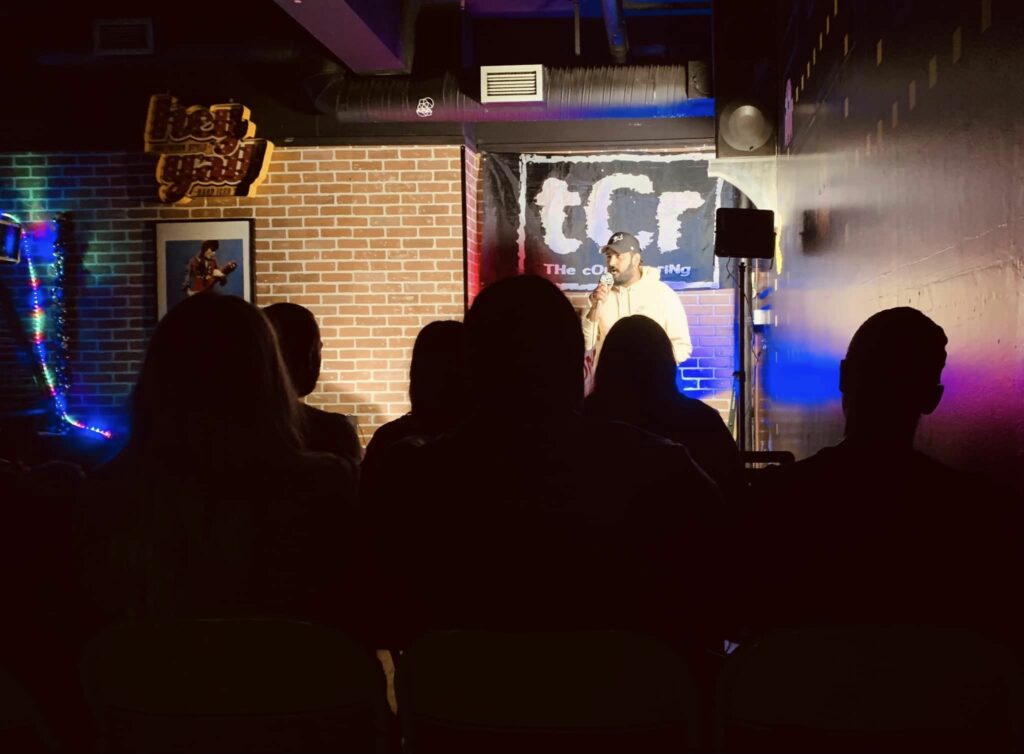 My choice that evening was Holy Chow comedy club and what a hilarious night of entertainment it was, as organiser Sahib Singh Rana and a host of local talent had the audience in fits of laughter throughout the show! If you're visiting Vancouver, a comedy night is a must and all I can say is that smoking a pre-rolled joint from one of their street dispensaries certainly makes it an interesting experience to say the least!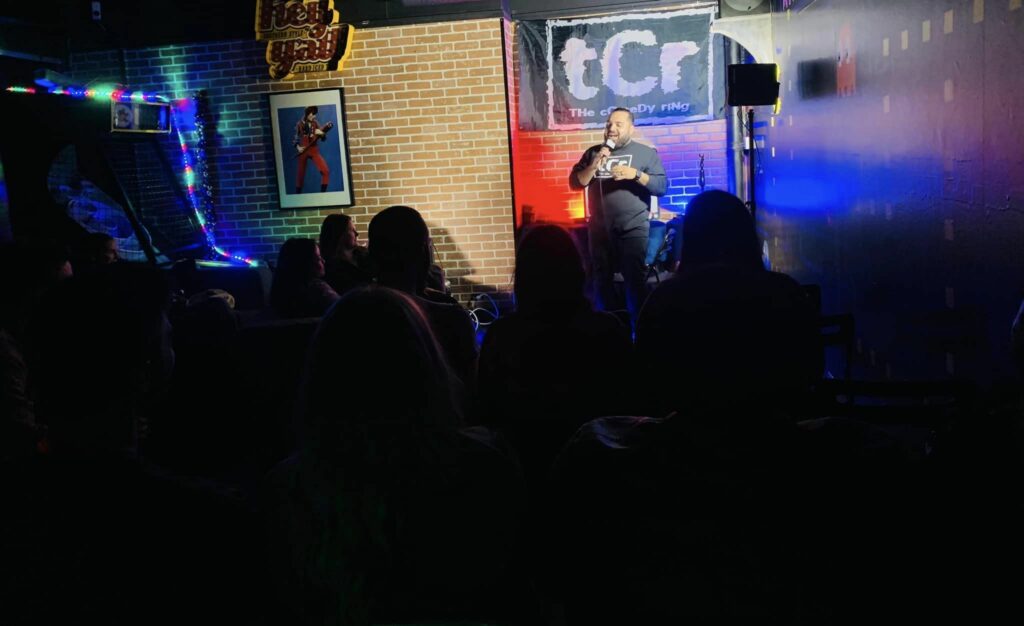 It is very rare that you have such high expectations of something only for it to surpass them and then some — my first few days in Vancouver certainly did that for me. I awoke the following morning feeling rather hazy once again, before checking out of Best Western Plus Sands and only JUST making the Sky Lynx bus to Whistler by the skin of my teeth.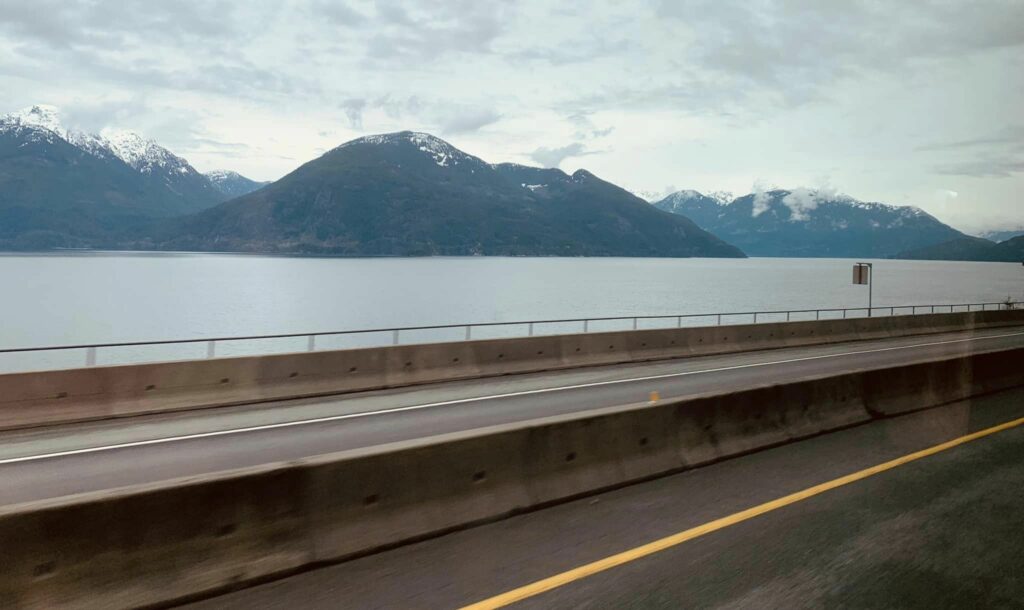 If you're taking the Sky Lynx bus from Vancouver to Whistler, I recommend sitting on the left hand side — where you'll witness breathtaking views of mountains and lakes throughout the journey north. After two hours of captivating beauty I arrived in Whistler and checked into the Adara Hotel, where I was welcomed by the friendly young receptionist, Rhys, who kindly upgraded me to a large mountain view suite.
Without hesitation I headed out to a local venue, Black's Pub, that boasts striking views of the mountains and slopes. My first impressions of Whistler? A magical fairytale-like mountain town, a picturesque playground full of wonder and delight! As I always do, I got chatting to locals, and was told that in Whistler all you do is either work, ski, snowboard or party — seeing as I wasn't working in a venue, skiing or snowboarding, the next few days looked ominous.
It's fair to say I did my fair share of partying in Whistler and I must thank my friend from back home, Rich McNally who now resides in Whistler, for pointing out some of the best hotspots for me. As with Vancouver, I discovered that the food there is top notch and the nightlife is equally so — with incredible food, drink, venues and service with a smile at all times (do be sure to leave a tip, guys).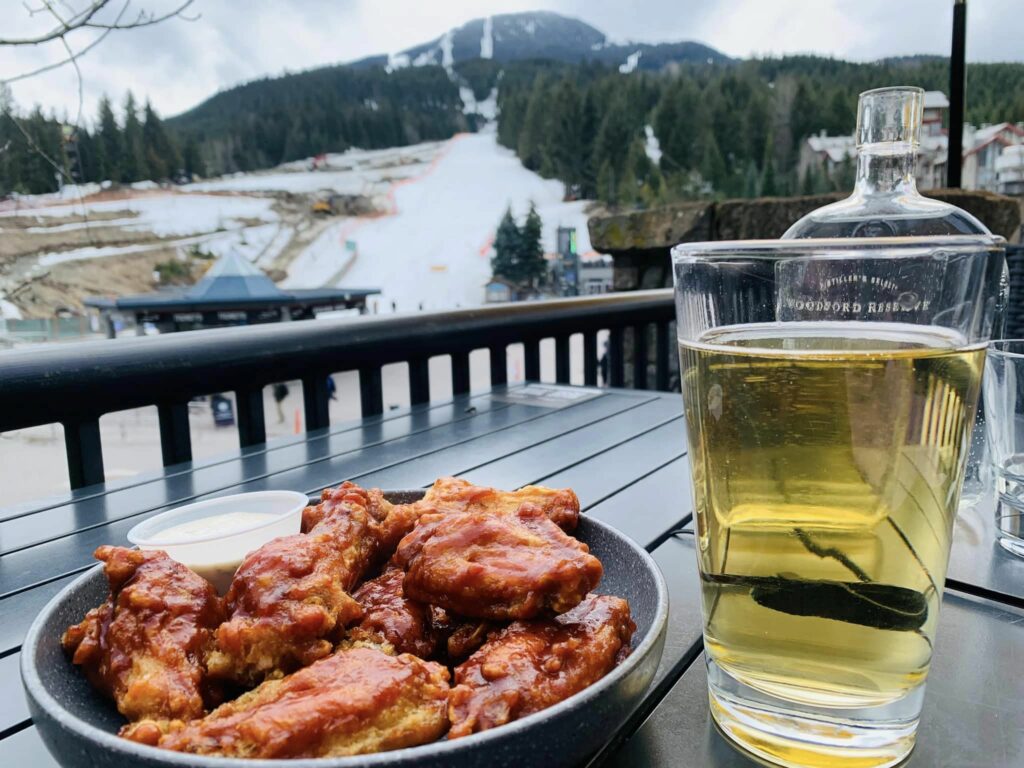 I met some more fantastic new friends during my few days in Whistler, such as Adam (who I shared countless drinks with at Buffalo Bill's), Ash and Alexis and the guys from the cool Cinnamon Bear Grille at The Hilton Hotel. During my stay it was the Skiing and Snowboarding Festival so the town was full of winter sports enthusiasts — of which there were so many and mostly Canadians and Aussies.
Whistler is one of the best destinations in the world for skiing and snowboarding, hence the Winter Olympics being held there in 2010, and it seemed to perplex people when I told them I wasn't there for either. I guess it's like somebody visiting Glastonbury during the festival yet not having an interest in music (well, it's not that I don't like skiing or snowboarding — I just didn't fancy the idea of writing this from a Canadian hospital bed).
Although I didn't take part in the activities on the slopes, I did enjoy a massage at one of the spas there and took the gondola to the top of Whistler Mountain and across to Blackomb Mountain. I visited some cracking restaurants — notably Nagomi Sushi, where I met my friend Kayla's cousin Alison and also Laura, two fellow Brits who worked there and, like many, also fell in love with this part of the world and emigrated.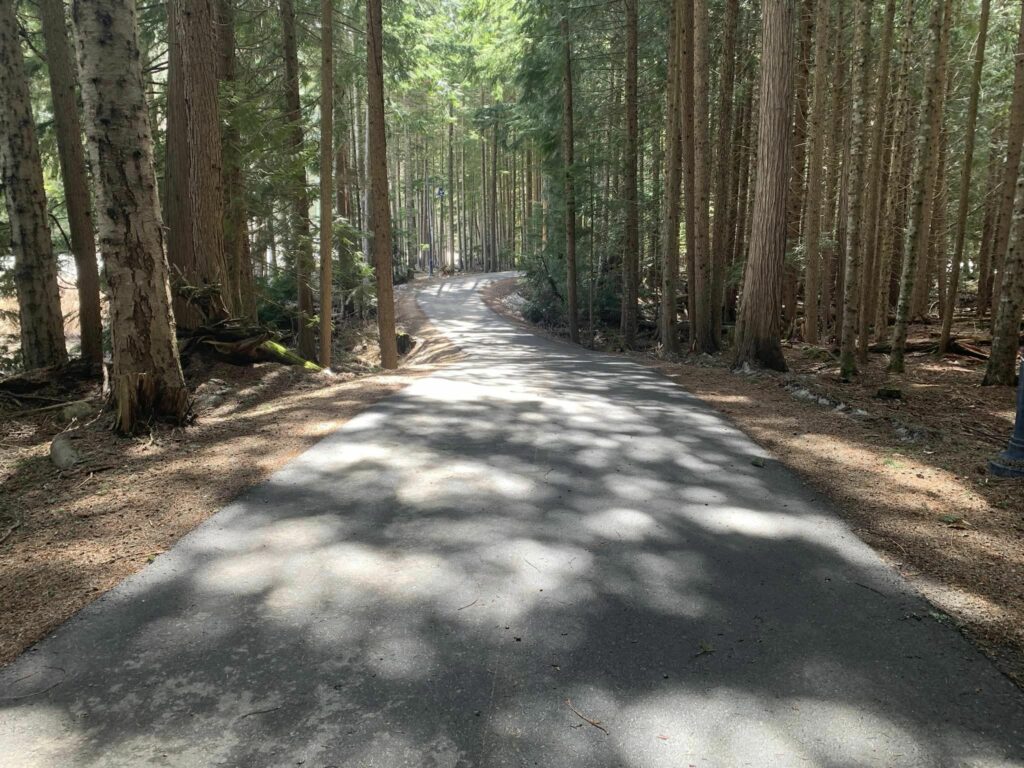 On one of the days during my visit, I enjoyed a beautiful walk to Creekside — where I had wings and pints with Alison, Laura and the girls. It was so great to meet them and they told me many tales from the slopes including stories of several concussions and injuries — thank God I opted out of skiing and snowboarding, as I would have definitely done myself a mischief given the amount I drank during my time there.
Whistler was truly awe-inspiring and enjoying drinks in the hotel's rooftop hot tub whilst gazing up at the mountains and starry sky above was a spinetingling experience that I'll never forget. On my final day there I did the Train Wreck hike — venturing out into the woods to discover the abandoned trains that had derailed nearby years ago, only to be now covered in graffiti. The answer to the question you'll all be asking — no, I didn't see any bears unfortunately.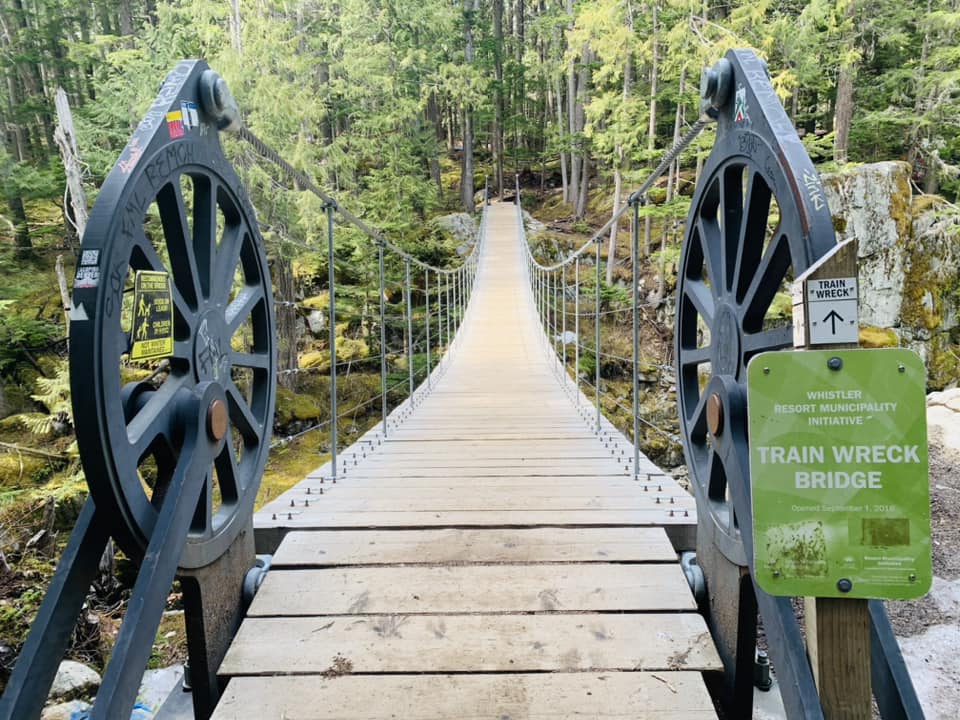 With my time in Whistler come to an end, I yet again JUST made the Sky Lynx bus (back to Vancouver) by the skin of my teeth. Back in Vancouver on the Friday evening, I decided to visit the Vancouver Lookout Tower's revolving restaurant again — this time to take in the city at night. It was there that I met a fantastic South African guy named Kobus Van Wyke, who had been living in Vancouver with his family for many years.
Kobus and I talked for hours whilst his expertise as a surveyor gave me an interesting insight into many of the city's buildings below. Another strong connection and new friendship was made that night and I began to feel an overwhelming sense of hope and faith for humanity, as I contemplated all these wonderful new friendships I'd made in my 'second home'.
I genuinely can't remember what I did in Vancouver on the Saturday and I blame this solely on Cannabis Culture coffee shop — another of their legendary and entirely legal pot smoking establishments — and a night of techno at Bayside Lounge. On the Saturday night I enjoyed food and drinks at Park Pub, the awesome venue in between the hotel and the Bayside Lounge, and this is where I met my 'buddy' (see, I'm already speaking Canadian) Johnny Wettlaufer.
Johnny and I instantly hit it off and after a few pints and tequilas, we decided to visit Sneaky Pete's pool bar the next day. The Sunday morning consisted of an extremely hungover taxi journey to the pool hall, before linking up with the amazing pool community there — Justin, Gareth and a host of top players who were there for the pool tournament. The standard of play was on point, as were the people, and one of the entrants was BCA Hall Of Famer Stan Tourangeau.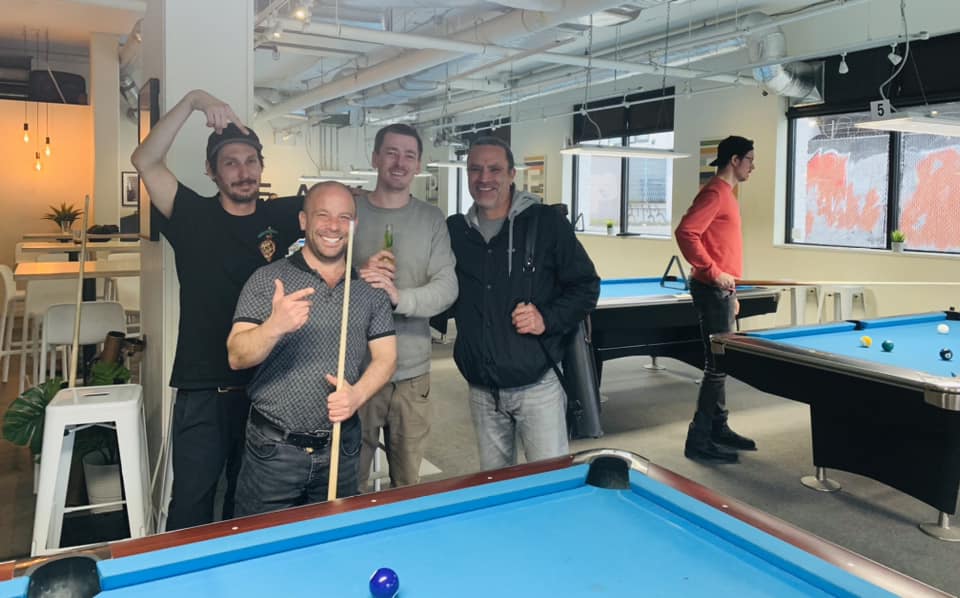 Despite winning my pool challenges the previous time I visited, I marginally lost both tournament matches 3-2 but still had the most amazing time with my new pool 'buddies' (yeah, I'm speaking Canadian again). One of the great guys who beat me was Walter Davidson, who it transpired was the nephew of Robert Davidson, whose art exhibition I went to see the previous week.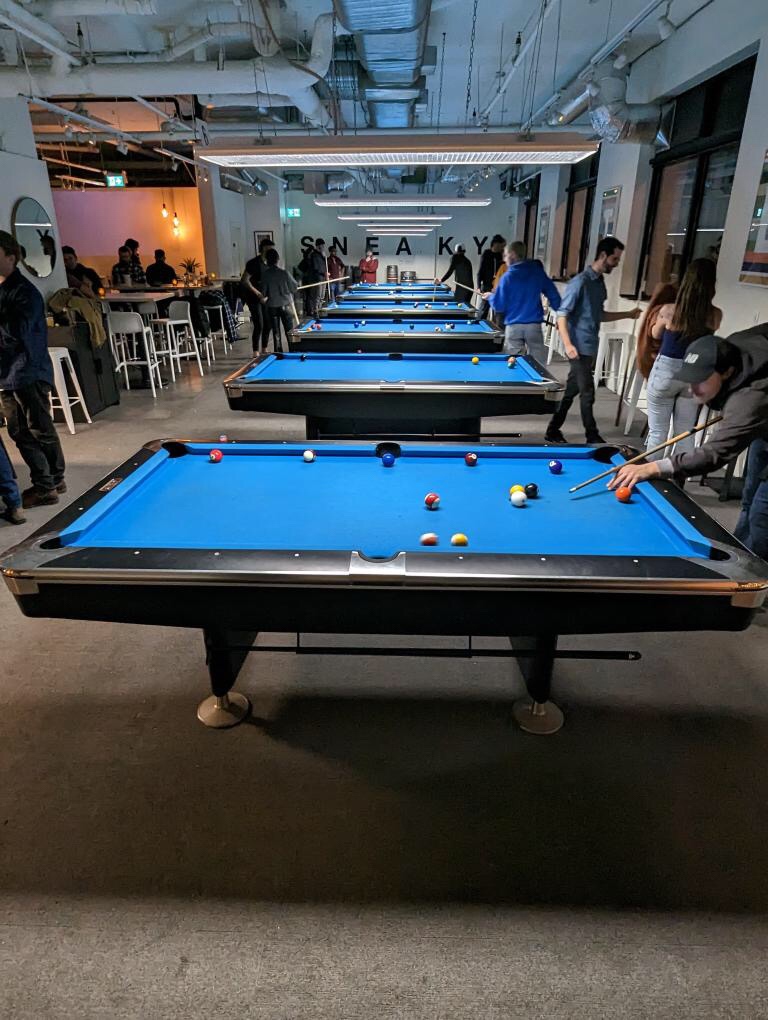 It was a pleasure to become acquainted with Sneaky Pete's owner Steve Folan, a top pro player himself, and he kindly agreed to take me on a big hike up Grouse Mountain the next day. Yet another Brit who fell in love with Western Canada and moved there, Steve explained the 'Grouse Grind' to me — an epic two hour hike up Vancouver's huge snow-topped mountain. Although that hike was to be a hungover one (obviously).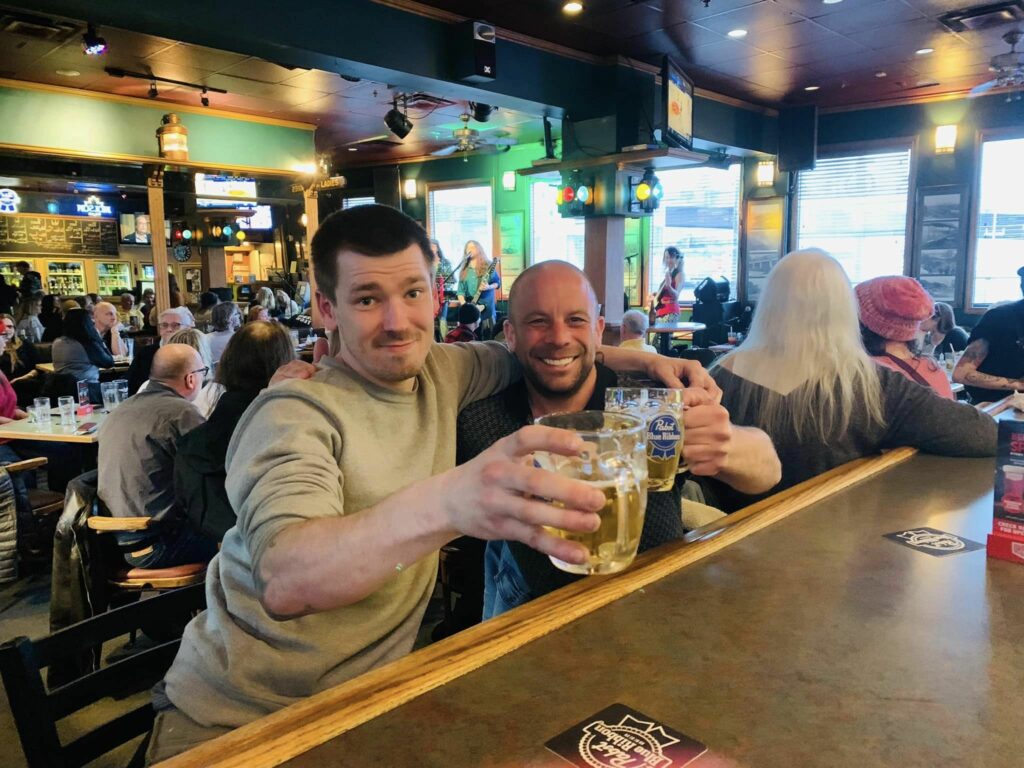 After the pool tournament, Johnny and I got some beers from the nearby liquor store and drank a few on the way to Princeton dive pub (illegal to do so, as opposed to smoking pot freely). Entering The Princeton was like entering the kind of Wild West bars you see in movies — with a pool table, live music, interesting characters, random decor and a slightly edgy atmosphere. I loved it and we met some great new friends such as David Murray.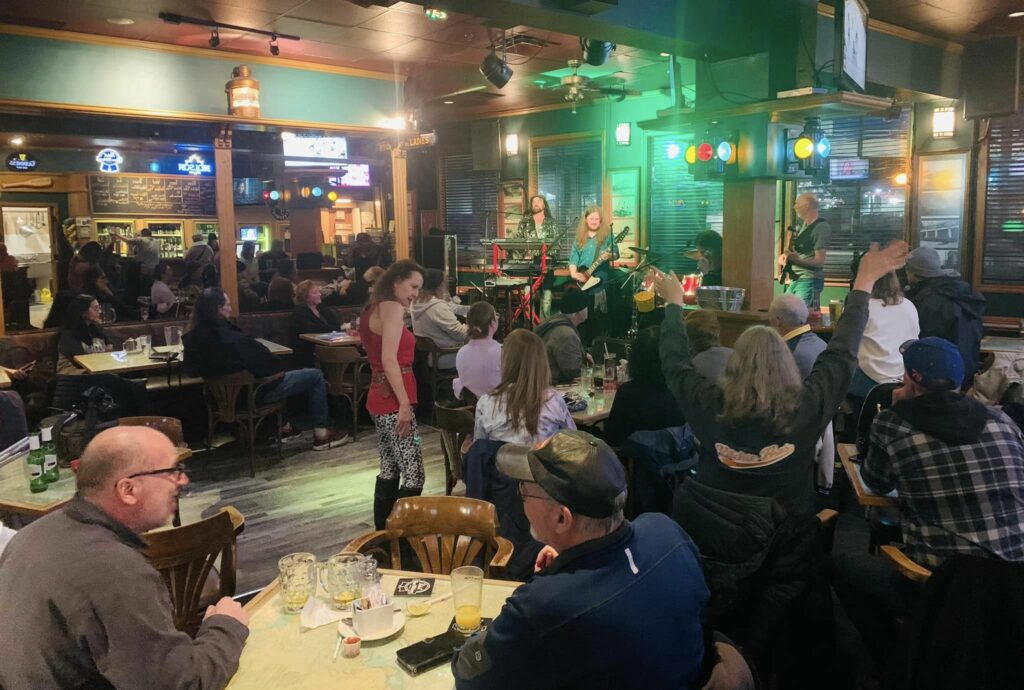 During that night at The Princeton, an old Native man named Chuck had been watching me play pool. At the end of the night, with a powerful energy about him, he came over and held my hands tightly — telling me he had been watching me and that I should never doubt myself. Funnily enough, I had been thinking about the huge task to get this magazine to the next level upon my return to the UK, so his psychic words of encouragement and advice resonated deeply.
Before heading back to the UK, I had one more epic adventure to complete. Sneaky Pete's owner Steve Folan picked my up from my hotel for a Monday morning adventure up Grouse Mountain — the commanding landmark to the north that looks down on the city with intimidating grandeur. Slightly jaded (yet again), I braced myself for a gargantuan task ahead — although enjoying bagels at the beautiful Kitsilano beach first did help matters somewhat.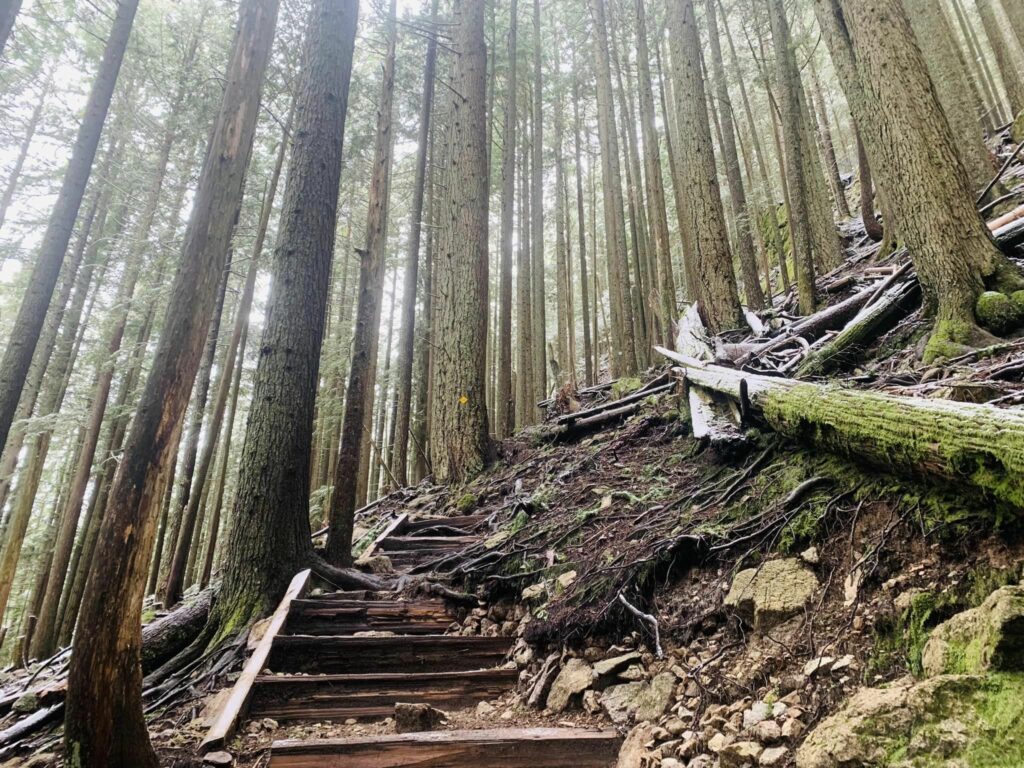 Talking about pool, life and everything in between, Steve and I trekked for what seemed like an eternity up the steep mountain terrain — enveloped in a green canvas of trees until the landscape became whiter the higher up Grouse Mountain we got. Having professional hikers in their 60s and 70s pass us stealthily with consummate ease was at times disheartening but we stuck to our task.
Summoning our inner Sir Ranulph Fiennes, we finally reached the summit of Grouse Mountain and basked in our sense of accomplishment over a couple of pints. We took the gondola back down (there was no chance I was traversing down in the snow in my poor trainers) and went on to one of the cool breweries he works with.
The hike up Grouse Mountain was indeed a fitting end to my time in British Columbia — completing that mission was akin to fulfilling my dream of visiting this part of the world. I always find that visiting somewhere completely different gives you a fresh, helicopter view perspective of your life back home and standing at the top of the mountain looking down on Vancouver hit those exact same notes for me.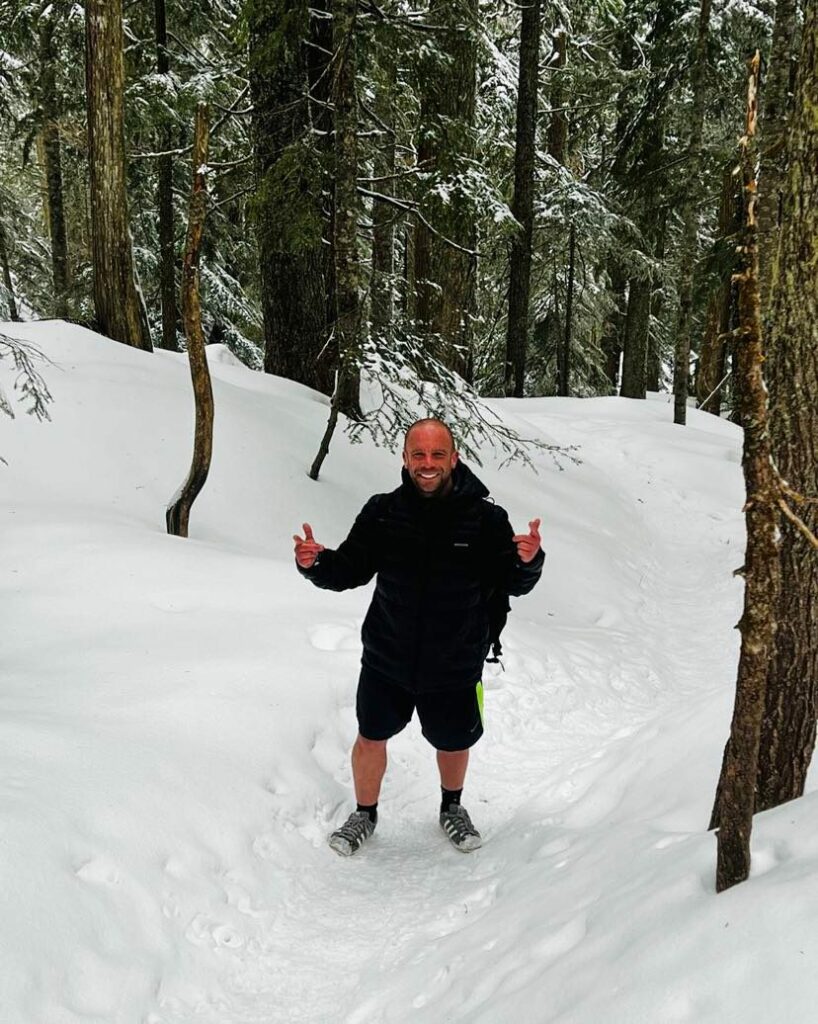 My final day before two flights and three trains home consisted of working on my laptop from Cactus Club Cafe and one last goodbye to Steve, as he kindly took me to the airport via a top poolhall in Richmond for a few final racks of 9ball. Steve's generosity in doing this really was the epitome of my time in Vancouver and Whistler — the warm hospitality and friendships I experienced will stay with me for life.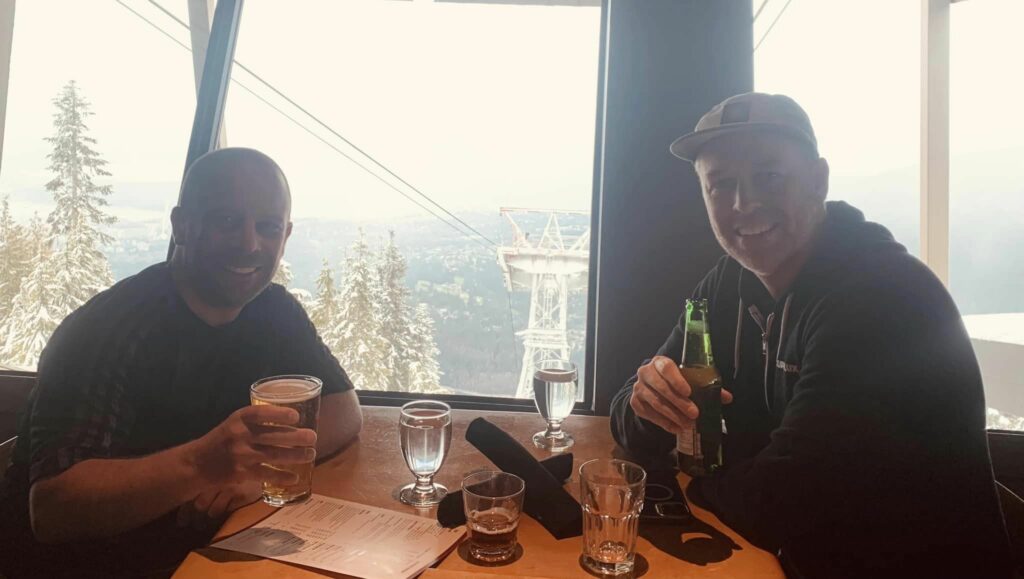 THANK YOU Vancouver and Whistler for all that you provided and THANK YOU to all the amazing people I met along the way. We are all part of the rich tapestries of each others' journeys and by cultivating these wonderful relationships with each other along the way, we are contributing towards making the world a better place. I must also say THANK YOU to myself for finally granting myself this adventure of a lifetime and taking myself to my 'second home'.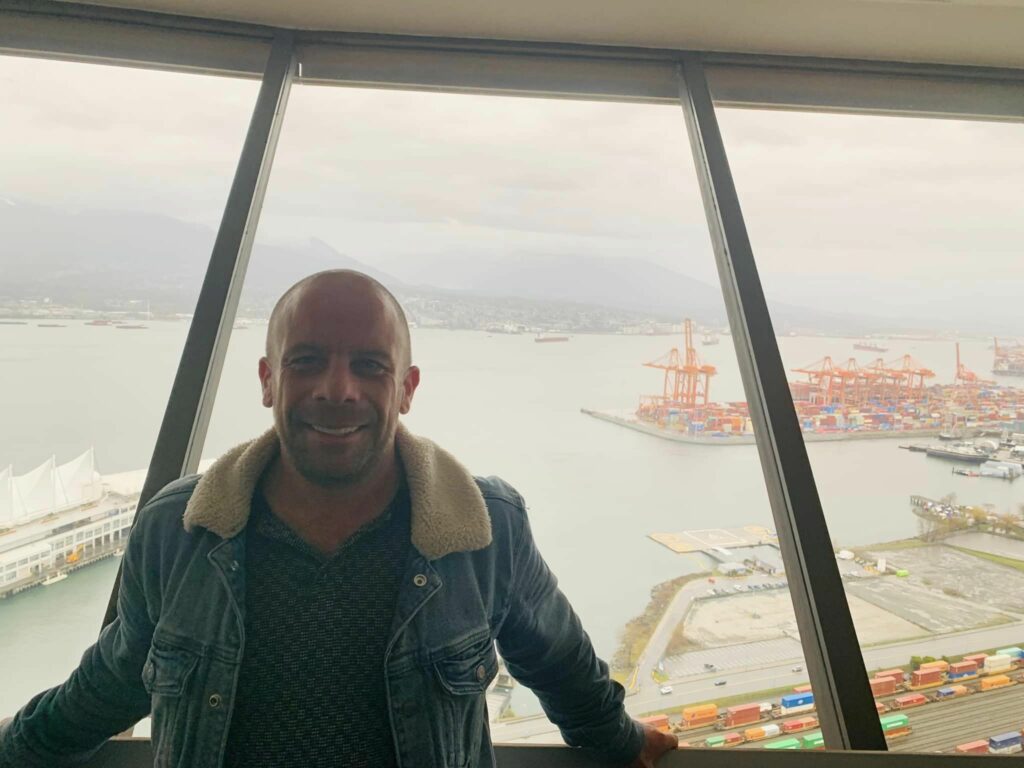 In summary, I'd like to encourage anyone reading this to do whatever it takes to fulfil your dreams. That thing you want to do, that place you want to visit — DO IT, whatever it takes. Whether you have to save for years, sacrifice or take out a loan, do what your soul cries out for — you won't regret it!
Until the next time guys! Peace and love x