It's been a while since we brought you a La Vida Liverpool In The Mix feature! In these features we celebrate the region's thriving electronic music scene by showcasing local DJs, as they provide exclusive mixes for your listening pleasure! In this feature we bring you an absolute belter of a tech house mix from Terry Draper!
Check out Terry on MIXCLOUD!
Now approaching his 42nd birthday, Terry has been following and supporting the Liverpool house and techno scene for a long time — although he has only just started DJing after all these years, with guidance from successful local DJs Sean Finn (his cousin) and Kevin Knox (Sonrisa).
Terry explained: "This is only my fourth mix but I'm really happy with it. Due to different life circumstances, for one reason or another I haven't taken up DJing and instead I just attended events and supported the scene with my events promotion page, House U Promotions."
He continued: "I've been hosting lockdown live streams via the House U Promotions page recently, featuring some of the best local DJs, but I've finally taken the leap of faith and started DJing myself. I've had some great feedback already so far and I wish I'd taken it up a long time ago!"
Check out House U Promotions on FACEBOOK!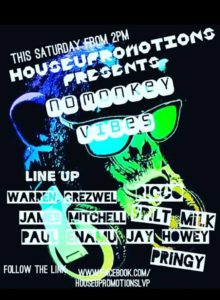 He told us: "Kevin Knox has been a great mentor, especially considering his years of experience. He advised me on what controller to get and has passed on so much knowledge and advice to me. I'm really happy with the quality of my mixes so far and I plan to start DJing at events and hosting my own events with House U Promotions."
Here at La Vida Liverpool, we're massive fans of the local electronic music scene and the abundance of quality local DJs we have. It's always great to see new DJs coming through and although Terry is late to the party in terms of the local DJ community, judging by this latest set it seems as though he has a very bright future and we look forward to seeing him DJ live! Quality stuff!
Check out Terry on MIXCLOUD!
Check out House U Promotions on FACEBOOK!