Liverpool is famous for its gifted musicians and at La Vida Liverpool we bring our readers the most talented music artists that Liverpool and the North West has to offer. We celebrate the wonderful diversity of musical talent on our doorstep and the many different styles and genres available from guitarists, vocalists, beatbox artists, rappers and more. In this article, we bring you Philly Whizz.
Veteran M.C and rapper from St. Helens, Philly Whizz, was an original member of The Shakti and was one of the first to not only rap in a Northern dialect but also rap about life in Northern England — he became renowned for his hilarious Northern wit and sharp social commentary about real issues. Following 3 E.Ps with The Shakti that received huge critical success and after touring nationwide, Philly went on to release the 2004 L.P, Up The Wizard's Sleeve, alongside fellow St. Helens rapper and future DMC and ITF winner, DJ Rasp. The live performances were highly regarded throughout the U.K for humour, energy and formidable freestyle skills and this saw him tour and gig with the likes of Public Enemy, Scorsayzee, Goldie Lookin' Chain and DJ Format.
After producing the brilliant 2007 release by Random Era, The Searching Years, he then toured nationwide with rap/ska band, The Amnesicas, alongside established acts such as The Beat, Neville Staples, The Specials and others. In 2017 he put out the viral youtube video, St. Helens Kid — a song that describes life in a Northern town with humour and charisma. This hilarious video was a huge success and kept Philly in the limelight. He has just started touring again in 2018 and released an E.P with the very exciting new funk/ska/rap group, On The Fly.
La Vida Liverpool caught up with Philly to talk about his career and what life is actually like in a Northern town:
LVL: So what have you been up to recently?
Philly: Most recently music wise I've been recording and performing with my new group, On The Fly. We recently put out an E.P, Merge Like A Zip, and it's a mash up of everything I like about music really. It's funky, it's skanking and it's got a bit of blues and hiphop going on. Gig wise we're chuckin' rhythm and blues and ska covers to make a few pennies.
LVL: How did you get into MCing and rapping?
Philly: I tried to write songs and play guitar from the age of around 7-8 but when I was 10 I heard The Beastie Boys' License To Ill and it blew my mind. Then I got onto Raising Hell by Run DMC who had just had a big hit with Walk This Way and in first year high school, my friend Neil Fagan had a cousin who had everything the hip hip junkie like me needed. I heard Public Enemy, Ultramagnetic M.C, BDP, EPMD, Big Daddy Kane etc and that was it!
The guitar and singing was out the window and I wanted to rap. I made what I later found out were called 'pause tapes' — I'd loop a bit of music using two tape decks recording onto another, rewinding playing and recording the bit I wanted until I had a loop, then rap over it. I did that all through high school but never told anyone. It was only when I was 18 and finally met musicians we formed our first band, Cynic, which was like Rage Against The Machine and Red Hot Chilli Peppers and I finally performed some of the raps I wrote publicly. I then met DJ Rasp, Mak Of All Trades and Ash and we became The Shakti — from then on I haven't stopped performing with loads of different bands, collectives and crews.
LVL: Who were your main influences and who are your favourite artists these days?
Philly: Hip hop wise always Public Enemy, BDP, Big Daddy Kane, Kool G Rap and Rakim. I can't say I listen to much modern music — I'm constantly discovering old music that's new to me though I'm really into blues stuff like Bo Diddley, Little Walter, Muddy Waters and ska, reggae dub and funk. I also love The Meters, Lee Dorsey etc.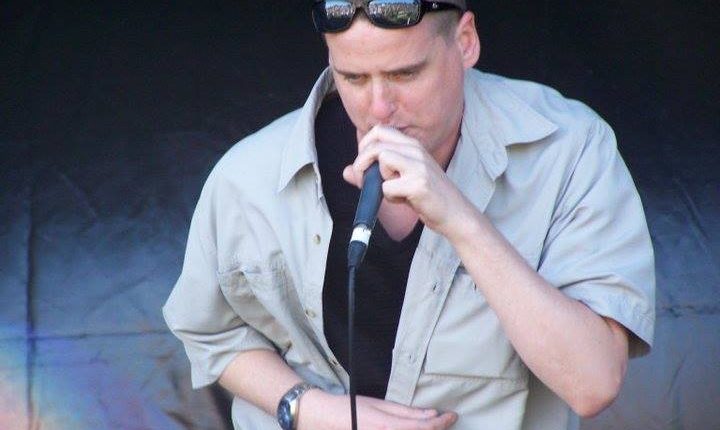 LVL: What was it actually like growing up in St. Helens?
Philly: I suppose it's a typical Northern town but I grew up in the era when Thatcher closed the pits, the glass industry got sold off etc. and people fell on hard times. Heroin came into the council estates and I was lucky that I didn't grow up on one of them but in school I hung round with those heads — you grew up tough and quick really.
There was lots of fighting, chasing birds, getting involved with daftness etc. There is a certain honesty and integrity about that kind of place though and I never knew creative types at all — it took a long time before I was around musicians but the place has got character no doubt.
LVL: Do you think people are surprised when they hear you rap?
Philly: At first definitely, yes. We gigged in St. Helens, Runcorn and then Liverpool and no one had heard owt like it. We did songs like Sellin A Weed then some spiritual shit like Rhymes Is Meditation in Northern accents but
it made us unique and stand out from everybody else. The Southerners loved us and we had London heads who thought what we said was interesting as we had something to say and our own way of saying it. Be proud of who you are, sound like you because no one else is you. Then you are original and unique. To me growing up, every rap group had its own style, its own flavour and I found mine too.
LVL: What are your plans for 2018 and the future?
Philly: My main aim is to establish On The Fly. We've got shows booked for the next few months and we'll be in Liverpool for the Rock N Roll Marathon! We'll be playing regular shows round Wirral and Cheshire and we've put together live sets that have classic rhythm and blue, ska and funk covers and throw in some originals, so we intend to have regular paid gigs and a few festivals. We'll be doing some more recording and I've got some other projects in the pipeline too.
Check out Philly Whizz on SOUNDCLOUD
Check out On The Fly on FACEBOOK
Images courtesy of Philly Whizz