Fracking has been a hot topic in recent years, with more and more testing and drilling leading to marches, protests and rallies — but why are people fighting against it and what is are the risks of this controversial method of sourcing energy? In order to understand more, we attended the United Against Fracking rally in Ellesmere Port, Wirral, where demonstrations took place to oppose planning permission for IGas to conduct fracking operations in the Portside area.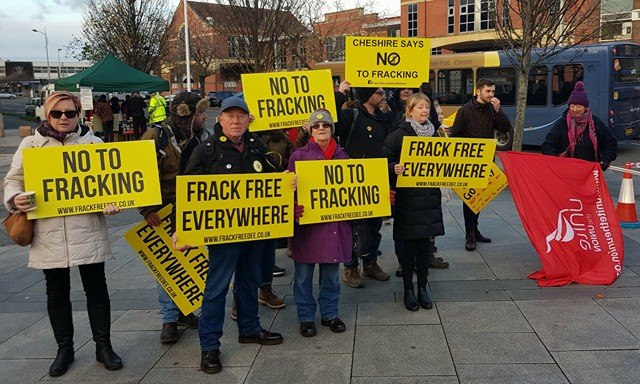 The government has been issuing licences to firms in the UK to allow them to pursue oil and gas exploration activities and there has been lots of testing and drilling happening in northern England. Before the actual fracking process can take place (drilling into the earth before a high-pressure water mixture is directed at rock to release gas inside), the relevant local council needs to approve planning permission and demonstrations such as the Ellesmere Port one can influence the important decision.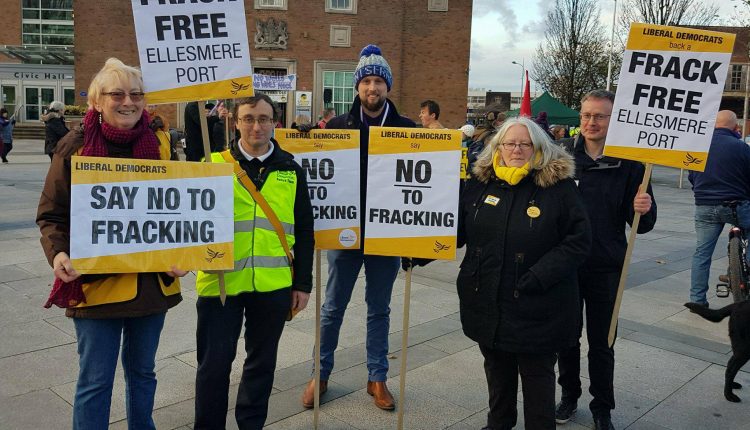 On a cold Saturday afternoon, hundreds congregated at Ellesmere Port Civic Hall for the event, featuring stalls, music, talks and representatives from Fracking Upton, Friends Of The Earth, The Green Party, The Liberal Democrats, Labour and other organisations. It was a busy afternoon with so much information to take in, but we managed to interview some key figures and can provide you with the crucial facts about why these people and so many more around the country are making a stand.
The Risks & Concerns
After taking in all the information, we've established some of the key concerns about fracking:
Contamination of groundwater
Methane pollution and its impact on climate change
Air pollution
The effects of toxic chemicals
The risk of gas explosions
Waste disposal
Large volume water usage
Earthquakes (there have already been tremors reported)
Safety of the workers
Pollution and traffic caused by the thousands of trucks required
Inefficient source — particularly compared to renewable energy
Quotes & Key Points From Interviewees
We interviewed some of the organisers and speakers on the day and gathered some key points from them:
"Fracking will affect air and water quality and will add to climate change. The threat is very real."
"There's been a great turn-out today but we need more people involved and help from the media and people like yourselves to raise awareness."
"We need people to object to this planning application and future ones to keep our area frack free."
"Fracking is a very dangerous activity and Ellesmere Port already has poor air quality — the air pollutions and hundreds of trucks on the road is only going to make it worse."
"We've had The Green Party, The Lib Dems and Labour here today and it's been an amazing show of force. The only party that supports fracking is the Conservatives and we need local people to object to planning permission through the local council. This is a front line fight and we need more and more people to get involved."
"This affects Liverpool, Wirral and Runcorn as we all share the same water. Polluting our water would affect generations of children following us."
"This site could be the largest in the UK and it's a big money business for IGas but renewable energy is a much better and safer way of sourcing energy."
In Summary
It appears that there are plenty of different groups and political parties opposed to fracking and the risks of it are very real. The Conservatives and the gas companies are in favour of it and it represents big money to them, but the question must be asked — why not invest more in the much safer renewable technologies such as solar, wind and tidal? The only way to prevent fracking going ahead is to object to planning permission via local councils and rallies and demonstrations such as this are great ways to raise awareness — it then comes down to whether people care enough about their environment to take action and sign petitions.
Since the protests Cheshire West and Chester Council's planning committee voted 10 to 1 to reject IGas's plans for Ellesmere Port because of "climate change" concerns.
For the Frack Free Dee Facebook page CLICK HERE
For the Ellesmere Port Frack Free Facebook page CLICK HERE
To sign the petition against IGAS' Ellesmere Port fracking plans CLICK HERE
Images courtesy of Amanda Toovey