There are many things to do in Liverpool — so many sources of entertainment for a night out — but whilst we love promoting all the obvious things, here at La Vida Liverpool we take great pride in informing readers about some of the alternative things happening in the city.
We recently alerted you to The Big Blind — a night of Nordic folk and fairy tale at The Capstone Theatre — and in this case curiosity got the better of us so we decided to checked it out for ourselves….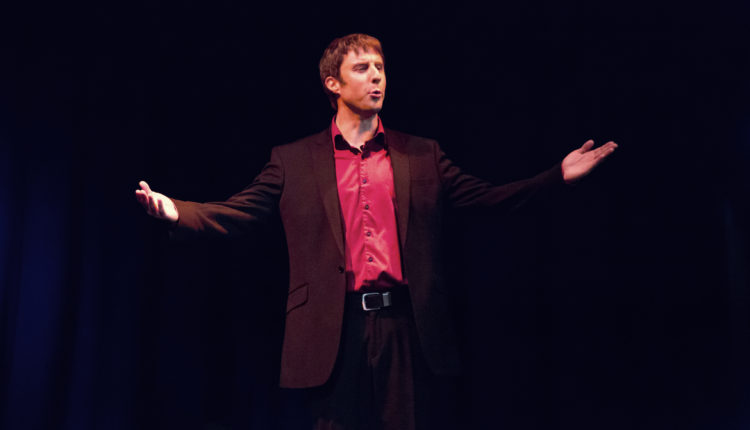 We attended Hope University's state of the art theatre, situated on Shaw Street just outside the city centre, on Saturday 26th January in search of folk and fairy tale magic and we were not disappointed!
The Big Blind is a unique storytelling and music experience that brings to life an ancient fairy tale for a modern audience, fusing versions from Norway, Scotland, Ireland and India with contemporary Scandinavian folk music. With nothing quite like it in the city, we immersed ourselves in a captivating cultural experience.
When the performance started it was tempting to question how a single storyteller (Dominic Kelly) and just two musicians (Bridget Marsden on violin and Leif Ottosson on accordion) would keep the audience enthralled for an entire evening — but that became clear almost instantly.
As soon as Dominic delivered his first words and as soon as the two musicians played their first chords, the audience was well and truly engaged — what followed was a dramatic and mesmerising performance that allowed our imaginations to run wild.
The story tells of a young prince whose life is gambled away to a giant by his father, the foolish King. We are taken on the Prince's journey as he abandons his sheltered life and confronts the giant — only to be subject to a turbulent series of events in order to evade death. With many twists along the way, a powerful love story and some hilarious moments, the audience was completely engrossed from start to finish.
In a world where we sit back and absorb information digitally, it was refreshing to enjoy an evening of ancient and simple entertainment in the form of storytelling and live music. What makes such a night so successful is the quality of performers and the success of this event was due to the supreme talent of the trio on stage.
Dominic Kelly is a master storyteller with a sublime deliverance and that rare ability to captivate an audience and leave them hanging on his every word. Accompanied by delightful music performances from Bridget Marsden and Leif Ottoson, the experience was spellbinding and we found ourselves lost in the fairy tale.
There are many sources of entertainment to choose from in this city, but why not think outside the box and try something different for a change? We did and were thoroughly entertained by this beautiful evening of folk and fairy tale. The chemistry between charismatic storytelling, violin and accordion was wondrous and the event was a truly unique experience and highly recommended. Another triumph for The Capstone Theatre as they continue to deliver a diverse and vibrant programme of live music and theatre. Bravo!
To find out what else is on at The Capstone Theatre CLICK HERE