There are many barbers to choose from and knowing where to go for that feel good and look good experience can be a minefield.
Well, let us tell you about one Wirral barbers with a difference — Tony's Barbers in Heswall — and we decided to check them out and find out what makes them so unique.
Tony's Barbers is a secret side street barbers shop situated behind Paradox by the main crossroads in Heswall and it really is a case of 'if you know, you know'. Tony's is popular due to modern and traditional haircuts from talented barbers with years of experience.
It's also loved by its customers for its quirky interior (you'll find loads of vintage collectables and memorabilia), its big emphasis on music and the fun approach of its charismatic owner and staff. One thing for sure is there's no barbers like it in Wirral!
Tony's is owned by Brendan who's the third generation of a family of barbers. His Grandfather owned a barbers shop in Liverpool in the 1920s before his Dad, Tony, took over and moved it to Waterloo and then settled in Heswall.
For the last 26 years, Brendan has been at the helm — moving to the current location and over the past couple of years transforming the barbers into a music orientated hub of fun and entertainment.
The shop oozes 60s/70s psychedelia and steam punk with a vintage and retro feel — if you love music and anything vintage then you'll love Tony's. As owner Brendan has a passion for music, you can expect a top playlist to please any taste!
Due to its super cool interior and big music influence, Tony's has been selected for the shooting of music videos including a video from Keith Wilson & The Spiritualists (above) and a live lounge from Tyron Freeman (below).
During a visit to Tony's you can expect a lot of laughter, fun, music and a great atmosphere. One customer said: "Tony's Barbers is by far the best barber shop I've ever been to in my life! As a kid and a young teenager I would literally wait for my hair to grow back to go back to this shop! It's a family business and one of the coolest hairdressers I've ever been to!"
Psymmetry Collective presents Ty Freeman//Heswall Tony's Barbers

Check out this brand live new session from Ty Freeman at this lovely setting in Liverpool showing us his track 'Cassidy'.Thanks to Heswall Tony's Barbers for housing usCheck Ty out at Ty Freeman Headline + Guests Feb 15th, EBGBS.More of this soon. Recorded and mixed by Jordan LythgoeFilmed and edited by Miles CaseyLike & Share and look out for the next timeTil thenPsyCo xx

Posted by Psymmetry Collective on Tuesday, December 4, 2018
A haircut at Tony's is an experience and you can be sure of music and fun every time and each time you visit you're likely to notice something different. It even has psychedelic wall art outside courtesy of Liverpool based artist, Jazz Stan.
As one member of staff told LVL: "It really isn't work at Tony's and I love going to work. There's a relaxed and fun vibe here and all are welcome — I think it's definitely the coolest barbers shop around!"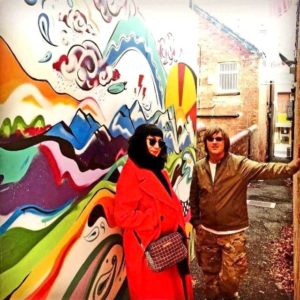 Tony's is located in the heart of Heswall and is open Tue-Fri 9am-5pm and 9am-4pm on Saturdays. Brendan and his staff offer modern and traditional cuts for men and children of all ages and wet shave and cut throat shaves (by appt. only). At Tony's they pride themselves on being 'more than just a haircut' and provide an all round feel good experience!
Tony's also supports the testicular cancer charity, Check Em' Lads.
Tony's Barbers / 242A Telegraph Road, Heswall, CH60 7SG
Check out Tony's Barbers WEBSITE
Check out Tony's Barbers on FACEBOOK
Check out Tony's Barbers on INSTAGRAM
Check out Tony's Barbers on TWITTER