Here at La Vida Liverpool we love to tell our readers about some of the alternative things happening in Liverpool and the North West. It's easy to focus on Liverpool's famous music scene, but if you explore and have a look around you'll find there are so many fantastic options out there for a night of entertainment. We recently discovered 'Sounds And Silence' — an engaging silent movie and live music experience courtesy of HarrisWorks — and attended one of their events on a Thursday night to check it out!
We attended the Halloween showing of Nosferatu — the 1922 German Expressionist horror film that was the unauthorised adaptation of Bram Stoker's Dracula. This classic silent movie came to be regarded as an influential masterpiece of cinema but few copies exist due to many of them being destroyed following a lawsuit from Stoker's heirs. The event was held at Jacaranda Records: Phase One, the cool new record store and event venue on Seel Street, and consisted of an exclusive screening of the film whilst legendary local jazz pianist, Tony Judge, provided an original live soundtrack to the film.
We were greeted by hosts and organisers, Leona and Neal, and given our complimentary popcorn before being shown to our comfy sofa at the front. The price of a ticket for these unique events is just £10 and includes popcorn and a themed drink — for this particular event we opted for a Halloween cocktail, courtesy of Cane & Bean 1870 Rum. This was the third Sounds And Silence instalment from HarrisWorks, with The Lodger and Metropolis having already been shown, and the events are growing in popularity whilst maintaining their secret, exclusive feel.
Before the film started we were given a talk from guest speaker Alisdair Reid, a film expert and connoisseur, who delivered a fascinating insight into the movie, its history and its cast and Director. The silent movie experience was thoroughly engaging and immersive, with the black and white production adding to the eerie nature of the movie, and Tony Judge was a delight on the keyboard. Tony is a hugely respected composer and pianist for silent movies and has received widespread acclaim both as a jazz musician and improvising silent movie pianist.
The evening was fantastic and a wonderful alternative thing to do in the city. It was great to see this classic movie for the first time — a strange, freaky production — and to enjoy it on a large projector with surround sound and live music before us was an amazing experience. Tony Judge's masterful keyboard skills complimented the movie perfectly and he has certainly found his niche market here — a very unique night of entertainment indeed!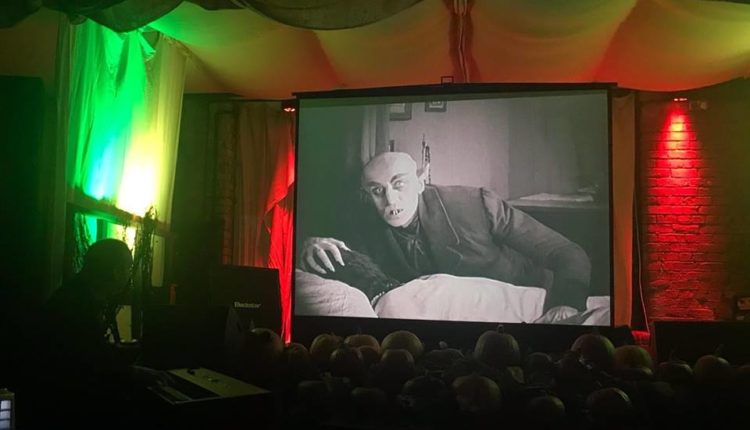 Thanks to HarrisWorks for having us for this fantastic event — highly recommended as something different to do, especially for movie buffs. If you fancy trying out this immersive movie and music experience then keep an eye out for future events — The Cabinet Of Dr. Caligari being their next event on 12th December and future screenings of other classics such as Pandora's Box planned. A thoroughly enjoyable evening and great value for money, even for the experience of Tony Judge's music alone, and it's great to see classic silent movies being celebrated and kept alive in such a way.
To keep up to date with Harrisworks' future events check them out on FACEBOOK
Check out their next event on FACEBOOK
For more on Tony Judge CLICK HERE