Merseyside is revered for its music and in recent years we've seen a real surge in quality bands coming through. La Vida Liverpool Bands is a series that brings you the best local bands — from ones you may know to up and coming ones to watch out for. If you're looking to discover a new band and find out about more about them such as their biography, music videos and gig details, then check out La Vida Liverpool Bands as we introduce you to the best bands Merseyside has to offer. In this piece, we focus on Sunstack Jones.
Sunstack Jones have existed in one form or another since 2011 but truly came into fruition in 2016 when they started gigging properly and things have grown rapidly since, with the release of two full length albums, limited edition 45s and an EP. They have now settled down with a consistent line up of Richy, Chris, Lorc, Dave and Jules and have mastered a dreamy, catchy summer sound with a hint of that classic Merseyside twang.
2018 is set to be a huge year for the band with loads of gigs lined up, festivals internationally and having just released their new single 'Without Being Told' that received rave reviews from the likes of Clash. Their follow up single, 'By The Way' is soon to be released and was recently played on BBC Radio 6. With Deltasonic Records firmly behind them and about to release their self titled new album, things are looking busy but very exciting for the band.
With the release of their new album on the horizon, La Vida Liverpool caught up with the band for a little Q&A and to talk about the new album that The Verve's Nick Mccabe helped master….
LVL: So, what have you guys been up to?
SJ: A whole lot of Sunstack. We've had a relaxed attitude to the band in the past (apart from releasing a lot of records), but 2018 is kind of year zero. We've practised, practised, practised, so we're locked in as a unit now. In 2016, we played a grand total of one gig, we upped it by a few last year, but this year, with Deltasonic on board and a new album good to go, we thought we'd look like we meant it and we've already got 14 sorted in the first half of the year.
It's hardly Led Zeppelin circa 1971, but it's not as easy as you might think to get gigs. And when you've got kids, a mortgage and toddlers hanging off your ears. But ask us, and we'll play. The first single, Without Being Told came out on Deltasonic in March, and we've been getting some positive reviews from some of the heavy hitters like Clash Music. The new single By The By was on 6 Music last week (and is out in a few weeks).
LVL: What's the new album all about?
SJ: Love, life, loss, regret, hope, despair, joy. And everyone can relate to that right? It's life. You've gotta take joy in the little things, and just keep moving.
LVL: I understand that The Verve's Nick McCabe helped to master the new album. What did you learn from him?
SJ: That mastering is a mystery. We hoped that he'd get our sound (and with a bit of luck like it), and having read the liner notes and interviews he'd given for the recently repackaged and remastered Verve back catalogue, we knew that he really knew his stuff. Obviously we knew he was an amazing guitarist/ soundscapist, but he clearly had the technical know how (mastering was part of his degree). 
When you're in a band, it's a given that you've gotta believe in yourself, and the passion that drives you to do it fuels that self belief. But sometimes, when it doesn't feel like you're getting anywhere, and those long winter nights are drawing in in an eternal encompassing (northern) veil of darkness, those little bits of doubt can creep in. You wonder whether your ears have misled you. So it's a real joy and honour to have someone like Nick first talk to you, then offer to master your album, then actually do it. He said it's an album overflowing with beauty and timeless. That's it right there! How good is that?! So what did we learn from him? That we are great. And also humility. And that he's much cleverer and technically gifted than us. It was just a massive honour and such a huge boost to us all.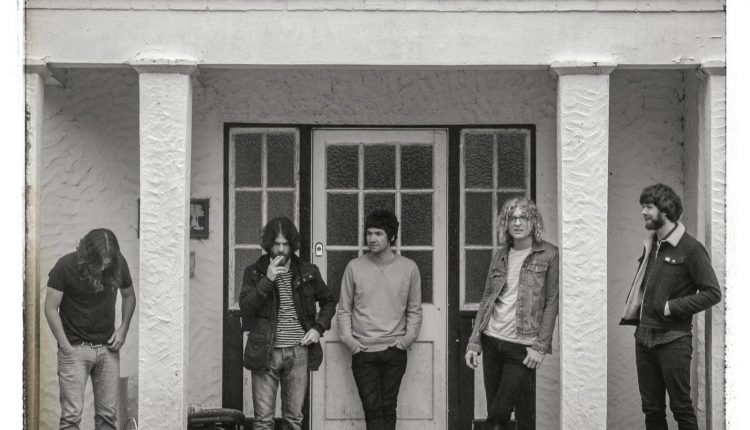 LVL: How did you guys form?
SJ: Chris met Richy 9 months after his mum and dad decided to give him a sibling. Lorc met Chris 18 years later when Chris decided he wanted to get away from Richy for a few years to live like a tramp in a death trap house in Leeds with a gang of degenerates under the pretence of getting an education. Then fate dealt us a lucky hand when the different bands we were in imploded at the same time, and Chris and Richy started coming up with songs. Chris got Lorc involved to sprinkle some astral guitar over some ideas, then we suddenly had ten tracks, and the idea to release it on vinyl just became really obvious. We found Dave at a crossroad In Moreton singing Robert Johnson songs, and Jules's enthusiasm for rocking out onstage was essential to counter Lorc's impression of a statue at gigs.
LVL: Who were your main inspirations?
SJ: The Verve, Nirvana, Mazzy Star, Spacemen 3, The Byrds, Buffalo Springfield, The Sundays, Sonic Youth.
LVL: Who is your favourite Scouse band of all time, other than The Beatles?
SJ: The La's.
LVL: What are your plans for the summer and the rest of 2018?
SJ: More gigs, more festivals, and just getting the word out there. We're playing in Holland at a festival in June, so we're all pretty made up about that. Likewise the Great Escape. We've got two more singles to come, and then the self titled LP in the summer. We've also been writing a lot, and have been recording with Si Jones for the next set of releases. We're giving it everything we've got and we want people to hear it.
Check out Sunstack Jones on SOUNDCLOUD
Check out Sunstack Jones on FACEBOOK
Check out the Sunstack Jones WEBSITE
Images courtesy on Sunstack Jones