REMARKABLE SCULPTURE FROM 'KNIFE ANGEL' CREATOR IN LIVERPOOL TODAY TO COMMEMORATE D-DAY
A striking sculpture of the first soldier to die in the D-Day Campaign during the Second World War travelled to Liverpool today for the second leg of its tour around the UK and France to commemorate 75 years since the dramatic push that changed the course of  the western front during World War Two.
The sculpture, created by 'Knife Angel' sculptor Alfie Bradley, came to St. Nicholas' Church in the city centre for one day only as part of a campaign of remembrance spearheaded by the D-Day Story museum in Portsmouth.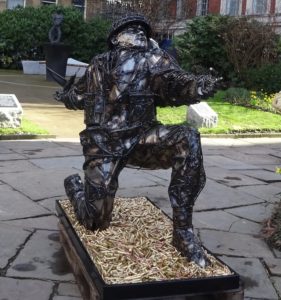 'D-Day: Soldiers of Sacrifice' was created by artist Alfie Bradley for the D-Day Story, as a tribute to the 4,414 Allied servicemen who lost their lives on the first day of the Allied Invasion of Normandy, known as D-Day, which marked the beginning of the end for the third Reich.
The sculpture features 4,413 bullets to commemorate each of the soldiers who died on the first day of the invasion, as well as the soldier depicted, the first fighter to lose his life on 6th June 1944 – Den Brotheridge, who was the same age as Alfie Bradley is now when he lost his life fighting to take Normandy from German occupation.  The remarkable piece features Den Brotheridge kneeling as if to throw a grenade.  However, in his hands instead is a dove of peace.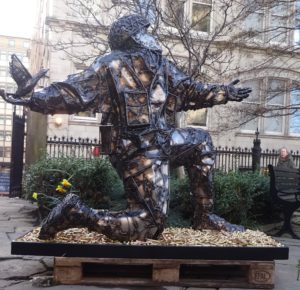 The sculpture will travel around the country before heading to Normandy and then returning to the D-Day Story museum in Portsmouth as part of the 75th anniversary of remembrance.
Jane Barnard, from the D-Day Story explained how the sculpture provides a powerful way to remember the soldiers who sacrificed their lives during the D-Day invasion, a fitting tribute 'to take out to people to keep veterans' memories alive … and serves as reminder of how D-Day changed the course of the war'.
'We took it to Salford yesterday and it has had an amazing reaction so far', Jane explained.  Tomorrow the statue travels to Villa Park, where Den Brotheridge played as a footballer before joining the fight against Hitler.  Members of the armed forces also attended St. Nicholas' church today to pay tribute to those soldiers whose bravery and sacrifice changed the course of the war, helping to secure Allied victory and ultimately the defeat of the Nazis.
Images Courtesy of Lisa Marie Rand