In this feature we talk to Wirral motorcycle racer, Andy Jackson. In less than 4 weeks time, The 26-year-old racer will be setting off for the biggest challenge of his career to date — to race around the Isle of Man Mountain Course — and here he gives us an insight into the sport and the blood, sweat and tears it takes to compete in this historic race.
Check out Andy Jackson 94 on FACEBOOK!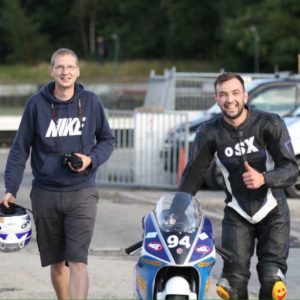 To compete at this level takes years of progression. Andy started riding motorbikes aged 4 on a 50cc Malaguti, built by his father Keith and painted in the iconic Evel Knievel stars and stripes. He has since raced across all categories such as Minimoto, Motocross, Enduro and finally onto circuit racing on bikes ranging from 125cc up to 600cc.
With 8 seasons of experience and 4 Club Championship victories to his name, he has proven he has pedigree on short circuits and now has turned his attention onto closed road races. Andy told us: "Road racing has always appealed to me, but I always knew that I needed to hone my skills as a rider on safer short circuits before challenging closed road races".
Check out Andy Jackson 94 on FACEBOOK!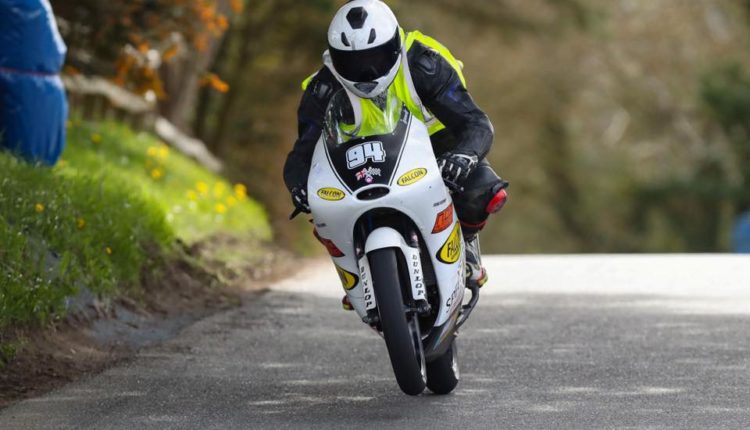 The Isle of Man Mountain Course was first used as a race circuit in 1907 and has since become the most iconic and infamous race circuit in the world. Racing is run over 37 miles of closed public roads, starting at the Grandstand in the Manx capital of Douglas and winding its way around the island — climbing up to the highest point at Snaefell before dropping back down the mountain again.
The course has no run off areas and no margin for error. To truly learn the course is said to take up to 5 years of racing, and Andy told us of his preparation: "This is something I have been working towards for years, learning the course from watching on board videos and through driving around with experienced competitors who can give me an insight into the best lines to keep me safe and fast."
Andy continued: "There is a great support network for riders who are learning the course including a compulsory newcomers weekend arranged by the Manx Motorcycle Club. I also do a lot of training to make sure I am physically fit such as running, cycling and swimming — wrestling a bike around a bumpy twisty race track for an hour and a half is not an easy task."
Check out Andy Jackson 94 on FACEBOOK!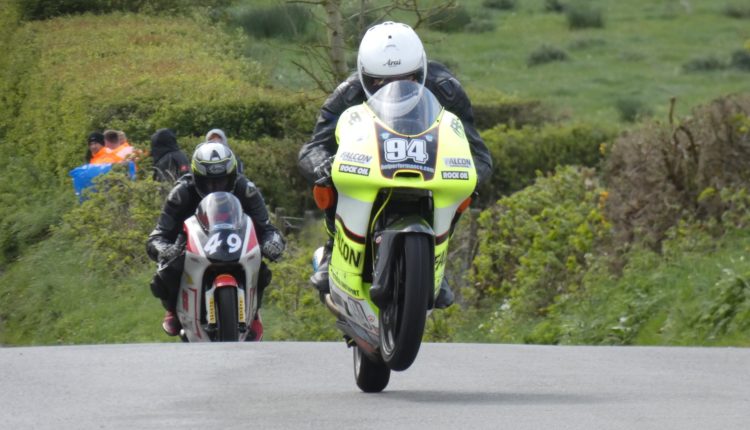 The race is run as a time trial and riders are set off from the start line with a tap on the back at 10 second intervals. Success at this event is measured in average speed, and the current lap record stands at a staggering 135.452mph set by Peter Hickman on a 1000cc BMW Superbike.
With this in mind we asked Andy what his goals are for his first year: "To be honest I am going there with a very open mind. As a racer I want to prove I have what it takes to be competitive on the world's most challenging race track, but the most important result in road racing is to finish the race, so I just want to learn as much as I can and enjoy myself."
Check out Andy Jackson 94 on FACEBOOK!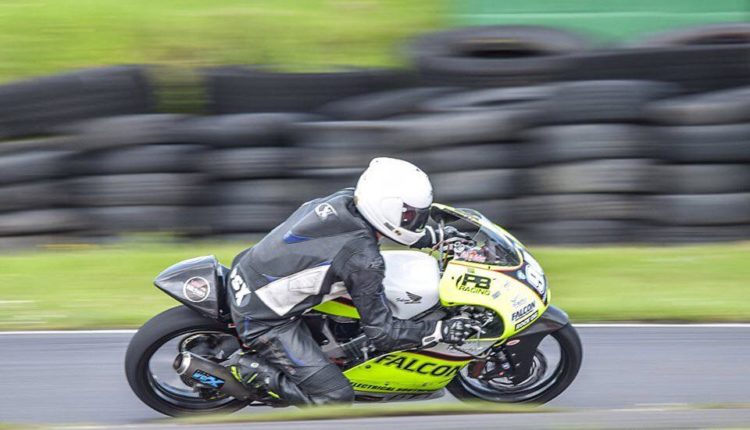 To be a motorbike racer takes a great deal of sacrifice as Andy explains: "It's no secret that the sport is dangerous but there is much more to it than that — it really becomes a way of life and you have to be 100% committed if you want to race at the top level of the sport."
Andy continues: "There is a huge step up between local club racing and national level races, with teams and riders spending hundreds of thousands of pounds to reach the top step. I am hugely fortunate that I have a great team behind me this season — they have given me a bike to race that is very competitive and together we have already had a good start to the year with race wins and podiums."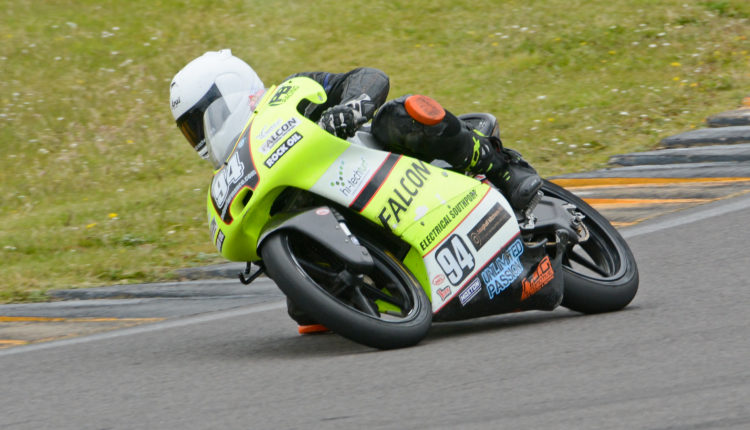 Of the financial pressures, Andy told us: "Sponsorship is a huge part of the game — getting local businesses involved is key and I still have a lot of spaces on the bike and on my helmet for anyone interested in supporting me on this journey. The costs behind this are huge and mostly come from my own hard work so I am extremely grateful when I get help towards entry fees, fuel, tyres and parts."
Check out Andy Jackson 94 on FACEBOOK!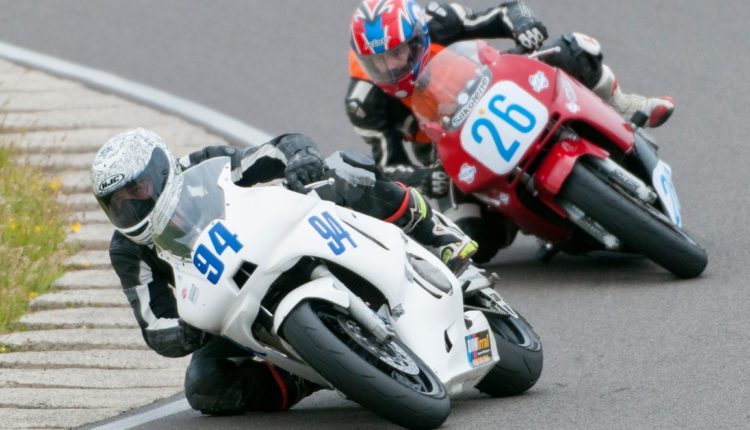 It's refreshing to see a young man chasing his dreams in a world where so many people choose to let them fade away as they follow the easy path to a regular life. That said, Andy's family do show concern about his pursuit of a racing career and the dangers involved.
Andy told us: "As racers we all know the risks involved and the longer you are part of the sport the more racers you know who sustain injuries or worse, but I wouldn't let the fear of what could go wrong stop me from achieving my goals. My childhood hero was a TT Racer called David Jeffries and he famously said those who risk nothing, do nothing, achieve nothing, become nothing."
Check out Andy Jackson 94 on FACEBOOK!
The Manx GP is a stepping stone to competing at the most famous road race in the world, The Isle of Man TT. We asked Andy what he thinks the future holds for his motorcycle career and he told us: "Honestly I am not looking that far into the future — the Manx GP is by far the biggest challenge I have ever set myself so my mind is really just focused on how I can best prepare myself for that."
Andy summarised: "Obviously racing at the TT would be an incredible achievement and winning one is probably every motorcycle racer's dream but first lets walk before we run and have an enjoyable campaign this August!"
Good luck to Andy from La Vida Liverpool!
Check out Andy Jackson 94 on FACEBOOK!