As Editor of La Vida Liverpool, I would've loved to have gone to Kiev to report on Liverpool's Champions League Final exploits, despite the tragic result. Alas! I did not have a ticket and considered myself a jinx as the first match I'd been to in over 10 years was the dire 0-0 draw with Stoke recently. Instead, I used my initiative and asked a couple of good writers I know who were attending to put a story together about their journey. I did not bargain for both agreeing, so in this article we have One Cup Final with Two Stories — one from my old school friend, Chris Davies, and one from Anne Sheridan. We start with Chris….
(Above: Chris outside the stadium)
Chris: "Where to start? It started on June 7th last year when my crackers old man (as I thought at the time) booked a hotel and flights to Kiev. Yes, almost 12 months ago. Fast forward to Thursday 24th May. After driving down to Heathrow, me and my Dad — the man I've travelled all of Europe with over the last 17 years since my first European away in 2001, the guy who I though was crackers back in June last year — were off to another European Cup final. It was my 3rd and his 7th — he's only missed one, 84 in Rome, and it was the day I was born so he had a decent excuse. Anyway, Kiev it was — to sing and dance in Ukraine and hopefully return with number 6!"
(Above: Chris with his Dad and mates)
Over to Anne: "Flights cancelled to Kiev shattered excitement as we checked to see if we were still on our way to support Liverpool in the Champions League Final. We contemplated driving but it was too late to plan a road trip. Lucky for us the trip was on. Banners greeted us at John Lennon Airport on a rainy Friday evening. The flight at 8pm was full of confident, powerful chants of Mo Salah. No one could've anticipated his fate as he went into battle against Real Madrid. The flight was a cacophony of sound, a rattling engine and rowdy, joyful singers, hearts full of love for Liverpool. We had landed, we were there, this was our year, our cup, our victory! A taxi to the city took us to our apartment in the city that doesn't sleep. We drank beer with fellow fans until the early hours of the morning, retreating for a short sleep as the sun rose to welcome the day."
(Above: Anne with husband, son and friends outside the stadium)
Back to Chris: "We were lucky — we didn't face the 18 hour mental bus rides, the 5 hour Ukrainian border stops, the overnight trains and the cancelled flights (which is criminal by the way) and my sympathy goes to the kids that didn't make it, but that is a whole other story in itself. We landed in Kiev 3 and a half hours later — glorious sunshine, a short trip to the hotel (turns out we were 30 mins out of the City), we were there. We ventured into town as the hotel's driver Andre, who initially couldn't speak a word of English but actually became a legend, dropped us off near to Independence square. It was busy, but not heaving as it was only Thursday — most fans were scattered across Europe and beyond just trying to get there by hook by crook. With every hour came more red shirts, more beers, more stories of the difficulties fans were facing getting to the promised land."
Chris continues: "Just outside the mixed fanzone it was bouncing, songs of this season, 'Allez Allez Allez', songs of yesteryear 'we don't carry bottles, we don't carry lead', the locals enjoying it, the Reds absolutely loving it. Catching up with people we'd not seen since another European adventure, John and Margie, then Sean and Joe Rogers. Meeting new mates, Chris and another John, even the local police were getting involved. This is what it's all about! This is it! Then it's off to a little underground bar called Coopers — it took some finding as funnily enough Coopers is spelt somewhat differently in Ukrainian. What a bar it was, what a night, banners hanging, beers flowing, the full song book coming out.
I'm not going to lie, the next few days mirrored the first — a blur of drinks, songs, pyro, sound people, brilliant atmosphere and a trip back to Cooper's. What I loved was the mix of ages. At 34 today as I write this, I'm no longer one of the young ones, but the city was flooded with youngsters, many at their first European final living the dream, making their own memories. Seeing a lad who could only have been 8, stood on a table orchestrating the travelling Kop was a joy to behold."
On to Final day with Anne: "We wandered down the street, a sea of red and white surrounded us. Lunch was a burger and chips. BOSS Night was next up in Shevchenko Park. Fans had descended on the park, named after the player who missed the Istanbul penalty, to a chorus of 'Allez, Allez, Allez'. It was glorious and a feeling I will never forget. Banners and fans up trees, red smoke and the place was bouncing. We all walked to the NSC Olimpiyskiy, entering the magnificent stadium taking our seats in the north corner. We outnumbered the Madrid fans, the support was unbelievable. After watching the Liverpool bus arrive we sang our anthem 'Walk on'. Duo Lipa sang for us and the Egyptian King entered the arena, like a gladiator. He was our hope, he was our champion, he was our king."
Chris, recalling Final day, writes: "I wake up, how did I get here? Who cares? With blurry vision I check my phone — it's 9:45. Shit! We're being picked up in 15 minutes! Shit! It's final day! All these months, all those games, all those goals, all that doubt turned to sheer belief — it's final day. Into town. We needed a metro this time. The city was shut down, no cars — kudos to the organisers, they handed the entire city over to us, the fans. Now to find the Liverpool fans zone, Shevchenko Park. We'd heard the previous day it was a let down, nothing there, just a stage in the park. What it became was one of the best afternoons I've spent following the Reds, home or abroad — actually, no, THE best.
It was already a sea of red. We sang, we danced, the crowd grew, John Gibbons of the Anfield Wrap whipped up the crowd, fans climbed trees just to get a view, pyro going off left right and centre, old and young diving into the fountain. This is what it's all about! On to the stadium, on to our destiny, on to number 6. I am one of those fans that is nervous before Stoke at home, never mind Real in the Champions League final. I felt no nerves. I firmly believed we'd blow them away, that their arrogance would be their undoing, that they hadn't faced anything like us."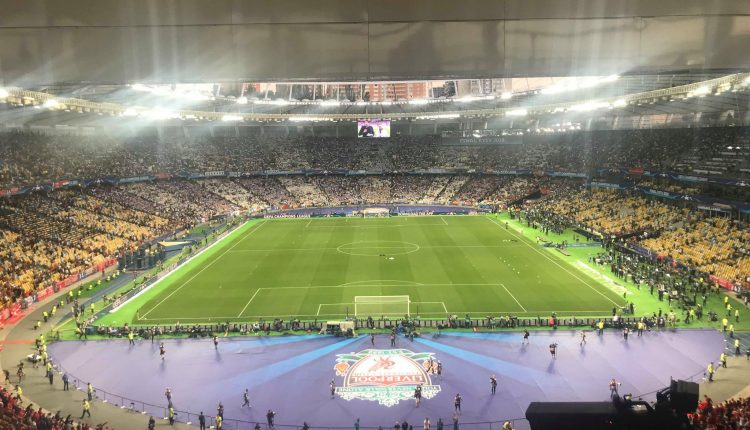 Chris takes us onto the match: "For 20 minutes we controlled it, we dominated, we looked like we'd score, not blow them away, but the better team. Then Mo got injured. I'm not going to talk about Ramos. He does what he does and he wins things doing it. The injury changed everything. The confidence of the team, the fans, everything, we were all deflated. The rest of the half kind of just happened without happening. Half time. It lacked the defiant 'You'll Never Walk Alone' of Istanbul. We tried, although half heartedly, but the second half kicked off and things picked up.
It was 0-0, we can do this, let's at least try. Then Karius. I personally would let him off the first. Lack of awareness yes, but Klopp drills it into him to release early, we are trying to create momentum, he tried, he failed. Then down the other end and the Mane goal — sheer bedlam. We needed that moment, we deserved that moment, we loved that moment. Something to take away from that game, that stadium. Back in it, once again we thought we'd go on to win it. Then a Zidane masterstroke. Bale on for Isco who was having a cracking game. That goal, a goal worthy of winning any match. But it was the Real goals either side that weren't deserved. The latter of the two was unforgivable. Karius could have kept his hands by his sides and saved it with his head. That said, I do have sympathy for him, he's 24, a young lad supposed to be living the same dream as us and it's potentially ended his career as he knew it. The game saw itself out from there. Tears in the stands, tears on the pitch. An emotional 'You'll Never Walk Alone'.
Anne summarises: "Liverpool started strongly but disaster struck and Ramos took Salah down. We felt the match slip through our fingers and it was agonising. After holding on for the first half a throw that could've gone anywhere, an interception from Benzema, an interception that could've gone anywhere, ended up in the back of Liverpool's net. Mane answered our prayers with a swift reply but Bale's majestic overhead kick, a goal we all applauded, left us reeling. Karius failed to stop Bale a second time and all was lost. But still….the crowd sang 'You'll Never Walk Alone' right up to the end and beyond. Truly electrifying and an experience I'll never forget."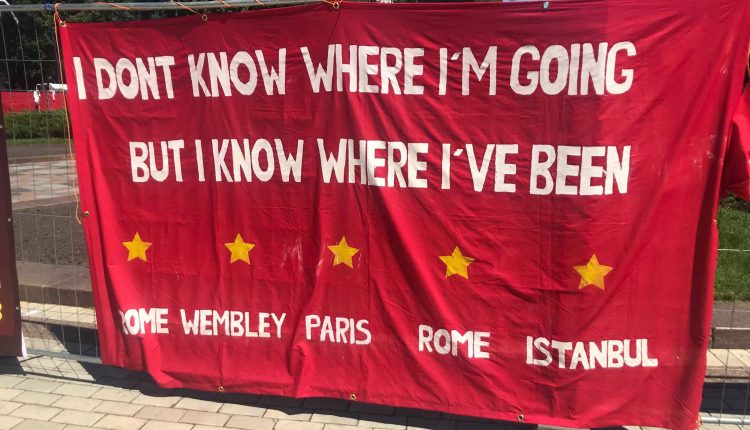 Finally, some words from Chris: "We trudged away into the night and guess what, back to Independence square, the same bars, more beers, more singing, realisation that most of us back in August wouldn't have dreamed of getting to the European Cup Final, wouldn't have dreamed we'd have the glorious journey getting there. We wouldn't have dreamed that we'd have the time of our lives somewhere in Eastern Europe and that this trip would eclipse Istanbul, if only for a Saturday afternoon in late May in Shevchenko Park, Kiev.
The trip home was the trip home, we got there via 3 cars and a couple of planes, but we got there. Home to family and friends, a load of abuse from rival fans who just don't get it and never will. But what I can say is that the pain of defeat will fade, but the memories of Kiev will last a lifetime."
An article courtesy of Chris Davies and Anne Sheridan
Images courtesy of Chris Davies and Anne Sheridan