As residents on the Wirral face their fourth week in lockdown, lives across the borough – for the time being, at least – have been left on pause. However, one local artist has made a valiant effort to bolster the region's spirits.
Tia Bell works and lives on the Wirral as an independent artist and curator for Canvas Life Online. In wake of the coronavirus pandemic, Tia is bolstering spirits by painting 'murals of hope' throughout the region. Her mission is to bring joy and happiness to the lives of local residents – particularly in lockdown times where anxiety and uncertainty is high.
Check out Tia's page on FACEBOOK!
Inspired by the thousands of rainbows dotting household windows, Tia wanted to extend and spread the positivity. She told us: "I saw pictures of people's rainbows and saw how they were making people smile, and I wanted to do the same."
"While thinking of ideas, I remembered how much everyone loved being able to interact with a Peter Pan themed mural I did in New Brighton. So, I decided to use my free time to do something that the whole community could enjoy while out on their walks."
"I posted on Facebook asking if anyone had a wall they wouldn't mind letting me loose on, and I had quite a few responses – so I just went from there."
Check out Tia's page on FACEBOOK!
Tia, who is expecting a baby, immediately installed three colourful murals on Hampstead Road in Poulton, and Dalmorton Road and Concept Corner in New Brighton. From NHS superheroes to rainbows and sunshine, Tia has lovingly crafted each wall with her paints and materials.
She continued: "We're living in a time where it feels like we're living in a Netflix film or something. I don't know how any of us are supposed to handle this without some anxiety; I'm just fortunate that I have had my partner and my dogs to keep me sane (and insane!)"
"It's something for the kids to look for a spot while they are out, it brings people together online, and it gives us something positive to talk about together. We're not allowed anywhere at the moment, not even to play in the parks. It's nice to be able to take a photo doing something different. Plus it's something special to remember, even while we're in this epidemic."
Check out Tia's page on FACEBOOK!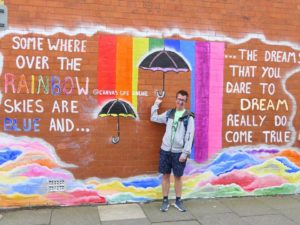 With more orders in the pipeline, Tia ran out of paint and money to fund further installations – so, she turned to the community for help. Tia was soon 'blown away' by the generosity of the public.
She said: "I ran out of paint and money after the last three murals, so people suggested I fundraise for it. I started today with a £150 goal, and I am at £225 already. I can't believe it!  I am so thankful – and I am going to get three more done before the baby arrives!"
Check out Tia's page on FACEBOOK!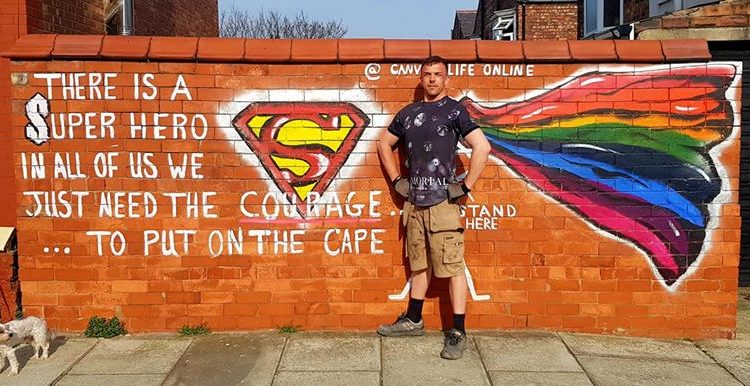 Tia's street art, bursting with colour, has brought otherwise ordinary streets to life during the coronavirus pandemic. Photos and videos of families encountering Tia's walls have since spread on social media, with an overwhelmingly positive response.
Mrs Po said: "Keep them. Why not? They are like scars or tattoos to mark our journey. Yes, they are colourful and meaningful to an otherwise boring, dull wall. I've seen so many beautiful murals decorating other towns and cities…bring it on, more of, please."
Rowan Gower, from Moreton, told us: "When the Wuhan evacuees came to isolate in Arrowe Park, Wirral opened up their hearts. Now, even though we're walking in their boots, these murals prove that our generosity and community spirit is alive. I walk past the mural every single day, and it fills me with hope. They've brightened up the community. My little girl wants to be an artist when she's older, and who loves seeing it every day. She's very inspired."
Check out Tia's page on FACEBOOK!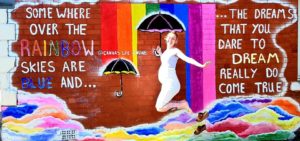 Plans for future murals are underway, with announcements being made on Tia's page, Canvaslifeonline.  Tia hopes her murals will inspire other artists in the area to brighten up Wirral's towns and villages with hope.
Tia summarised: "Thanks to this project, I have spoken to far more people than I usually do. I hope my murals motivate people to be creative in whatever way is meaningful to them. I want to remind people to stay hopeful, as this situation is not forever – even though it feels like it right now."
Check out Tia's page on FACEBOOK!
Check out Tia on INSTAGRAM!