Diego Armando Maradona will forever be remembered for being both a footballing genius and a figure of controversy. Whilst his footballing greatness inspired a nation and immortalised him as a deity, his antics often sparked outrage — notably his infamous 'Hand Of God' moment.
What people know less about is his benevolent side — the 'Good Diego' that nobody talked about. Diego Maradona engaged in lots of charity work including being Ambassador for Football For Unity — a project from British based global charity TUFF.EARTH that teaches children of different cultures and backgrounds education in human values through football.
TUFF.EARTH's Co-Founder, Anna Bornholt-Prior, told us: "There's a common notion that Diego Maradona was anti British but he actually did great things for our charity. We spent lots of time with Diego and it soon became clear that he was a very kind hearted man. He had a really big heart and not everyone knows that and we were honoured to have him as an Ambassador — particularly given that we are a British based charity."
She continued: "His work for us as Ambassador for our Football For Unity project saw him help roll it out as far and wide as India and South Africa. In 2014 funds were raised by the Match For Peace initiative for the earthquake victims in Central Italy. Maradona against the Rest of the World  XI was screened live in Italy for the victims of Armatrice. People don't talk about this much though and the press rarely covers it."
In a bold move, Maradona once confronted The Pope about donating to the poor. Anna explained: "Pope Francis is one of the Patrons of our charity and Diego told him to sell the gold ceilings in the Vatican if he wanted to help the poor! That's the kind of man he was. I think God really did work through Diego, not necessarily through The Hand Of God but through kindness."
Dr. Shamender Talwar, also Co-Founder of TUFF.EARTH, said: "Our Football For Unity project has reached over 140,000 children globally and this is largely due to Diego Maradona being our Ambassador and helping to get it so much publicity. Thanks to Diego, we have helped teach many children vital human values."
He continued: "He actually missed the flight for our press conference in London but when he got here he was incredible and spent lots of time with the children. I wasn't quite sure what to expect, especially when I learnt he had missed the flight, but during the press conference he didn't leave one child out and even allowed photographs against his agent's wishes."
Dr. Talwar explained: "Diego loved to be around kids and he spent lots of time giving children in our project advice on what to do and what not to do in life. He told them to follow their dreams and warned them about getting distracted by outside influences."
He continued: "During our time together he gave me his lucky Argentinian coin. Diego said 'I have had this coin since 2010 when I was going through a challenging time in my life but this coin reminded me of how bad will come to good when you do right things in life. I give this to you Doctor because you have 1000's and 1000's of chicos to look after in the world with me and after me."
Of Maradona and his reputation, as a leading Social Psychologist Dr. Talwar said: "After getting to know The Good Diego, I can say quite categorically that he was definitely misunderstood! The pressure that young Diego was put under was immense and he found escape in other ways but the Diego we met was nothing other than altruistic."
He continued: "Diego Maradona was a football superstar celebrity and as such he became a victim of fame. This is often the case with people who come from poverty and rise to dizzy heights at a young age and their reputation ends up preceding them. In Diego's case I think it's a great injustice focusing on this aspect of his life, as the Diego I knew and worked with is one who gave back immeasurably."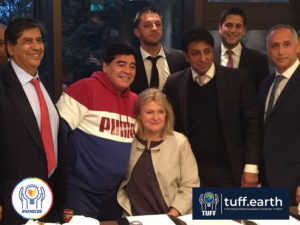 Speaking about his good work, Anna said: "Diego gave directly to the people and to thousands of impoverished children in Argentina and around the world. He gave to the elderly through old people's care homes and hospitals. He helped so many through his projects. Giving is such as special experience and Diego knew that and loved to give to others immensely."
She continued: "Diego gave back so much to everyone and he did it quietly but directly so he could see the joy in their faces, the changes it made in their lives. He loved people. People talk about his addictions but his one true addiction was kindness and he loved nothing more than helping people. This is something we have witnessed first hand."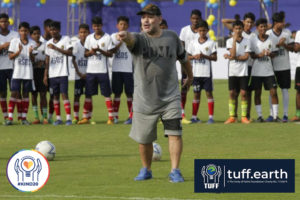 The news of Diego Maradona's passing has had a profound impact on many people all over the world and most will remember him for being a controversial football genius, but it is also important to acknowledge the 'Good Diego' who helped to promote human values through football and gave so much to people directly. With the press so often focusing on the football genius or the controversial side of Maradona, perhaps it's time to celebrate the 'Good Diego'.
Check out the TUFF.EARTH website and projects HERE!