Here at La Vida Liverpool we love a Vivienne Westwood showcase in the Liverpool store and we were honoured to attend another one of their glamorous events. The Mathew Street boutique was buzzing with creatives as fashion designers, models, staff and special guests came together to celebrate the latest VW collection.
As with all Vivienne Westwood Liverpool events, we were treated to canapes, cocktails and fizz (this time sponsored by Kingdom) whilst the vibrant new range was showcased in style. The wonderful Store Manager, Chris Griffiths, and his team were on hand to talk us through the theme and concept behind it, along with Viv's Design Assistant, Ella, and Alba and Amelia from London's Head Office.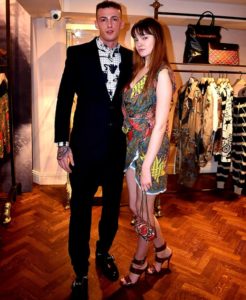 Over the past year we've seen some fascinating collections and themes from Vivienne Westwood and Spring & Summer 2019 is all about Chinese peony print silk jackets, coats, trousers and skirts. Influenced by poetry, art and Chinese tea gardens, the latest collection is trademark Viv — stylish, creative and with a cool street attitude.
In addition to the new range, we were able to admire the abundance of other items available. It's impossible not to be impressed and temped to buy when visiting Vivienne Westwood Liverpool — they always have such cool things on display! We were also told about Viv's latest limited edition water bottle — true to the brand's commitment to raise awareness of global issues, this is a nod to stand up to plastic pollution.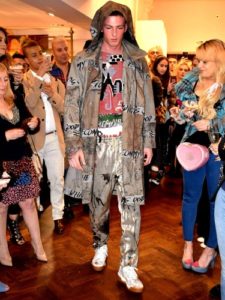 On the night we enjoyed catwalk displays from two young models who wore the Viv look with style and grace. As ever, there were all sorts of interesting people to talk to and the Liverpool store was buzzing with activity. Once again, it was a lavish and glamorous event as another wonderfully creative and artistic collection was unveiled.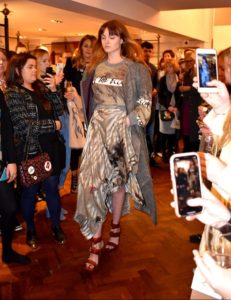 If you've not yet visited the Vivienne Westwood Liverpool store, it's highly recommended! Even if it's just to browse, Store Manager Chris Griffiths and the team are truly lovely and there's a great sense of family — you may enter as a stranger but you'll more than likely leave as a friend.
Store Manager Chris Griffiths told us: "I love these events at our Liverpool store — it's great to showcase the latest collections but also a chance to get everyone together and for us to catch up with our friends. I see our store as a fashion boutique but also a meeting place for friends, so next time you're in town come and say hello!"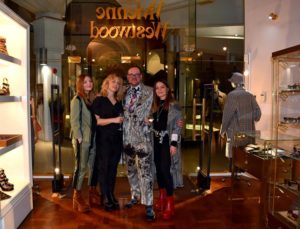 Here at La Vida Liverpool we love a Vivienne Westwood Liverpool showcase and it's fascinating to see how the Viv collections keep evolving. If you've not yet been to the Liverpool store it's certainly an experience but even if you are just after a browse, we guarantee you'll be tempted by something!
Check out Vivienne Westwood Liverpool at Cavern Walks, 8 Mathew Street, Liverpool, L2 6RE.
Tel: 0151 227 2700!